Natalie Coughlin: Ranking Her 10 Greatest Olympic Moments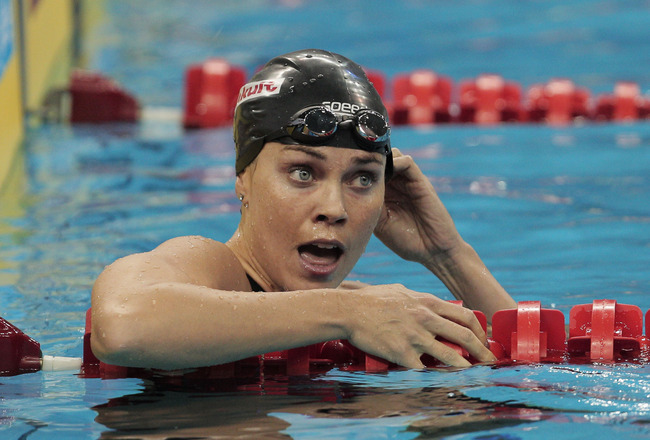 Natalie Coughlin is one of the most decorated Olympic athletes in U.S. History.
Adam Pretty/Getty Images
Natalie Coughlin is one of only 20 athletes to ever win more than 10 Olympic medals.
The American swimmer has won 11 total medals between two separate Games. She has amassed three golds, four silvers and four bronze medals. Behind Jenny Thompson and Dara Torres, Coughlin is the United States' most decorated female athlete.
For all of Coughlin's accomplishments, she is primed to leapfrog her countrywomen and become the second-most decorated U.S. athlete ever behind Michael Phelps. Coughlin looks to participate in her third Olympic Games this summer after successful trips to both Athens (five medals) in 2004 and Beijing (6 medals) four years later.
The California native is a good bet to participate in three or four individual events and a few relays as well. Come the London Games, this list could be severely altered, but for now these are the top 10 moments of Natalie Coughlin's Olympic career.
10. 2004 Bronze Medal, 100-Meter Freestyle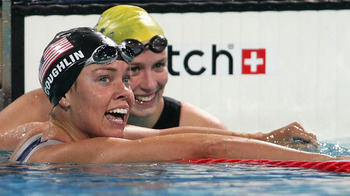 Natalie Coughlin won the bronze in the 100-meter freestyle in Athens.
Daniel Berehulak/Getty Images
As a 22-year-old competing in her first Olympic Games, Natalie Coughlin set Athens ablaze, winning five medals in 2004.
One of those medals came in the 100-meter freestyle. Battling against more experienced swimmers like Inge de Bruijn of the Netherlands, Coughlin took third place in the event. She finished in 54.40 seconds, just a quarter of a second behind de Bruijn for the silver.
A bronze medal in an individual event as a 22-year-old is a considerable accomplishment. It is a testament to just how special Coughlin is that this is her 10-best Olympic moment.
9. 2004 Silver Medal, 4x100-Meter Medley Relay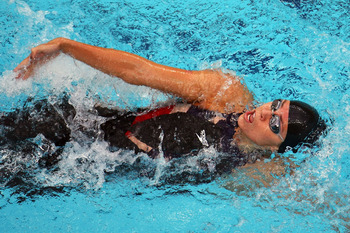 Coughlin was part of yet another silver medal-winning relay team.
Alexander Hassenstein/Getty Images
Coughlin is a fantastic team player, as illustrated by her six Olympic relay medals. This particular one came in 2004 in Athens.
As a part of the team including Amanda Beard, Jenny Thompson and Kara Lynn Joyce, Coughlin took home a silver medal in the 4x100-meter medley relay. The U.S. team finished just behind Australia.
This was just one of the three relay medals that Coughlin won in Athens. She was also the only member of the women's team to compete on each medal-winning relay team.
8. 2008 Bronze Medal, 200-Meter Individual Medley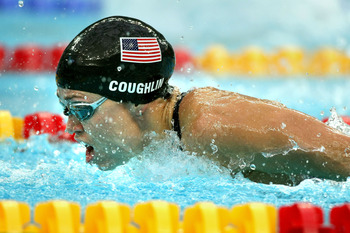 In the 2008 200-meter Individual Medley, Coughlin took home a bronze medal.
Jed Jacobsohn/Getty Images
The 200-meter individual medley was one of three bronze medals won by Natalie Coughlin in Beijing. It was also one of a record six medals won at a single Olympic Games by an American female athlete.
This bronze is a bit more special as it was a newer event for Coughlin. She did not compete in the 200-meter IM in 2004. In Beijing she took over for former teammate Amanda Beard, who earned a silver in the event four years earlier.
7. 2004 Silver Medal, 4x100-Meter Freestyle Relay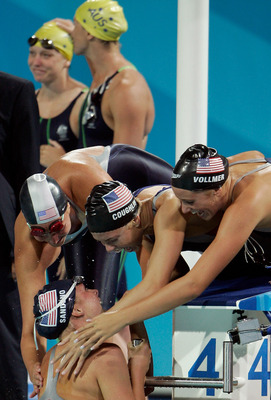 Coughlin won a silver medal as a part of the 4x100-meter freestyle relay team.
Chris McGrath/Getty Images
They say nothing is ever as sweet as the first time. In the 2004 4x100-meter freestyle relay, Coughlin won her first ever Olympic medal.
Though it was a silver and a relay medal, there is no doubt of this one's importance to Coughlin. This second-place finish set off a chain of events for the star swimmer that led to 11 total medals over two Olympic Games and counting.
Coughlin swam second on the relay, immediately after Kara Lynn Joyce. She was followed by Amanda Weir and Jenny Thompson. Her team finished second to Australia, but beat out the Netherlands by half a second.
6. Captain America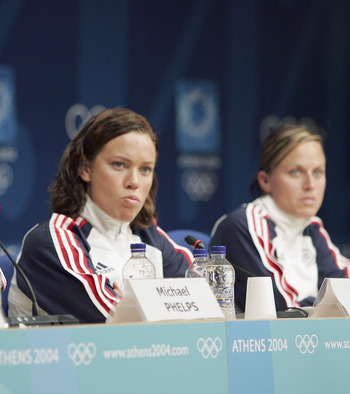 Coughlin was named captain of the 2008 team.
Robert Laberge/Getty Images
Before the 2008 Olympic Games in Beijing, Natalie Coughlin was named joint-captain of the United States women's swim team.
This was an enormous honor for Coughlin to accept as she was joined as captain by teammates and mentors Dara Torres and Amanda Beard. Torres and Beard had the combined experience of nine Olympic Games behind them, while Coughlin was returning just for her second go-round.
5. 2004 Gold Medal, 4x200-Meter Freestyle Relay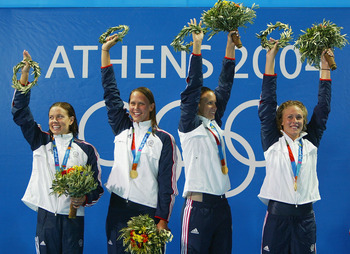 Coughlin was part of the world record setting 4x200-meter relay team.
Al Bello/Getty Images
Later at the 2004 Athens Games, Natalie Coughlin swam on another relay and this time took home gold. The gold medal earned in the 4x200-meter freestyle relay was Coughlin's second first-place finish in the games.
Along with winning the gold medal, this was also the only time thus far that Coughlin has set a world record at the Olympics. She hit the water first for a team of Carly Piper, Dana Vollmer and Kaitlin Sandeno. They set the world record with a time of 7:53.42, more than a second ahead of the Chinese team.
Coughlin owns three gold medals and has a chance for more this summer. Either way, this will end up being the "least" impressive of her first-place finishes.
4. 2004 Gold Medal, 100-Meter Backstroke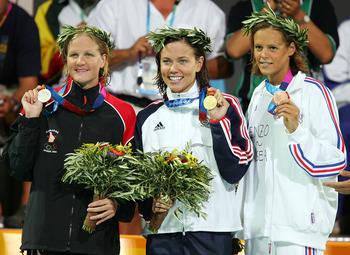 Coughlin's first individual medal was gold.
Al Bello/Getty Images
It is a testament to the greatness of Natalie Coughlin that her first ever individual medal happened to be gold. In 2004, Coughlin took first place in the 100-meter backstroke, staking her claim to the event and the Olympic swimming record books.
It turned out to be a photo-finish for Coughlin, as she bested Zimbabwe's Kirsty Coventry by .13 seconds.
Coughlin's first individual and first gold medal would seem to be ranked higher than this, but after winning that first gold, Natalie was not finished.
3. 2008 Gold Medal, 100-Meter Backstroke
Coughlin repeated in the 100-meter backstroke.
Jed Jacobsohn/Getty Images
Natalie Coughlin's first Olympic gold was not rated higher because she came back to the Games four years later and repeated her 100-meter backstroke victory in Beijing.
In doing so, Coughlin became the first woman to ever win consecutive golds for the backstroke. She once again held off rival Kristy Coventry of Zimbabwe, this time winning by a slightly wider margin of .23 seconds.
Making this accomplishment more impressive is her well-known lip biting story. During the race, Coughlin's legs were hurting so much that she decided to bite down on her lip in order to distract herself from the pain and keep swimming. At the awards ceremony, while receiving her gold medal there was a visible cut on her lip.
2. 2008 Silver Medal, 4x100-Meter Medley Relay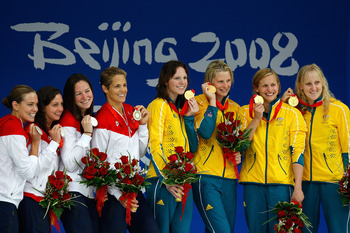 Coughlin's relay team helped her earn her sixth Beijing medal.
Cameron Spencer/Getty Images
Perhaps the finest moment of Natalie Coughlin's career came at the end of the 2008 Beijing Games. As a member of the 4x100-meter medley relay team, Coughlin earned a silver medal. The medal was her sixth at the 2008 Olympics.
That set the record for most medals earned by an American female athlete in a single Olympic Games. This is an amazing feat to accomplish for Coughlin. However, she is not yet finished her swimming career.
While being the most decorated American female in a single Games is special, there will be nothing that could compare to becoming the most accomplished overall American female athlete, something she can accomplish in 2012.
1. The Next Medal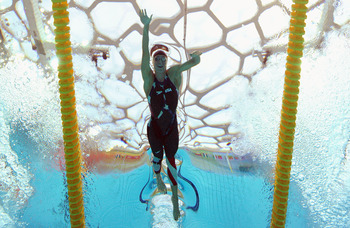 Coughlin will look to amass more medals in 2012.
Al Bello/Getty Images
Natalie Coughlin is a competitor, and like all star athletes, she does not want to be finished.
It is almost a cliche at this point, but Coughlin's greatest Olympic moment will be her next medal and after that it will be the next one. In particular, the medal after her next one will be easily the greatest.
With one more medal, Coughlin will tie Jenny Thompson and Dara Torres with 12 total Olympic medals. Should she get one after that, it would make her the most decorated American female Olympian ever.
Michael Phelps has, deservedly, received all of the headlines and sponsorships for his Olympic performances. However, Coughlin could be setting a major record herself this summer and it should be fun to watch.
Keep Reading