WWE: Brock Lesnar vs John Cena & the 25 Greatest Bloodbaths in Company History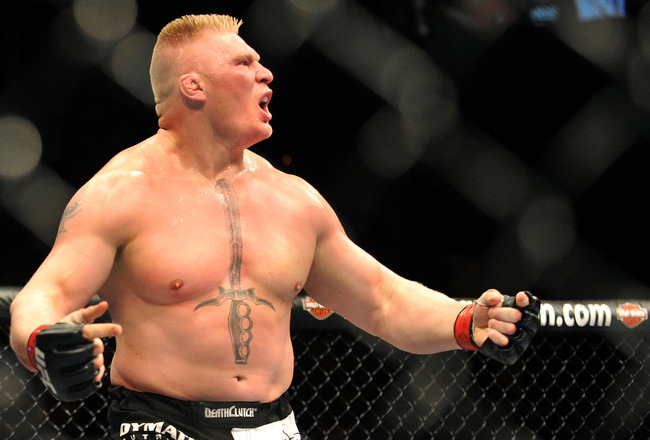 Jon Kopaloff/Getty Images
Brock Lesnar splitting open John Cena's head at Extreme Rules brought back memories of Triple H, Ric Flair and Sgt. Slaughter slicing open their brows and drenching the ring with their blood.
Recently WWE has tried to lessen the bloodshed in matches, which has made the bloodiest encounters in the company's history all the more valuable to the fans.
Blood alone does not equal good matches, but a well-timed blading can amp up the violence and the intensity of the action.
The following is not a list of the bloodiest matches in WWE history nor the greatest matches put on, but a combination of both.
These 25 clashes combined gore with excellence.
Honorable Mention
• During their acclaimed 2008 feud, Shawn Michaels vs. Chris Jericho put on the last bloody bout before the PG era.
• Bruno Sammartino and Tito Santana fought in an intense match against Randy Savage and Adrian Adonis in 1986.
• Ric Flair returned from a long absence to show the world how incredible he is in an enthralling fight against the Undertaker at WrestleMania X8.
• Steve Austin faced Kane in a First Blood Match at the 1998 King of the Ring and spilled far more blood than the stipulation suggests.
• Sgt. Slaughter and Iron Sheik's cathartic violence in their Bootcamp Match in 1984.
25. Triple H vs. Shawn Michaels, Last Man Standing, Royal Rumble 2004
Shawn Michaels and Triple H have had better matches together as this one is slow in spots, but the hatred between them was entrancing.
Two titans slugged it out, dotting the mat with their blood, until neither one could stand. The entirety of their faces was smeared with blood for the last third of the match.
Jim Ross added to the tension and emotional power of their encounter with especially emotive commentary.
The crowd booed the draw finish, but it was a fitting, poetic end.
24. 'Superstar' Billy Graham vs. Dusty Rhodes, Texas Bullrope Match
An intense feud saw Billy Graham and Dusty Rhodes fight in front of several Madison Square Garden crowds.
This match was aided by the addition of a bullrope tying the two men together. Rhodes danced and showboated a bit, but was mostly business in this dogfight. They conked each other with a cowbell and strangled each other with rope.
Not surprisingly, their battle led to bloodshed.
Rhodes and Graham's blood spilled out of them like their hatred.
23. Edge vs. Mick Foley, Hardcore, WrestleMania 22
Pitting the Hardcore legend against the king of TLC predictably led to captivating carnage.
Fans remember the ending the most—Edge diving through the ropes to send Foley crashing into a table bathing in flames.
Before that jaw-dropping moment, Foley and Edge put on a great show.
An exercise in sadism, barbed wire helped color to the action. Foley had wrapped barbed wire around himself and awaited Edge's spear. The wire sliced open Edge's arm. They whipped each other with the barbed wire and ground it into each other's faces until Foley was wearing his familiar red mask.
22. Ric Flair vs. Triple H, Last Man Standing, Survivor Series 2005
Not many people expected such a classic when they saw this match on paper. The drama of the old friends turned bitter enemies and the mentee turning on his mentor combined with a top-notch performance by both men stole the show.
The action quickly turned gruesome when Triple H opened Flair's head with a screwdriver and the Nature Boy spent the rest of the night wearing his vintage crimson mask.
Flair has bladed countless times, but has rarely left this much blood in an arena.
21. Rated RKO vs. DX, New Year's Revolution 2007
The star power and skills of the men involved would have had a great match without the gore.
Shawn Michaels and Randy Orton transformed the match from an entertaining tag title defense into something much more horrific.
A metal belt tore a gash on Michaels' head, who punched open a cut on Orton.
Eventually, between all the near falls, spears and superkicks, the wrestlers left the ring sodden with blood.
20. Brock Lesnar vs. John Cena, Extreme Rules Match, Extreme Rules 2012
Brock Lesnar's first match back after his MMA stint saw him adopt an MMA style, pounding John Cena for much of the beginning of the match. The dominating monster used his elbows to tear open his Cena's head and fans were stunned to see blood flow in the normally squeaky-clean PG Era.
A match that deftly blended WWE and MMA shocked with its use of blood and thrilled with its short bursts of action.
The devastating power of Lesnar's Kimura Lock was on full display.
Some fans may bemoan Cena once again evoking Superman with a win in spite of dire odds, but both men did well to tell their story and to quicken our heartbeats.
19. Undertaker vs. Batista, Hell in a Cell, Survivor Series 2007
Mr. Hell in a Cell himself, the Undertaker delivered another classic this night.
The two big men endured a bloody battle that thrilled. Batista can thank the Phenom for being a part of nearly all of his best matches.
In this one, Batista took a steel chair to the throat, Undertaker's Old School got turned into a scintillating spinebuster, and the Dead Man went through a table courtesy of a Batista Bomb.
Both men donned a patch of wet blood on their brow for much of the action.
While most interference endings tend to take away from the match, the haunting image of a crazed Edge delivering a con-chair-to on the steel steps was unforgettable.
18. Sgt. Slaughter vs. Pat Patterson, Back Alley Street Fight 1981
Sgt. Slaughter and Pat Patterson's feud had grown increasingly personal and intense. This match was a story of revenge with Patterson dishing out a vicious beatdown.
A lively MSG crowd watched on as the two men slugged it out. There were maybe a handful of actual wrestling moves performed. Slaughter and Patterson bashed each other, the crowd eating it up.
What that crowd must have thought when Slaughter began to bleed—his entire face was smeared with it. A waterfall of blood poured down Slaughter's chest, staining his shirt and the ring.
17. The Rock vs. Steve Austin, No DQ, WrestleMania 17
With perhaps the best buildup to a match ever, the hype of WrestleMania and the electricity of one of wrestling's finest rivalries, fans knew they were about to witness a classic.
As Jim Ross said, it was "off-the-page intense."
Two titans went toe to toe on the world stage, the Rock delivering a Stunner and Austin giving his rival a Rock Bottom.
That Houston crowd became deafening towards the end.
On any other list, this ranks at or near the top, but blood doesn't play that large of a factor. Fans remember the intensity, the Stunners, Stone Cold aligning himself with Vince McMahon, but the blood was neither particularly gory or important.
16. Triple H vs. Cactus Jack, Street Fight, Royal Rumble 2000
With these two men's names on the marquee, you'd expect nothing less than the shockingly brutal slugfest they produced.
Cactus Jack bled from the mouth. Triple H bled courtesy of a 2x4 covered in barbed wire.
Is it insanity or toughness that Mick Foley took such a beating just a year after the I Quit match with the Rock? Foley as usual, took nasty bump after nasty bump. Triple H broke a chair over his back. He even had thumbtacks protruding from his face when it was all over.
Triple H took his fair share of pounding as well, most notably a piledriver on a table that didn't give at all.
Trips and Foley fought hard in a makeshift alley with barbed wire bats and garbage cans, delivering another vicious match, the blood flowing, the crowd entranced.
15. DX vs. Big Show and the McMahons, Hell in a Cell, Unforgiven 2006
This cage match was a better-than-expected brawl in which most of the men involved bled.
A simple good vs. evil story turned more gruesome as it went on.
They utilized the handicap element well, managing to make up for the McMahons' inadequacies while also making the action more dramatic. Big Show played the behemoth perfectly and Shawn Michaels and Triple H did their usual high-quality butt-kicking.
By the end, Shane's shirt was heavy with blood and Triple H's blood looked like spilled paint across his chest.
The brutality ended with Triple H breaking a sledgehammer on Vince McMahon's neck.
14. Triple H vs. Shawn Michaels, Hell in a Cell, Bad Blood 2004
The former DX partners had a multitude of fine bouts between them, but none more brutal than this. It featured their usual fantastic chemistry, but a bad blade job turned this into something far more stomach-churning.
The Game did his fair share of bleeding, but Shawn Michaels seemed to be choking on his own blood for much of the match.
They left tables broken, their bodies drained, and the fans' voices raspy.
13. Chris Jericho vs. Triple H, Last Man Standing, Fully Loaded 2000
What begin with a grinding pace swelled and swelled beautifully at the end.
Triple H seemed to bleed out the majority of his blood supply in and out of the ring.
Jericho was on the receiving end for most of the punishment, especially early on. Seeing Y2J persevere through all of Triple H's brutality made Jericho look like a valiant warrior.
The match featured one of the most painful-looking abdominal stretches caught on film, convincing shots with TV monitors, Jericho clamping the Walls of Jericho on Stephanie McMahon.
12. Triple H vs. Batista, Hell in a Cell, Vengeance 2005
Triple H and Batista banged heads in this match like two stags out in the wild.
The two musclebound men traded the upper hand and utilized the structure itself to add violence. While a sledgehammer predictably played a part, it was a chain that was the predominant weapon. It was first used to whip each other and ended up splitting the Game open. Later on, fans watched him sneer in frustration through a second red skin.
The high impact and unexpected kick-outs made this match great. The blood furthered it.
11. Triple H vs. Cactus Jack, Hell in a Cell, No Way Out 2000
While Mick Foley has, of course, made a huge name for himself inside the Hell in a Cell, Triple H has been there time and time again, putting on big-time matches inside that structure.
Foley's career on the line, you expected him to do anything to win, and he did.
In this barbaric and bloody fight, we saw barb wire being sawed into a man's face, creative chair usage and Foley tearing his arm open as the destroyed one of the cell's walls.
The crowd appreciated everything these men put themselves through to tell their story.
Fans screamed as Foley lit the barb wire 2x4 on fire and chanted as he fell through the cell roof and indented the ring.
10. Randy Orton vs. Cactus Jack, Backlash 2004
In the match that made Randy Orton's greatness obvious to fans, he and Cactus Jack composed a symphony of violence together.
The vicious and gory match had a frenzied energy through most of it.
It was fighting through Cactus Jack's sadism that him look gutsy and further legitimized him as a true star.
Barbed wire cut Orton's pretty face open and sliced Foley's arm.
Smashed spines, dented trash cans and Orton's bloody mug made for a classic.
9. Undertaker vs. Shawn Michaels, Hell in a Cell, Badd Blood 1997
This five-star masterpiece set the bar extremely high for all future Hell in a Cell matches.
Contested in the then-new cage structure, it was a match where a man tried simply to survive his encounter with a monster.
Shawn Michaels tried to escape his confines, tried to weather the Undertaker's assault and only the thrilling, fiery debut of Kane saved him.
Michaels did the bleeding in this bout. As Taker scraped Michaels' face across the cell roof, blood splattered down on the camera. HBK was covered in his own blood when he crashed through the tables.
On strictly story and wrestling, there isn't a better Hell in a Cell match. It lands here on the list because of shortage of bloodshed in comparison.
8. JBL vs. Eddie Guerrero, Judgment Day 2004
In a tale of hatred boiling over, Eddie Guerrero looked to destroy JBL.
In the end what most fans remember is Eddie showered in his own blood.
An exciting fight used mic cables and tables to enhance it, and finally JBL's infamous chair shot.
The echoing crash of steel on flesh was shocking enough, but when the camera turned to Eddie leaning on the barricade, blood coming out of him like a fountain, a collective gasp rang through the arena and the homes viewing the pay-per-view.
The intensity of that bloody image often overshadows how great of a match they managed to put on—two stubborn men refusing to quit, going full throttle towards victory.
7. Triple H vs. Chris Jericho, Hell in a Cell, Judgment Day 2002
Triple H and Chris Jericho's brutal confrontation is the most underrated Hell in a Cell match and is not spoken about nearly enough.
An unexpected hardcore side of Jericho came out that night.
Y2J standing on top of the cell beating Triple H with a barbed wire covered 2x4 is haunting.
Jericho's shoulder was bloodied the hard way and both men donned crimson masks by the end. Even the ref, Tim White, was a bloody mess.
In some ways this mirrored Triple H and Cactus Jack's Hell in a Cell tussle.
6. JBL vs. John Cena, I Quit Match, Judgment Day 2005
In a classic battle of good vs. evil, heel vs. face, John Cena fought through the sting of blood in his eyes to triumph.
The brawl turned ugly and saw everything imaginable used as a weapon—JBL choked Cena with a belt, Cena smashed JBL's face into a TV.
The thrilling violence started to mirror JBL's infamous bloody battle with Eddie Guerrero when a resounding chair shot opened up Cena's forehead.
Most fans don't remember the horrible bump that JBL took, wrecking his back on an announce table.
It's hard to blame them, though, as the mind tends to glob onto the macabre as in this case, the image of Cena's entire torso soaked in blood.
5. Triple H vs. Steve Austin, Three Stages of Hell, No Way Out 2001
Every fall could stand on its own as a great match. Together, the standard wrestling match, Street Fight and steel cage sections of this match form a masterpiece.
With the crowd locked in, Triple H and Austin delivered intensity from the opening bell.
Blood glistened off Austin's bald head. Triple H spilled his fair share as well.
Both men came out of this looking incredibly tough, especially Austin, who stayed in the figure four leglock to the point they where he came off as superhuman.
Several lasting images were born from this match—Triple H getting smacked in the face with a beer, Austin's blood splattered on the announce table, both wrestlers sliding on the sweat-slicked mats.
The rubble of their war around them, the drama thumping like a heartbeat, there was a fluttering energy in that arena as the cage was lowered.
And few endings have been more fitting than Triple H simply collapsing on Stone Cold to gain the win.
4. Roddy Piper vs. Greg Valentine, Dog Collar Match 1983
A barbaric battle between two vastly underappreciated stars set a precedent for violence.
WWE fans had seen bloody matches before, but Roddy Piper and Greg Valentine set out to produce a disturbing masterpiece of brutality, and they succeeded.
Piper and Valentine ground and pounded each other and used the chain, locking them together as a weapon and as a paintbrush on a metaphorical canvas.
Eventually Valentine busted Piper's ear. Blood wet much of his face for the rest of the match as the two men made history while making our stomachs turn.
3. Shawn Michaels vs. Triple H vs. Chris Benoit, WrestleMania 20
Three of the greatest performers ever on the biggest stage in wrestling helped create one of the most emotional moments in WWE history.
Shawn Michaels and Triple H both bled profusely. Fans could barely see the wrestlers' eyes through the matted hair and drying blood.
Jim Ross lost his voice, screaming throughout this thrill ride.
This earned its main-event status through escalating drama and some great spots like a double suplex through the table and Triple H grabbing Michaels' hand before he could tap out.
In the end, it was Benoit's moment ,and a raucous pro-Benoit crowd watched as he and Eddie Guerrero embraced and cried, victorious as confetti rained down on them.
That image will leave a lump in your throat regardless of how many times you've seen it.
2. Brock Lesnar vs. Undertaker, Hell in a Cell, No Mercy 2002
Considered by many to be one of the finest Hell in a Cell Matches, the Undertaker and Brock Lesnar clash was gripping from start to finish.
The blood started pouring early, the Dead Man busting Lesnar open with his cast.
The cast turned into a catalyst for some of the match's most intense drama. Had Taker not forgotten to sell his supposedly-broken arm towards the end, this match would have been even better.
With Paul Heyman's ponytail flopping outside the cage, Lesnar tied up Undertaker with Heyman's belt and throttled his hand.
When Lesnar tore off the cast and tried to kayfabe rebreak it, the audience held its collective breath.
Undertaker ended the match an even bloodier mess than Lesnar, smearing it all over the canvas.
1. Bret Hart vs. Steve Austin, I Quit Match, WrestleMania 13
There have been gorier WWE matches, but when fans think of blood in wrestling, their minds often turn to the image of Steve Austin writhing in pain, blinded by his own blood.
In one of the greatest stories ever told in a wrestling ring, two men came out of this match far different than when they came in. Austin was the uncouth heel gaining momentum as well as fans. Bret Hart was the quintessential good guy growing frustrated.
After an enthralling match, Hart left the ring newly despised by fans while Austin became the gutsy hero.
The action told the story well enough, but having Austin bleed so heavily, having him struggle to escape the Sharpshooter with his bald head painted red, elevated this to the level of all-time classic.
Keep Reading