MLB Trade Rumors: 15 MLB-Ready Prospects Turning Veterans into Trade Bait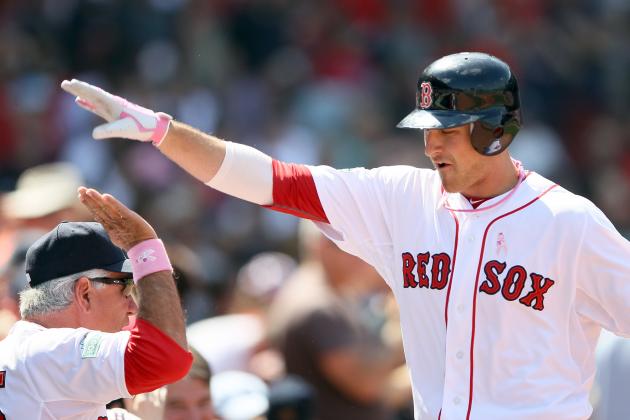 Elsa/Getty Images

Several top MLB prospects have already made their way to the majors early in the 2012 season. Bryce Harper, Mike Trout and Jarrod Parker, among others, have already provided significant contributions to their teams as the season nears the quarter pole.
Other prospects around the league are just beginning to scratch the surface, and there are a number of others who are off to scorching starts at the minor league level, just waiting for their chance to shine in prime time.
Many of these prospects will indeed get their chance, and for the general managers of these particular teams, there will be some major decisions to make regarding roster space availability.
As the summer months approach, teams still in the hunt for a postseason berth will be looking to bolster their rosters, so some prospects could see their promotions occur at that point in time.
In other cases, calling up prospects just makes more sense for teams who have veterans scuffling and not contributing.
Here is a list of 15 prospects who could turn established veterans into trade bait.
Begin Slideshow

»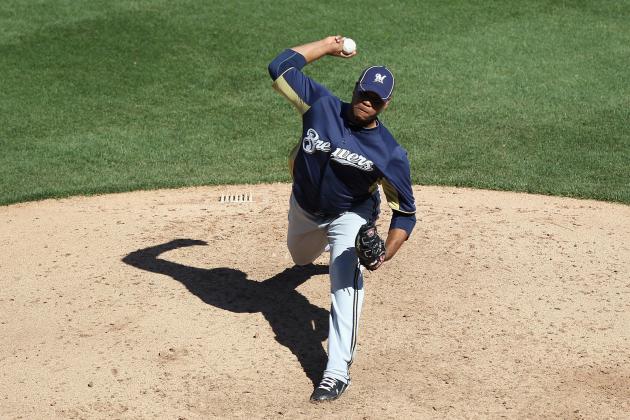 Christian Petersen/Getty Images

Dominican-born right-hander Wily Peralta is regarded as the top prospect in the Milwaukee Brewers farm system, and his performance thus far in 2012 has done nothing to change that opinion.
Peralta was briefly called up in late April after starter Chris Narveson went down with a season-ending shoulder injury. With reliever Kameron Loe on the bereavement list at the time, Peralta offered a brief glimpse of his potential before being shipped back to Nashville.
Peralta has a 3.69 ERA and nearly one strikeout per inning in seven starts at Triple-A, and the Brewers love his upside. If Milwaukee is out of contention by late July, it's entirely possible that Peralta could be given his shot in the majors.
Veteran Displaced by Peralta: Randy Wolf. In the final season of a three-year, $29.75 million deal, Wolf would provide a veteran arm for any contending team needing rotation depth.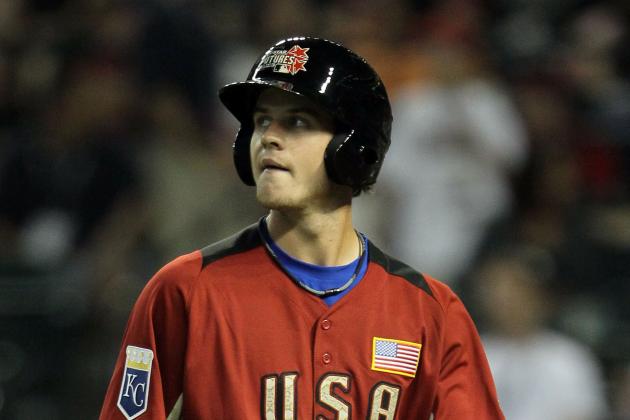 Jeff Gross/Getty Images

A sensational Arizona Fall League season followed by an equally impressive showing at Double-A Northwest Arkansas thus far in 2012 has many wondering just when outfielder Wil Myers will be making his debut for the Kansas City Royals.
Myers is currently raking in the Texas League, hitting .343 with 13 HR and 30 RBI in his first 35 games. In recent years, the Royals have not been shy about moving their prospects up, and Myers is likely no exception.
Veteran Displaced by Myers: Jeff Francoeur. While Francoeur signed a very team-friendly three-year, $16 million contract following an excellent 2011 season, that certainly doesn't give any guarantee that he remains in Kansas City. His veteran bat would be of great value for any contending team's playoff push, and GM Dayton Moore would get excellent value in return.
Update: Myers was promoted to Triple-A on Wednesday afternoon.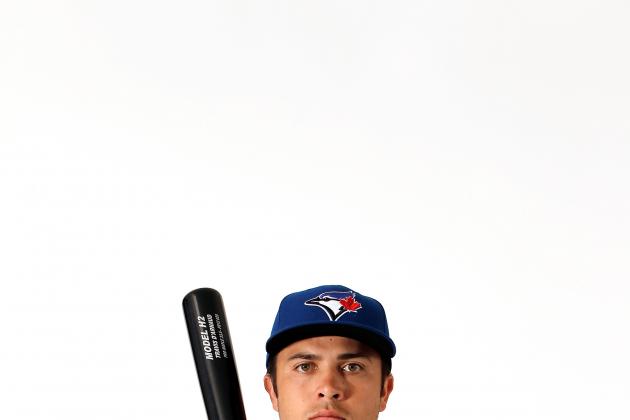 Jonathan Ferrey/Getty Images

The Toronto Blue Jays may have an interesting dilemma to deal with in the next few months.
Although they already have a young stud in J.P. Arencibia, the Jays seem to prefer the all-around skills of d'Arnaud in the squat.
Arencibia did produce last year, chipping in 23 HR and 78 RBI for the Jays, but he hit just .219 in the process.
This year has seen no improvement, with Arencibia hitting just .222 entering Wednesday play, with 23 strikeouts against just four walks.
D'Arnaud, the 17th-ranked prospect in the top 100, according to Baseball America, is currently hitting .271 in Triple-A with four HR, 15 RBI and a more palatable 12 BB/25 K rate.
Veteran Displaced by d'Arnaud: Arencibia. The guess here is that Blue Jays GM Alex Anthopoulos could make Arencibia available with d'Arnaud's promotion. Arencibia would still represent an upgrade for several teams behind the plate.
Rob Tringali/Getty Images

With Trevor Bauer currently mowing down hitters at the Double-A level, it's entirely possible that last year's third-overall pick in the MLB draft could be Arizona-bound sooner rather than later.
Bauer has posted a 7-1 record and 1.68 ERA thus far in his first eight starts for the Mobile Bay Bears, with 60 strikeouts in 48.1 innings of work.
If there is one fault to find, it would be Bauer's walk rate, currently at 4.8 BB/9. No doubt the D-Backs would like to see a bit more command of the strike zone, but considering his mastery otherwise, it may be a moot point.
Veteran Displaced by Bauer: It would have to be Joe Saunders at this point. While Saunders is sporting a 3.43 ERA in his first seven starts, he represents a player that isn't in the future plans for the D-Backs and could be the perfect rental player at the trade deadline for several teams.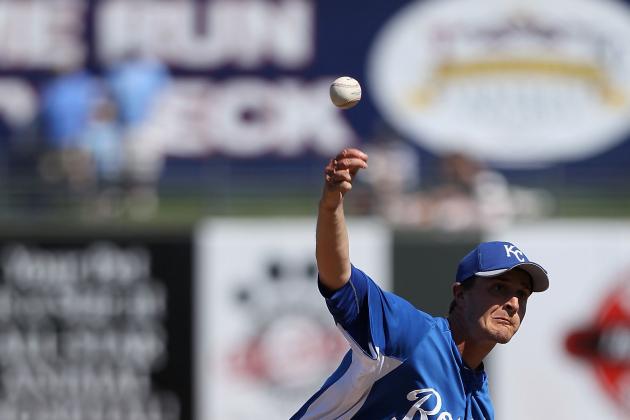 Christian Petersen/Getty Images

When the Kansas City Royals traded starting pitcher Zack Greinke and shortstop Yuniesky Betancourt to the Milwaukee Brewers in December 2010, one of the prospects received in return was potential-packed pitcher Jake Odorizzi. As it stands right now, that potential has Odorizzi sniffing at a major league call-up.
The Royals promoted Odorizzi, taken by the Brewers in the first round of the 2008 MLB draft, to Triple-A Omaha on Wednesday afternoon after posting a 4-2 record and 3.32 ERA in seven starts at Double-A Northwest Arkansas.
Odorizzi also posted an impressive 0.974 and equally impressive 11.8 K/9 rate, so it may not be long before the Royals come calling.
Veteran Displaced by Odorizzi: Quite possibly Jonathan Sanchez. The southpaw's short time in KC thus far has been painful—a 1-2 record, 6.75 ERA and just 25.1 innings in six starts.
Sanchez has shown a complete inability to establish plate command with a 7.8 BB/9 rate, pushing pitch counts way up and forcing manager Ned Yost to call on his bullpen far too early.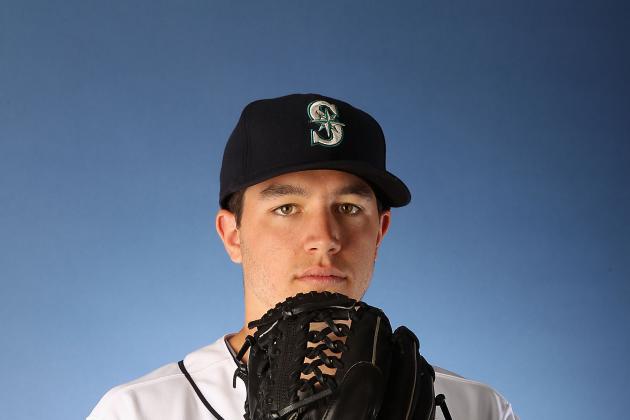 Christian Petersen/Getty Images

Much like Trevor Bauer earlier in this presentation, Seattle Mariners pitching prospect Danny Hultzen is toying with hitters at the Double-A level.
Hultzen's 3-3 record isn't indicative of the command he has shown over hitters thus far—a 1.91 ERA, just 17 hits allowed in 37.2 innings, a K/9 rate of 8.6 and a 1.062 WHIP.
Like Bauer, Hultzen still needs to show a bit more command with a 5.5 BB/9 rate, but he is clearly part of the future for the Mariners, and that future could very well come sooner rather than later.
Veteran Displaced by Hultzen: It would have to be Kevin Millwood. Millwood is 1-4 with a 5.09 ERA after seven starts thus far. Not sure what Mariners GM Jack Zduriencik would be able to get in return, if anything, but at his current pace, Millwood will be looking over his shoulder before long.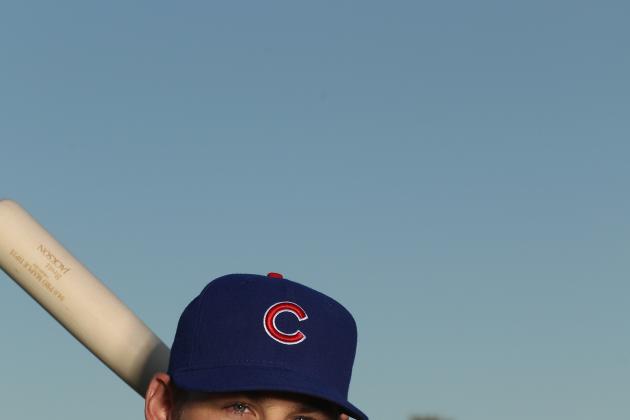 Ezra Shaw/Getty Images

When the Chicago Cubs traded center fielder Marlon Byrd to the Boston Red Sox in April, it was clear that new vice president of baseball operations Theo Epstein was sending a message that his master plan involves clearing out the old and bringing in the new.
Tony Campana has done an excellent job thus far as Byrd's replacement, with a .333 average, three HR and nine RBI in 22 games. However, top prospect Brett Jackson would appear to be the man the Cubs are waiting for.
Jackson has gotten off to a slow start with Triple-A Iowa, hitting just .226 with three HR and 12 RBI. However, if Jackson can figure things out, he could be starring at Wrigley Field later this summer.
Veteran Displaced by Jackson: Most likely David DeJesus. Campana can play corner outfield positions as well, so if he keeps up a hot bat, the Cubs outfield could look very different come August.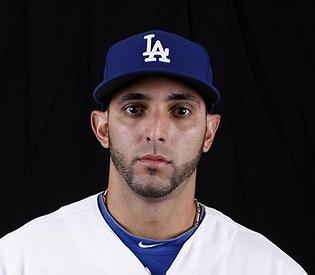 Photo courtesy lasordaslair.com
When the Los Angeles Dodgers traded shortstop Rafael Furcal to the St. Louis Cardinals last year at the trade deadline, they received prospect Alex Castellanos in return.
Castellanos was not necessarily considered a blue-chip prospect at the time, but what he's doing with the bat at the Triple-A level simply can't be ignored.
Castellanos made the transition back to infield for the Dodgers this spring after switching from the infield to right field in the Cards system.
To say the transition has gone smoothly would be an understatement. Castellanos is hitting .366 for the Albuquerque Isotopes with a .477 OBP and 1.266 OPS. It's not a complete surprise—Castellanos did hit .320 at the Double-A level last season as well.
Veteran Displaced by Castellanos: Adam Kennedy. Kennedy is hitting just .194 in limited action thus far with no homers and just four RBI. If the Dodgers are looking to improve their depth, Castellanos may just be the man for the job.
Jeff Gross/Getty Images

With the struggles of both Alex Presley and Nate McLouth for the Pittsburgh Pirates, outfield prospect Starling Marte could be just one hot streak away from making his debut at PNC Park.
Presley is hitting just .220 after a solid start and has looked totally lost at the plate, while McLouth shows no signs of reversing the decline that has defined the last three years of his career.
Marte is hitting .261 at Triple-A Indianapolis, but the Pirates would like to see better plate discipline from the youngster, who has just seven walks against 27 strikeouts.
Still, if Marte gets hot and soon, the Pirates likely won't hesitate in promoting him.
Veteran Displaced by Marte: Without question, it would be McLouth. The Pirates must have thought McLouth could find his stroke with his return to Pittsburgh, but it simply hasn't happened.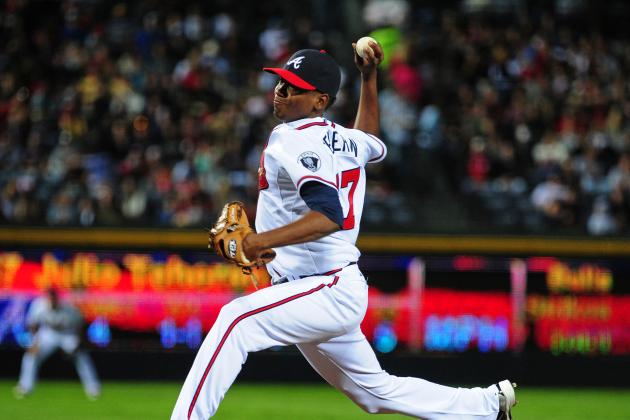 Scott Cunningham/Getty Images

If Atlanta Braves starting pitcher Mike Minor continues to struggle, might prospect Julio Teheran get his shot?
Minor is an outstanding prospect for the Braves, but he has been highly inconsistent. Minor is 2-2 with a 6.59 ERA in seven starts, and the long ball has been his enemy, with eight homers served up in those seven starts.
Teheran, who was 15-3 with a 2.55 ERA last year for Triple-A Gwinnett, is off to a similar start this season, with a 2.48 ERA in seven starts. Teheran did get a look last season, with two spot starts in May and three more appearances in September.
Veteran Displaced by Teheran: Hard to say. Minor could be optioned back to Triple-A to work out his troubles.
Update: Minor's rough start continued, giving up six runs on six hits to the Marlins on Wednesday, raising his ERA to an ugly 7.09.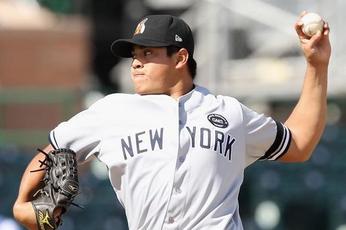 Photo courtesy riveraveblues.com
The 2012 season simply did not start out well for New York Yankees pitching prospect Manny Banuelos.
After being assigned to Triple-A Scranton/Wilkes Barre to start the season, Banuelos got roughed up in his first two starts, and he clearly looked out of sorts. After his second start, Banuelos was placed on the disabled list with a strained back.
Since returning from the DL, Banuelos has been absolutely nasty. In three appearances since his return, Banuelos has given up just one earned run in 14.2 innings, and while command was an issue last season and early this year, Banuelos has yet to walk a batter since his return from the DL, striking out 15.
With the struggles that forced starter Freddy Garcia to the bullpen, the uncertainty surrounding the return of Andy Pettitte and injury concerns, Banuelos could very well see time with the big-league club sometime this season.
Veteran Displaced by Banuelos: Possibly Garcia, although with the injury bug that has hit the Yankees pitching staff thus far (Michael Pineda, Mariano Rivera, David Robertson), it could be a matter of attrition that causes Banuelos' promotion.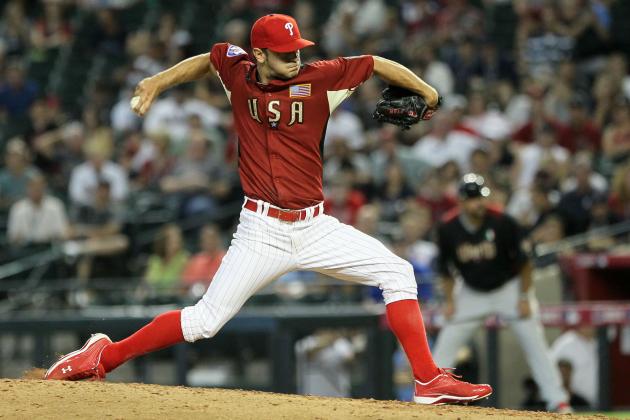 Jeff Gross/Getty Images

Houston Astros top pitching prospect Jarred Cosart was promoted to Triple-A Oklahoma City less than two weeks ago. How much longer will it take for him to be seen at Minute Maid Park?
Considering that the Astros had no issue in promoting 20-year-old Jordan Lyles last year, it's certainly not a stretch to believe that the 21-year-old Cosart could soon make his way to Houston.
Cosart's command still needs work—15 walks issued in 25.1 innings thus far—but considering that the Astros aren't going anywhere this year, Cosart could get a chance to develop at the major league level.
Veteran Displaced by Cosart: Could it be Wandy Rodriguez? It's no secret that the Astros will listen to any offers for their veterans, and Rodriguez's hot start to the 2012 season could lead to a nice return for GM Jeff Luhnow.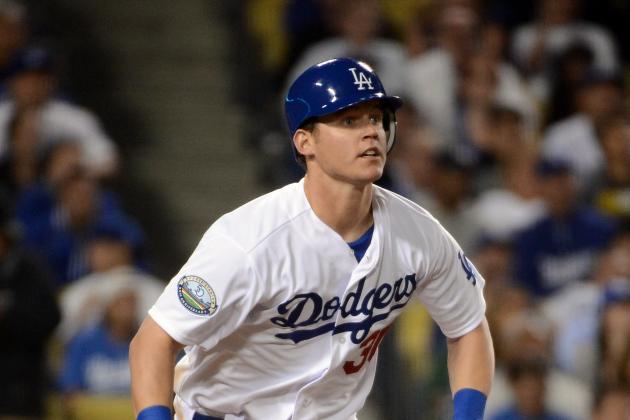 Harry How/Getty Images

Los Angeles Dodgers prospect Jerry Sands was called up on Monday night to replace Matt Kemp on the roster. Kemp was sent to the DL after an MRI revealed a strained left hamstring.
Sands can also play first base, and if he can continue impressing with the bat, James Loney's days in L.A. could be numbered.
Veteran Displaced by Sands: Sands could be optioned back to Triple-A when Kemp returns, but if Loney continues to struggle at the plate (.234, 1 HR, 8 RBI after Wednesday's loss to the San Diego Padres), new team president Stan Kasten could be giving GM Ned Colletti the green light to facilitate a deal.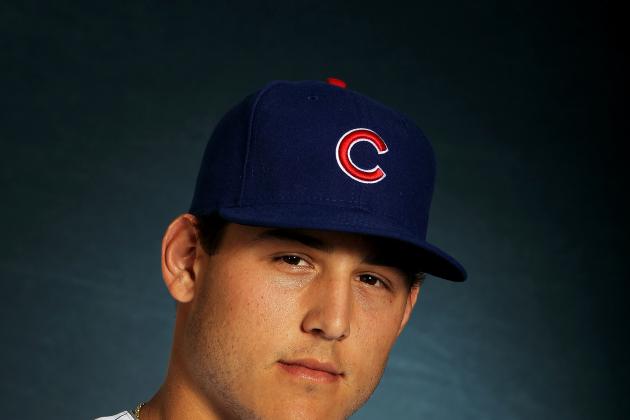 Jamie Squire/Getty Images

Chicago Cubs first base prospect Anthony Rizzo is absolutely tearing up pitching at the Triple-A level, hitting .359 with 13 HR and 37 RBI for the Iowa Cubs.
However, there's a slight problem at hand, and its name is Bryan LaHair. The first baseman is currently raking for the Cubs, hitting .352 with 10 HR and 21 RBI in his first opportunity to shine at the major league level at 29 years of age.
LaHair can also play a corner outfield position, so Theo Epstein and GM Jed Hoyer will have an interesting decision to make if Rizzo continues to swing a hot stick.
Veteran Displaced by Rizzo: David DeJesus. We mentioned DeJesus earlier in reference to prospect Brett Jackson, but if Epstein and Hoyer decide to promote Rizzo and move LaHair to the outfield, DeJesus would be the likely choice, given the fact that Alfonso Soriano's monster contract will likely prevent a deal with him.
Winslow Townson/Getty Images

When the Boston Red Sox placed veteran third baseman Kevin Youkilis on the disabled list with a strained back, they called upon highly-regarded prospect Will Middlebrooks to make his major league debut. Middlebrooks responded big-time.
Before Wednesday's contest with the Tampa Bay Rays, Middlebrooks was hitting .300 with four HR and 14 RBI in just 12 games, and he has not looked overmatched in any way.
Youkilis started a rehab assignment on Wednesday and will likely be activated off the disabled list early next week, meaning Middlebrooks will return to Pawtucket.
However, given Youkilis' slow start and history of injury troubles over the past two-plus seasons, could GM Ben Cherington be showcasing Youkilis when he returns?
Veteran Displaced by Middlebrooks: Absolutely Youkilis. Cherington won't have any trouble finding a team that needs "The Greek God of Walks" and will get solid value in return.
Doug Mead is a featured columnist with Bleacher Report. His work has been featured on the Seattle Post-Intelligencer, SF Gate, CBS Sports, the Los Angeles Times and the Houston Chronicle. Follow Doug on Twitter, @Sports_A_Holic.