Chicago Bears: Way-Too-Early Award Predictions
May 16, 2012

With the Detroit Lions out of the way and the Packers photobombed into submission, it is time to turn our crystal ball towards Chicago and their beloved Bears.
Sadly, the crystal ball only wants to watch Brian's Song, so once again it's time for me to look into the future and award Jay Cutler and the guys their accolades.
The Bears have a very interesting team this year, one which can go either way. If it gels, they could be a threat to take their division (or more). But if the pieces can't find a way to fit together, well, these awards might be the only accolades they get.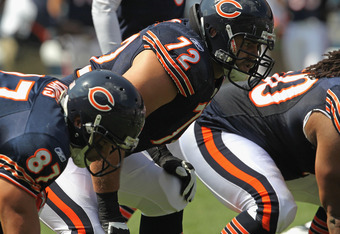 Jonathan Daniel/Getty Images
MVP—Gabe Carimi
Didn't see that one coming, did you? The obvious choices are guys like Cutler, Matt Forte, Brandon Marshall—the sexy skill players.

However, if Carimi moves to left tackle (it's under consideration), much of the success Cutler and Marshall will have could stem from a finally solid blind side.
It's hard to imagine not moving Carimi if he's healthy. Current left tackle J'Marcus Webb was ranked as one of the worst tackles in all of football by Pro Football Focus. If Carimi is breathing and has two legs (with or without both arms), he'll be an improvement.
I have been a fan of Carimi since college and believe that, if healthy, he can be a very good left tackle. Having him next to Cutler will make this offense so much better.
Sure, Cutler, Forte and Marshall will get the headlines. But Carimi will deserve the credit.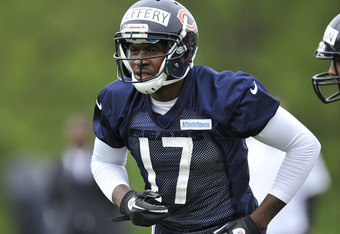 Brian Kersey/Getty Images
Rookie of the Year—Alshon Jeffery
While I think he went about where he should have in the draft, Jeffery disagrees, and he's going to come into the season with a huge chip on his shoulder. I wouldn't be shocked if we saw him have one of the most productive seasons for a rookie wide receiver in some time.
I don't expect Randy Moss numbers, but enough yards to make there be no doubt that he is the No. 2 receiver in Chicago and will be for some time.
Playing across from Brandon Marshall won't hurt either, as teams will be much more likely to let the rookie roam free rather than Marshall.
Brandon Hardin and Shea McClellin are both guys I expect to be very good this year, but Jeffery will be spectacular.
Nothing like a giant draft-related insult to motivate a player.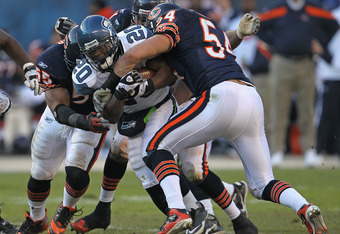 Jonathan Daniel/Getty Images
Defensive MVP—Lance Briggs

Last year it would have been Brian Urlacher, but I expect 2012 to be all about Briggs. Whereas in 2011 he didn't record a sack, I believe with attention focused on Julius Peppers and Shea McClellin at the defensive ends, Briggs will find his way into the backfield more frequently.
Peppers will get his, but offensive lines are going to have to pick their poison, and until Briggs really gets going, they will probably choose to take Peppers out of the play.
By the time they adjust for Briggs, it's going to be too late.
Now we move onto the specialized Bears awards, which I have named after one of my favorite meals from the Windy City.
Dang it, now I'm hungry. So while I go snack, welcome to the first ever Deep Dish Awards.
Deep Dish Awards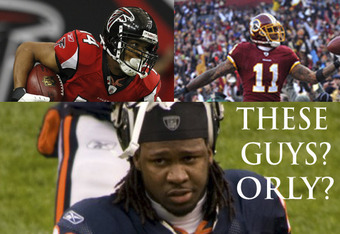 Most Superflous Newcomer—TIE—Eric Weems/Devin Thomas

A while ago we talked about the silliness of pulling Devin Hester off any sort of kick or punt-return duties, much less for free agent signings Eric Weems and Devin Thomas.
Recently the special teams coach for the Bears, Dave Toub, dismissed that first rumor, which only goes to show you how silly it was in the first place. As if removing Hester from returns was going to make him a standout wide receiver suddenly.
So if Hester continues to return kicks, and the roster of receivers includes Brandon Marshall, Alshon Jeffery, Earl Bennett, Hester and perhaps Johnny Knox and Dane Sanzenbacher, where do two special teams guys who aren't good at anything else go?
Nowhere, that's where. Those two could make the roster just in case or to give the team more options, but if they're around by season's end, they won't be third wheels—they'll be 12th wheels on a four-wheel vehicle.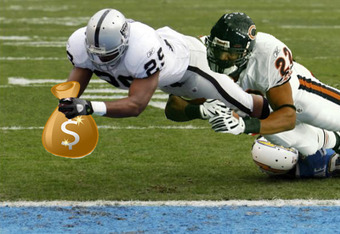 Most Useful Newcomer—Michael Bush
Bush wins this over Brandon Marshall for two reasons. First, there is, as of today, a very good chance Matt Forte will hold out. If that's the case, Michael Bush will be critical to the success of this offense because nobody else behind him is all that great.
His second purpose is actually what makes him most useful—his arrival destroyed Matt Forte's leverage. Sure, it's unlikely Bush is as good as Forte, but he's very good in his own right and he's signed long-term for a reasonable price.
Forte hasn't a leg to stand on. Either he breaks and comes into camp, signs his tender and plays out this year, or he holds out and gets nothing. Heck even if they reach a deal, it's going to be for less than if Bush wasn't with the franchise.
Any GM will tell you, that's pretty useful for a new guy.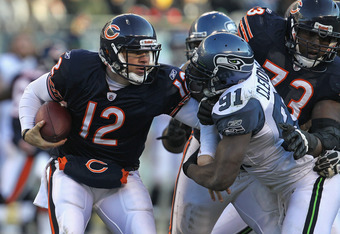 Jonathan Daniel/Getty Images
The Hester Award—J'Marcus Webb
This could have also been called the "Round Hole, Square Peg" or "Most Misused" award.
Whatever you call it, Webb is the very definition of it. He's a terrible left tackle, and if they keep him there it will end badly. But I'll go one further and say he is at best an inconsistent and mediocre right tackle. This guy has guard written all over him.
Much like the ill-advised efforts to force Devin Hester into being the next great wide receiver, forcing Webb into a tackle spot will never work out well.
You don't mess with the left tackle. You just don't throw bodies at it and hope it works out. Really, you shouldn't do that for the right tackle either.
Inflicting Webb on this offensive line as a tackle is a bad idea. One hopes they come to their senses and move him elsewhere before Cutler gets pounded into a grass stain again.
Check out the new B/R NFC North Facebook page—like us and keep up with everything NFC North on Bleacher Report!