Big Show Fired: Best Scenarios for WWE Star to Return to Action
May 16, 2012

John Sciulli/Getty Images
On this week's Monday Night Raw, general manager John Laurinaitis fired the Big Show on live television.
For all nine of you who completely bought this, I'm sorry.
WrestleZone and Bleacher Report insider Justin LaBar reports on Big Show's future with the WWE:
Big Show, who was "fired" on RAW this past week, is currently advertised for WWE's upcoming tour of Mexico as well as WWE SmackDown tapings and live events taking place after June 2nd.
Anyone who knows even the tiniest sliver of the inner workings of the business knows this is a work, but how the WWE will bring the Big Show back is still a mystery.
All of the following scenarios would work well for the big man's eventual return.
Big Show Helps Johnny Ace Beat John Cena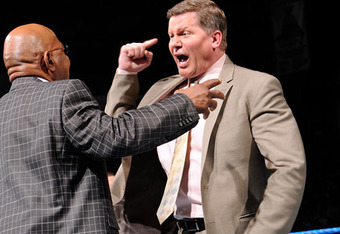 With Big Show doing anything he could to try to keep his job, it wouldn't be too farfetched to think he would interfere in the main event of WWE's Over the Limit PPV to help Johnny Ace and in doing so get his job back.
The promo at the end of Raw with Cena clearly left the door open for a star who doesn't work for the company to return.
While it could be Brock Lesnar or Batista, the fact that the WWE played a video montage of the actions on Raw several times means Big Show has the best chance of being the guy to return on Sunday night and help Laurinaitis win.
The Classic Open Challenge Match
Big Show has been rumored to be returning as a heel, but that's not necessarily how he wants to end his Hall of Fame career. One way for him to return as a face would be via the classic Open Challenge match.
You could have a title holder, most likely Cody Rhodes, issue an open challenge to anyone in the building. Through the crowd, the Big Show could emerge and accept the challenge and win the belt.
As long as Big Show has the title, the WWE could write in that he couldn't be fired. This isn't the scenario I'd go with, but it's definitely a viable option.
Triple H Hires Big Show as his Bodyguard Against Brock Lesnar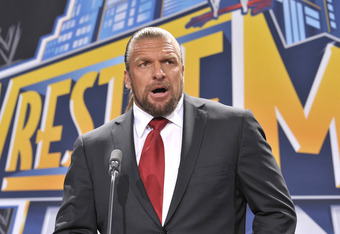 Michael N. Todaro/Getty Images
With Triple H and his broken arm being verbally berated by Paul Heyman and possibly attacked again by Brock Lesnar, it may be time for the WWE's COO to get a bodyguard in the Big Show.
As much as Triple H doesn't need a bodyguard because he thinks he's so tough, the broken arm would be the perfect way to allow his ego to accept this storyline.
Add in the fact that this would be yet another way for Triple H to step on Johnny Ace's toes, and this option becomes even more feasible.
Check back for more on the World Wrestling Entertainment as it comes, and visit Bleacher Report's Wrestling Page to get your fill of WWE/TNA. For more Wrestling talk, listen to Ring Rust Radio for all of the hot topics you just can't miss (some language NSFW).