Detroit Lions: Why Jim Schwartz's Contract Should Be a Priority Now, Not Later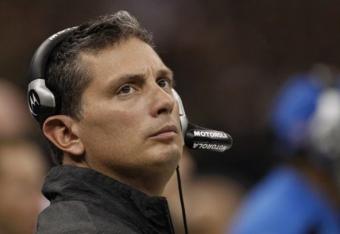 In the long and depressing annals of Detroit Lions history, head coaching changes have occurred almost as often as losses. Okay, that is a blatant exaggeration, but you get my point.
Coaches have come and gone, and the ones who actually made positive impacts on the team were few and far between.
George Clark, Buddy Parker and George Wilson all won NFL championships prior to 1960. You could say that those guys set the standard that all other Detroit coaches shoot for. Luckily for their legacies, no Lions coach has come close. In fact, the only other coach to win a single playoff game since then is Wayne Fontes.
While current Lions head coach Jim Schwartz's legacy hasn't reached Fontes' level yet, he's brought something to Detroit that was missing for some time: hope. He's changed the toxic culture of losing that once permeated the franchise, and he has the team winning.
Schwartz also shares the same vision for success as team general manager Martin Mayhew. Together, they have assembled a team that is united, and they play to win. As a result, the Lions are firing on all cylinders, and the sky is the limit for 2012 and beyond.
So, given all that he's done for Detroit, why haven't the Lions signed him to a long-term deal yet? Free agency and the draft are over, while training camp has not started. If not now, then when?
As Larry the Cable Guy so eloquently put it, let's "Get 'er Done!"
Should Fans worry about Jim Schwartz's contract situation?
ESPN.com's NFL Nation Blog reports that there is no reason for Lions fans to get their skivvies in a bunch just yet.
There is reason for Detroit to operate with a sense of urgency, though.
Schwartz's deal will expire at the end of this season, and you'd think the Lions would want the situation resolved before the start of training camp in July. If there is no deal in place by then, fans would have every right to commence with the obligatory hand-wringing.
With the amount of anticipation and positive energy floating around Detroit these days, who wants headlines about a contract dispute causing a distraction? Certainly not the Lions, who might be on the verge of a historically successful year.
There's also the possibility that, with no deal in place, hard feelings might develop, and Schwartz could rethink his desire to stay in Detroit. That is the last thing this franchise needs.
Those are worst-case scenarios, though. Until then, let's focus on what we know: Schwartz has given no indication that he's looking to go elsewhere, and the Lions would be absolutely crazy not to re-sign him.
I predict there will be an announcement sometime before July. Schwartz will probably mention it for two seconds during a press conference, or better yet, he'll release a statement to the press about it.
Most importantly, with his contract issues out of the way, everyone can move on to more important things—such as peppering him with questions about Jahvid Best's health or why Detroit picked a receiver in Round 2.
Come to think of it, he might want to let this contract thing linger a bit more.
This article is
What is the duplicate article?
Why is this article offensive?
Where is this article plagiarized from?
Why is this article poorly edited?

Detroit Lions: Like this team?