Tyler Zeller: Highlights, Analysis and Pro Projections
June 11, 2012
Dilip Vishwanat/Getty Images
Tyler Zeller is a true center with a great motor, but he's limited by mediocre athleticism. He is the rare four-year NBA draft prospect, and he helped guide the North Carolina Tar Heels to a Final Four appearance in the 2011-2012 season.
The true seven-footer is one of only a handful of seniors I have projected to be taken in the first round of the NBA draft. Zeller improved in every major statistical category, in every year at Chapel Hill.
Zeller comes from a basketball family; he is the nephew of former NBA player Al Eberhard, and the brother of Indiana University star Cody Zeller and former Notre Dame player Luke Zeller.
His effort and durability give him very low bust potential, but teams and fans must understand what type of player they're getting in Zeller. Jorrye Nixon of NBADraft.net said: 
"He will be a good fit in a fast-paced offense."
I would agree as this gives him a chance to out-hustle less mobile bigs down the floor.
Here is a scouting report on the Carolina big man highlighting his strengths and weaknesses.
(Height, weight and stats per statsheet.com)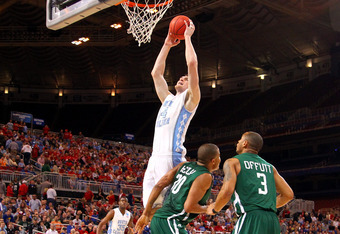 Dilip Vishwanat/Getty Images
Profile:
Height: 7' 
Weight: 250 pounds 
School: North Carolina
Date of Birth: January 17, 1990
Best NBA Position: Center
College Stats: (Key Stats Underlined) 16.3 PPG, 28.2 MPG, 55.3 FG%, 0 3FG%, 80.8 FT%, 0.9 APG, 9.6 RPG, 1.5 BPG, 0.9 SPG
Skill Grades
Athleticism: B-
Size: A
Intangibles: A+
Rebounding: A
Ball Handling: B
Defense: A
Shooting: A-
Passing: B+
Post Game: A-
Basketball IQ: A-
Upside: B-
Strengths
Zeller is a hard-hat, lunch box player, and at seven feet tall that is a solid prospect. He plays hard all the time, runs the floor well and gives great effort on both ends of the floor.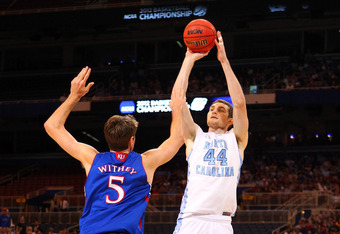 Dilip Vishwanat/Getty Images
He's a solid rebounder who gets good position on the offensive and defensive glass. His biggest asset in the NBA, as far as skills are concerned, will be his shooting ability. Zeller is accurate and consistent on his jump shot out to 17 feet. I could easily see him extending that range to three-point distance.
He also has a solid post game. He can finish with nice jump hooks, or face up and take the mid-range jump shot. Zeller displays a good understanding of the game. His defensive positioning and rotation are solid. On offense, he understands positioning and angles well.
He is also an 80 percent free-throw shooter, and that is always a great quality in a big man.
Zeller's versatility is on display in this video:
Weaknesses
He has a credit card vertical, and he tends to keep the ball too low in traffic. This tendency will lead to strips, and him getting his shot blocked a lot more than it should.
Because of Zeller's athletic deficiencies, he has little upside. He is what you see, but that is a very capable and solid big man.
With size at a premium in the NBA, a legit seven-footer who plays hard is worth a late lottery pick.
NBA Player Comparison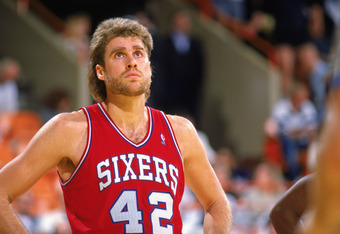 Mike Powell/Getty Images
Slightly More Athletic Mike Gminski
Mike Gminski was a solid center in the NBA during the 1980s and early 1990s for several NBA teams. In his 13-year-career, Gminski averaged 11.7 points and 6.9 rebounds per game. He was a very good jump shooter, passer and free throw shooter.
He did have some limitations as an athlete, but he was skilled and he played hard. This profile is very similar to Zeller, though I think he's a little better athlete than Gminski was.
Seven-footers with a solid motor can play as long as they want. If you throw in some decent offensive abilities, Zeller will have a solid NBA career.
Draft Projection
From No. 10 to No. 18
Follow Brian Mazique and Franchiseplay.net for reactions, analysis and news from the world of sports and sports Video Games