Arsenal Transfer Rumours: Gunners Must Move for Legendary Alessandro Del Piero
May 16, 2012

Valerio Pennicino/Getty Images
Arsene Wenger and his North London outfit survived a scare against West Brom in the final game of the season to secure a spot in the UEFA Champions League next year.
It remains to be seen if Wenger can hold on to his club captain this summer—he lost his former skipper Cesc Fabregas last summer—and veteran leadership is paramount to success in Europe's top competition.
Thus, the Frenchman must take notice of Italian legend Alessandro Del Piero's interest in moving to the Premier League, as the Daily Mail reports the Juventus star is "is considering three options and Arsenal, Tottenham and QPR have all been linked in recent weeks."
Del Piero has been with Juve since 1993, a remarkable run that includes 513 Serie A appearances and 208 goals. Throughout his storied career, he has appeared in 129 European competitions and scored 52 goals. It is safe to say that the 37-year-old knows a thing or two about winning and competing with the best.
This past year he helped his long-time Italian side win the league title for the first time since back-to-back titles in the 2001-2002 and 2002-2003 campaigns.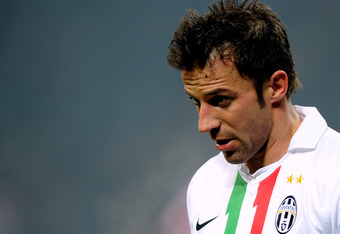 Claudio Villa/Getty Images
Now his legendary run in Turin has come to an end and he wants to finish his career in England.
The Gunners are one of England's most prestigious clubs, but they haven't won many trophies in recent years, which is why stars like Fabregas and Samir Nasri forced their way out early.
Wenger is determined to not let it happen with Robin van Persie, and he'd be wise to give his club captain some more veteran help for Champions League play next season.
Although Del Piero is older, his veteran leadership is something the Gunners would be foolish to pass up.