NHL Playoffs 2012: Jeff Carter's Hat Trick Leads Kings to a Game 2 Win
May 16, 2012

Christian Petersen/Getty Images
The Los Angeles Kings took a 2-0 series lead, defeating the Phoenix Coyotes 4-0 in Game 2 of the Western Conference Finals of the 2012 Stanley Cup Playoffs.
The Kings were dominant throughout the game, outshooting the Coyotes 40-24 in the process.
Dwight King began the scoring in the first period, tipping in a shot from the point by Drew Doughty.
In the second period Jeff Carter notched his second goal of the playoffs, with Mike Richards and Dustin Penner receiving the assists.
With the score 2-0 and the Kings already on the power play, the Coyotes were called for two separate penalties at the 16:29 mark of the second period.
First, Daymond Langkow slashed Dustin Brown's stick, followed moments later by Shane Doan hitting Trevor Lewis into the boards from behind. Langkow was given two minutes for slashing, while Doan was assessed a five-minute major for boarding and a game misconduct.
However, Lewis did appear to turn his body to face the boards immediately prior to the hit. With that in mind, it's unlikely that Doan will receive a call from Brendan Shanahan regarding the hit.
During the Kings' power play, goaltender Mike Smith gave Dustin Brown an aggressive chop with his stick. Smith, the most penalized goaltender in the regular season, received a two-minute penalty for slashing. Surprisingly, Dustin Brown was also given a two-minute penalty for diving on the play.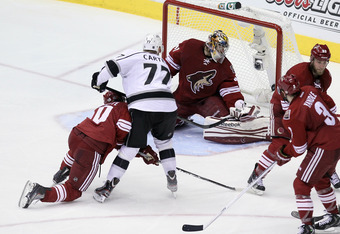 Jeff Gross/Getty Images
Less than a minute later, Carter scored his second goal of the game on a power play, tipping home an Anze Kopitar wrist shot from the slot.
The third period featured two questionable plays by Coyotes players. Martin Hanzal checked Dustin Brown from behind and received a five-minute major for boarding and a game misconduct. The NHL will likely review the hit and consider further discipline.
Derek Morris followed up the Hanzal hit by going knee-on-knee with Kings defenseman Rob Scuderi. Morris was given a two-minute minor for kneeing on what was a dangerous play.
Jeff Carter completed the hat trick at the 12:56 mark of the third period, banging home a rebound on the power play.
With the win, the Kings are now 10-1 in the playoffs, a record that includes seven straight road wins. The Kings will look to take a commanding 3-0 series lead in Game 3 in Los Angeles on Thursday at 9 p.m. ET.