NL Worst of the Night: Kevin Correia Blows Chance for Pirates to Reach .500
May 16, 2012

Sarah Glenn/Getty Images
Highlighting a bad performance from the previous night in baseball might seem like a harsh way to start the morning. But look at it this way: If you had a rough night or bad day, here's someone who may have had it worse.
After winning three consecutive games and five of their last seven, the Pittsburgh Pirates had a chance to improve to a .500 record for the first time since April 7. That was the second game of their season.
Could the Pirates be working toward another midseason surprise and contend for first place in the NL Central, as they did last year? A win over the Marlins on Tuesday night would give the Bucs a better record than they had at this point last season, when they were 18-22.  
Then Kevin Correia took the mound in the fourth inning. With the game tied at 1-1, Correia put the first four Marlins batters on base with a walk and three straight singles. The third of those hits drove in two runs, giving Miami a lead it held for the rest of the game.
Unfortunately for the Pirates, Correia wasn't done. Following a sacrifice bunt by Josh Johnson, Jose Reyes was intentionally walked to load the bases and set up a force play or double play to get out of the inning. That seemed like a good plan, but Correia didn't exactly cooperate.
Omar Infante followed up with a single that scored two runs for the Marlins. So much for the force play. But with runners on first and second, a double play was still an option.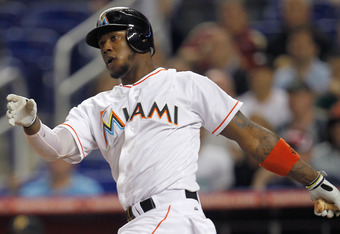 Sarah Glenn/Getty Images
Then Correia hung a slider to Hanley Ramirez for an RBI double off the top of the right field wall. It would've been a two-run hit had Infante not been thrown out at home. But Ramirez also missed hitting a home run by about a foot. 
It could've been much worse for Correia, but giving up five runs in two-thirds of an inning and putting the Pirates down 6-1 was certainly bad enough. 
For the night, Correia gave up six runs, eight hits and four walks in 3.2 innings. That gave him his fourth loss in a row. Most importantly, it cost the Pirates a chance to even up their record.
But with five more road games to close out the week, that probably wouldn't have lasted long anyway. Correia could end up tagged with a fifth straight loss Sunday in Detroit.
Follow @iancass on Twitter