Sunderland: 10 Things We Learned from the 2011-12 Premier League Season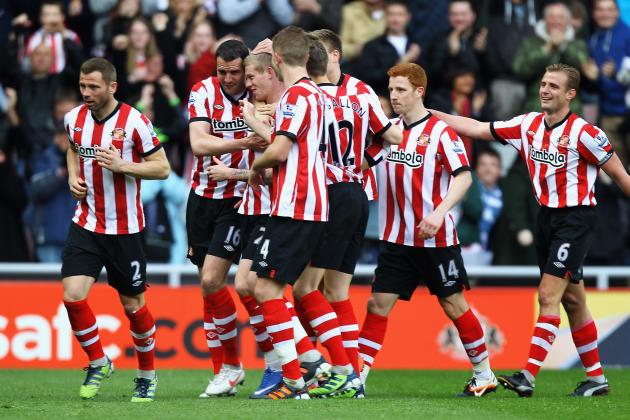 Matthew Lewis/Getty Images

After the trials and tribulations of the 2011-12 Premier League season, there remains only one word that can aptly describe the campaign that Sunderland has endured: turbulent.
The club has been just about everywhere that it is possible for one to go when playing in the English top flight over the past nine months.
Within months of the season's start, it looked as if the Black Cats had exhausted their nine lives and found themselves clawing their way out of a relegation fight before ascending to the heights of the top half of the table and then back again.
If anything, a ticket holder at the Stadium of Light can boast that there wasn't many a dull moment when watching Sunderland play this season.
However, as Aristotle once said, "We are what we repeatedly do. Excellence, then, is not an act, but a habit."
With this in mind, let's look back at the season and see what it is that Sunderland can learn from in order to make progress in the future.
Begin Slideshow

»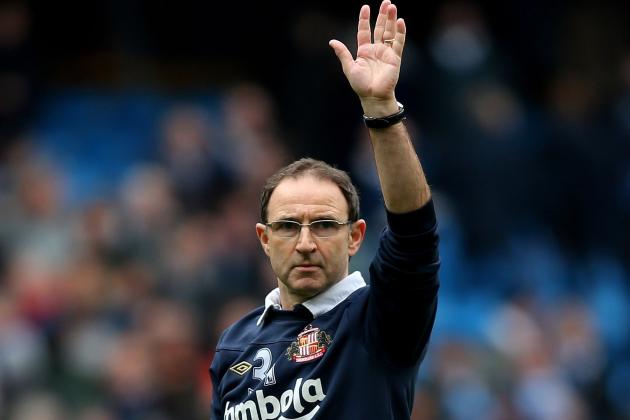 Alex Livesey/Getty Images
O'Neil: A Sunderland Success Story
The most prominent topic of discussion behind Sunderland's 2011-12 season and the point that must therefore head our list is the importance of Martin O'Neill's appointment at the club.
Frankly speaking, O'Neill is a big character and it was clear for all to see what a missed figure he was as a manager upon his return to the English top flight.
As aforementioned, the North East outfit were in somewhat of a relegation risk in December, playing what seemed like tactic-less football at times.
Following the dismissal of Steve Bruce, it's no coincidence whatsoever that as soon as O'Neill arrived at the helm, things began to turn around for the Black Cats.
Any theories that may have been interpreted as a case of 'beginner's luck' were swiftly put back in their place as the Northern Irishman led his new club into contention for a European spot, at one point even leading them to eighth spot; a miraculous achievement given their poor start.
Whether it was a matter of steam running low or the rest of the league cottoning on, Sunderland finished the season in miserable fashion, ending up in 13th, but thanks to Martin O'Neill, the 2011-12 term will ultimately go down as a success.
It helps that the ex-Aston Villa boss is a Mackem fan at heart and supporters will be hoping that their current leader has a role to play at Sunderland for many years to come.
Plain and simply, Martin O'Neill belongs at Sunderland.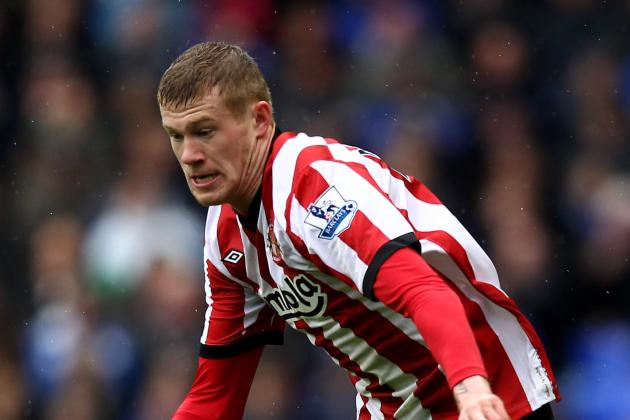 Clive Brunskill/Getty Images
McClean: A bargain at £350,000
If not for the breakout talent of Stephane Sessegnon, James McClean may have found himself nestling a slightly bigger trophy in his cabinet this week.
However, the Irishman has to settle for Sunderland's Young Player of the Year award while his Beninese teammate takes the slightly more prestigious Player of the Year award.
McClean didn't make his first appearance as a senior Sunderland player until December, but the fact that he can make a big enough impact to earn the plaudits he has in the remaining months of the season speaks volumes.
In McClean, Sunderland boast a truly explosive talent that, despite originally being signed as 'one for the future' has established himself as a first-team starter in every way.
From time to time, you'll hear managers speak of players who are capable of turning the tide of a game as soon as they take the field. McClean is one of these players.
What makes the acquisition of this youngster all the better is the fact that he was signed for a paltry sum of just £350,000, pocket change to some in the business world of the Premier League.
Although it was Steve Bruce that signed McClean, Martin O'Neill had the faith to hand the winger his first start.
Six months later, the 23 year-old is preparing to travel with the Republic of Ireland squad to Euro 2012, and Sunderland can only hope that the vultures of elite football don't look to swoop on in their starlet too soon.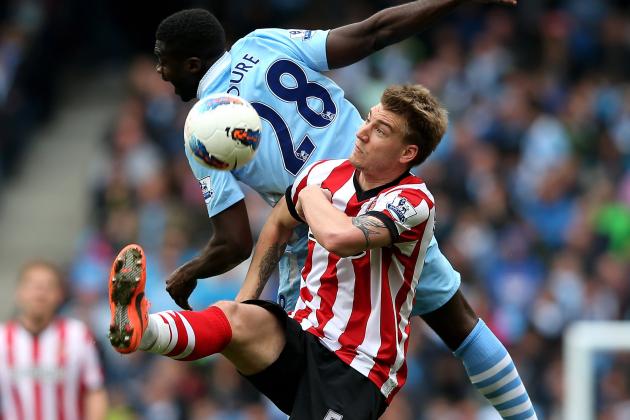 Alex Livesey/Getty Images
Bendtner: Didn't quite fire on all cylinders
Defenders are there to keep the ball out of the net, and forwards are there to put the ball in. This has always been the balance and one major simplicity of football, or at least one would like to think.
If there is one thing that Sunderland does take from the 2011-12 campaign, let it be that one cannot underestimate the necessity of a natural goalscorer.
At Arsenal, Nicklas Bendtner became the butt of many a joke as a result of his boasting that he was a major Premier League talent, regardless of the fact that his goals-per-game ratio suggests otherwise.
The Dane arrived on a season-long loan deal in a somewhat desperate-looking deadline day move in August.
In a way, Steve Bruce's whole season was shaped by the sudden departure of former club favourite Asamoah Gyan (we'll get to him), but with Bendtner as the main attacking option at Sunderland, the club truly struggled to find the back of the net through conventional means.
Connor Wickham and Ji Dong-Won have played bit parts since arriving last summer, but are designated as future talents for the time being, while Fraizer Campbell was limited to appearances in the second-half of the season following his 18-months on the sidelines with injury.
In short, everyone needs their prolific hitman in order to succeed in the Premier League, and Sunderland just didn't have that this season.
Arsenal has Robin van Persie. Newcastle United has Papiss Demba Cissé. Even Grant Holt is a reliable figure at Norwich City.
Needless to say that money will be spent by Ellis Short this summer, and one department in need of considerable investment at Sunderland is the strikeforce.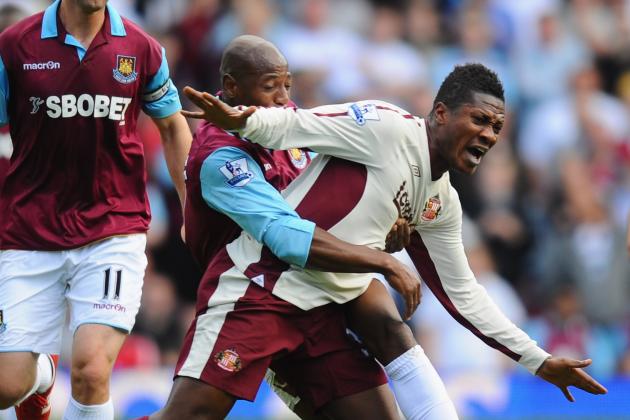 Mike Hewitt/Getty Images
Gyan: Hero turned Villain
That leads us gracefully into our next item on the agenda, being club renegade Asamoah Gyan. His move away from the club shows that in this world, money talks, and what a load of money there was.
The Ghanaian international, who made his first real burst into the public eye at the 2010 World Cup, took the option of a loan deal to United Arab Emirates side, Al Ain, quadrupling his wages in the process.
Gyan would go on to say that the move was for family reasons, but it seems quite clear that this particular transfer was more than partially motivated by greed.
The then main striker at the club, Gyan left the Black Cats in a lurch by completing the deal in September 2011, meaning that Sunderland had no chance of bringing in any reinforcements.
In a way, one could argue that the season may have gone very differently was Gyan still amongst its goalscorers, and Steve Bruce may even still be at the helm of Sunderland but alas, it was not to be.
Martin O'Neill has admitted that it's unlikely that the striker will feature in the red and white of Sunderland again, and after receiving an initial loan fee of £6m from Al Ain, it's thought that a further £5m would be enough to pry Gyan away from the Stadium of Light.
No matter how unwelcome he may be amongst the Mackem faithful, Gyan's return to England will certainly be one to watch. It will be interesting to see whether Sunderland sells what is clearly a natural goal scoring talent.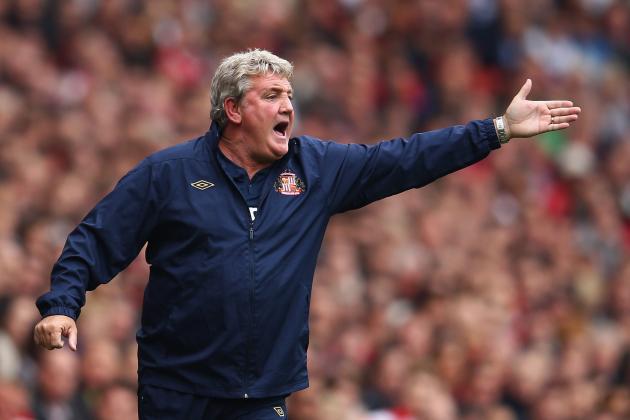 Julian Finney/Getty Images
Bruce: Axed in November 2011
Steve Bruce's two-year tenure at the Stadium of Light was a controversial one. A point worth noting is the credit that the ex-Manchester United defender deserves for his work done at Sunderland.
A Newcastle fan at heart, Bruce's time as manager of the Black Cats was never going to be an easy one, and the 51 year-old recently admitted in an interview with The Sun that there were sections of the Sunderland support that wouldn't let him off easily.
Martin O'Neill will certainly get the praise for bringing the best out of certain Sunderland players, but there are aspects of the Sunderland team for which Bruce can be held accountable.
For example, it was O'Neill that gave breakthrough starlet and emerging talent James McClean his first Premier League start and deservedly so, but it was Bruce that brought the Republic of Ireland international to the club in the first place.
Also, one of the major, if not the only reason that Stephane Sessegnon emerged as Sunderland Player of the Year this season was because of the contributions that the Benin international made in goal.
With Asamoah Gyan having left the club and Nicklas Bendtner as the club's only seasoned striker, Bruce took the initiative in handing Sessegnon more of an attack role behind the forwards.
While it's debatable that Martin O'Neill would have eventually done the same, some seem to forget that it was Bruce whom this idea originated from and for that, he deserves major credit, as it may have just saved Sunderland's season, regardless of the fact that Bruce wasn't there at the end.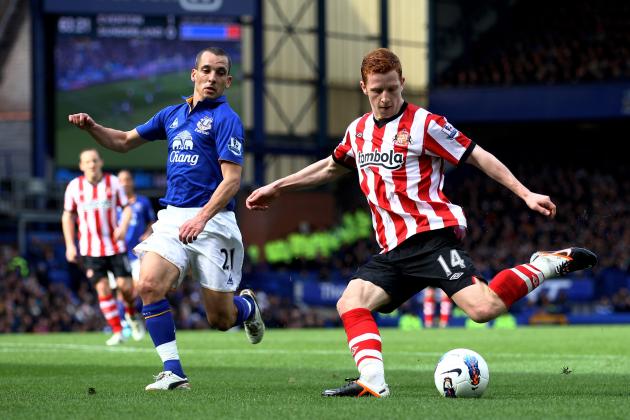 Clive Brunskill/Getty Images
Colback: Emerging talent
Linked to our previous slide, Sunderland can take pride in the way that their youth facilities have flourished over the past three seasons, coincidentally in accordance with Steve Bruce's reign at the club, or not.
To name a few, Jack Colback, Jordan Henderson, Louis Laing, Ryan Noble and Craig Lynchare just some of the aspiring talents to come out of the Sunderland academy in recent years.
Of the five mentioned above, Jordan Henderson is the only player not at the club anymore, having completed a £16m switch to Liverpool last summer.
Jack Colback is moving in a similar direction and is being tipped by many to surpass his former teammate, Henderson, in the coming season.
The homegrown midfielder, known for his range of passing as well as his fiery red hair, has become an integral cog in the Sunderland setup over the last 12 months, showing incredible growth and maturity despite being just 22 years-old.
Stephen Clemence and Kevin Ball are the pair currently heading up the youth development at Sunderland, and whatever it is that they're doing at the club, fans will be hoping to see more of the same.
Julian Finney/Getty Images
Pavel Pogrebnyak: The Power of a Free Transfer
In the humdrum activity of the Premier League, it seems as if money gets tossed about with more frivolity with each season that passes, but Sunderland is one of the clubs to show that it isn't necessary to become involved in cash wars in order to yield results.
Case in point, QPR spent massively outside of their parameters this season, and the outcome was a mismatched squad full of big personalities and even bigger paycheques.
Having already become an established side in England's top tier, it would be easy for owner Ellis Short to become tempted into doing the same in order for his club to reach new heights, but restraint is essential in these scenarios.
Fernando Torres, Andy Carroll, Bébé. It would be easy to reel off a list of hugely expensive players that have moved to big clubs and not managed to make the grade as a result.
Likewise, it's important that Sunderland maintains a "spend within your means" mentality.
In the past two transfer windows, Sunderland has recorded a financial loss of just £3.5m; an acceptable loss in the Premier League.
This limited negativity was built around the sale of Jordan Henderson, but let's not forget that "Hendo" was a talent born and raised in Sunderland, making his sale nothing but profit.
Pavel Pogrebnyak, Gylfi Sigurdsson and Demba Ba are three examples of players set to make huge impacts at Fulham, Swansea and Newcastle, respectively, yet practically all that their new clubs had to pay for them this year was wages.
Niall Quinn may have left the club earlier this year, but his contribution to Sunderland's current state will not be forgotten.
Now, it's Ellis Short's turn as chairman and it will be interesting to see what kind of funds are made available to O'Neill before the start of the 2012-13 campaign.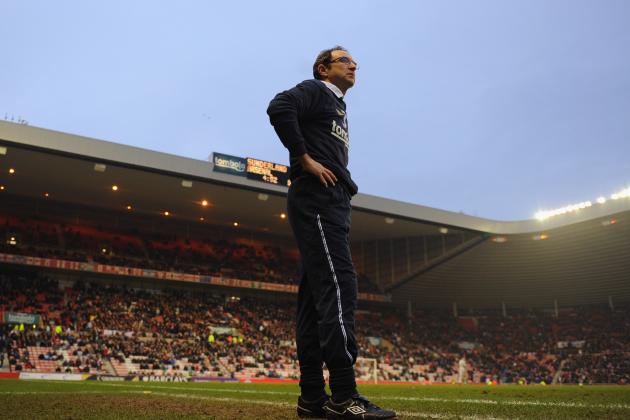 Michael Regan/Getty Images
O'Neill: Big Plans at Sunderland
If we bat a blind eye to the less successful parts of the season, pick out the middle chunk of Sunderland's campaign as the one to progress upon. The evidence and potential are certainly there to suggest that Sunderland can challenge for European football.
After all, if Newcastle United—who were in the Championship just over two seasons ago—can do it, why can't their local rivals, Sunderland?
To pinpoint some highlights, the Black Cats never failed in their two pursuits against newly crowned champions Manchester City this season; something even Manchester United couldn't manage.
A last gasp, Ji Dong-Won saw Sunderland emerge as 1-0 victors over the Citizens at the Stadium of Light, while Martin O'Neil's side earned a 3-3 draw at the Etihad Stadium in March.
An FA Cup victory over Arsenal, as well as further league results against the likes of Tottenham, Newcastle and Liverpool also bode well for Sunderland.
That being said, Martin O'Neill will need to ensure that instead of a 'mid-season haven', Sunderland make good on their entire campaign in 2012-13 in order to grow.
Aston Villa was in similar circumstances as Sunderland when the Northern Irishman arrived to lead them, before going on to record three sixth place finishes in a row, something he will be hoping to replicate, if not better, in his new surroundings.
Holding onto Stephane Sessegnon will be a significantly tough task for the club this summer, considering the season the attacker has had. However, if the team manage to maintain their squad and splice in the addition of a top striker, the Europa League and more could be in the offing for Sunderland.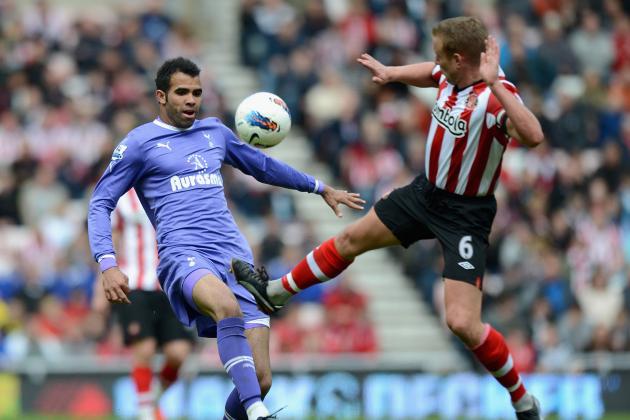 Gareth Copley/Getty Images
Cattermole: Over the top at times
Although it may not be ground-breaking news to anyone familiar with his style of play, it's still worth noting that one of the most influential members of the Sunderland squad, club captain Lee Cattermole, hasn't changed a bit.
In the spirit of learning lessons, you'd think that the former Wigan talisman may have opted for a more relaxed approach to his game in order to maintain playing time rather than minutes sitting in the stands.
No such luck.
Cattermole remains one of the most high-tempered players in a division renowned for its physicality and aggression, making it even more of an accomplishment when you think about it.
The 24 year-old finished the season off with 13 yellow cards and one red card, limiting the captain to just 17 starts.
On the positive side, Cattermole's ferocity is just a sign of his genuine love for the sport and a willingness to fight for his club that many players lack in today's game.
If the midfielder were to take one lesson from this campaign, it would be that a decrease in temperament wouldn't go astray.
It's safe to say that the anchorman isn't quite on the same level as the likes of Joey Barton however, as at least his mean streak comes to an end when he steps off of the pitch.
Yoga may still be a recommended route to take.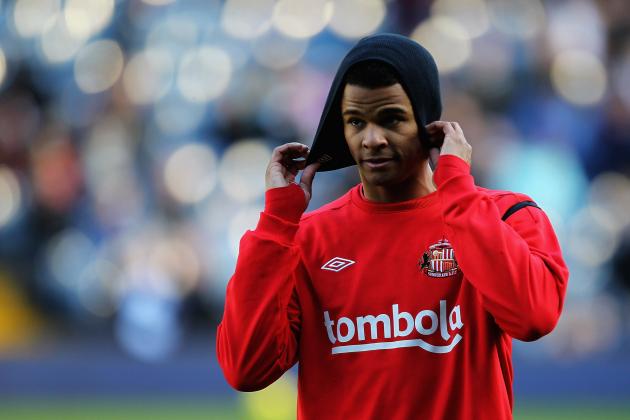 Matthew Lewis/Getty Images
Campbell: No longer out in the cold
Blighted by injury, one wouldn't have been slated for forgetting altogether that Fraizer Campbell remains on the Sunderland books to this day.
However, the pint-sized striker made his return to fitness in the second half of the season and arose to play his role in what was an overall positive campaign for the club.
Campbell moved to Sunderland for an initial fee of just £3.5m in 2009, but in three season at the club, has been limited to just 47 appearances, 36 of which came in the 2009-10 term.
Since then, Campbell has struggled with recurring injuries, the latest of which was an Anterior Cruciate Ligament injury that saw him ruled out of competition for 18 months.
However, the 24 year-old has sprung back onto the Sunderland scene since January of this year, and in ten starts this season has notched three goals and three assists.
Campbell has just one year left on his contract at the Stadium of Light, but could be a distant candidate to earn an extension if he manages to stay fit.