Detroit Tigers: Can Starters Win in Playoffs If Bullpen Never Rebounds?
May 21, 2012

Leon Halip/Getty Images
The chucker and the ace looked awfully good this weekend in the Tigers sweep of the Pittsburgh Pirates who visited Motown for this season's first taste of interleague play over the weekend.
Reigning A.L. MVP, Justin Verlander, flirted with yet another no-hitter, finishing Friday night's victory having rendered only one-hit in a complete game shutout of Pittsburgh while striking out 12. Then, the up and down Max Scherzer mowed down 15 en route to Detroit's 4-3 victory on Sunday.
Friday night's one-hit gem was again nothing short of masterful for the game's best horse. Verlander commands the hill like no one else and toys with some of the game's greatest hitters by stretching his speed range differential nearly 30 miles per hour.
Whether it's the fiery 100-plus mile per hour fastball or that nasty drop-off-the-table curveball, big league hitters have yet to figure out the master. Friday's season high 12 strikeouts won't be the last time he touches double-digits in K's, nor will it be the last time he shoots for history—in 2012.
Scherzer's trademark violent motion was spot on Sunday afternoon as he painted all corners of the plate with a blazing heater while mixing in plenty of off-speed offerings to keep the Pirates guessing. It was as good of a performance Tigers fans have seen from Scherzer all season and his third strong outing in his last four trips to the mound. In that stretch, he's also struck out 36 while walking only six.
Judging from the success he's had over his last several starts, Scherzer's arm slot seems to be locked and loaded and ready to fire. The Tigers need Scherzer to stay honed in on the type of stuff that resulted in another quality start for he is the guy Detroit is counting on to be their No. 3 throughout the season and into the playoffs.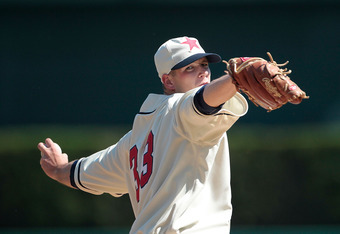 Leon Halip/Getty Images
The Starters
It would seem, too, that the rest of the staff is starting to catch momentum as well. Outside of a shaky performance on Saturday by rookie Drew Smyly, three of the Tigers starters are beginning to settle into the long haul of summer baseball. Fourth-year starter Rick Porcello has also struggled in his last two outings, and along with Smyly, must also find greater consistency.
Smyly has got knocked around a bit his past two outings, not getting to the six-inning quality start marker in either and rendering eight runs, two more than his combined total in his other six starts this season. For a No. 5 starter, the Tigers have to be happy with his performance thus far, a 2.89 ERA with 44 strikeouts, 14 walks, and 39 hits over 43.2 innings.
Porcello, much like Scherzer, has had Jekyll and Hyde performances throughout this season. What Detroit needs the most from him is six innings and a chance to win—in other words, he can't have early exit outings that cost the Tigers a chance to win while trying to overcome huge deficits on the scoreboard.
His 5.12 ERA must get better, and despite the horrendous defensive assistance he's received, he still needs to locate his pitches with greater command.
To his credit, Porcello has a 3:1 strikeout-to-walk ratio and has five quality starts in eight outings. He has, however, also been blown out once by Texas on April 21st when he didn't make it out of the second inning after rendering eight runs.
No. 2 starter Doug Fister has proven once again that Detroit made a deft move near last season's trade deadline to pick up the front-line starter. After enduring an early-season setback which caused him to miss a month and five starts, Fister seems as sharp as ever, holding down a 1.59 ERA in four starts and 22.2 innings of work.
His 0-2 record is the result of a lack of run support more than anything else, as he's only allowed four earned runs on 21 hits with 19 strikeouts and five walks. His confidence and return to the mound should be a huge boost and help protect Detroit's bullpen moving forward.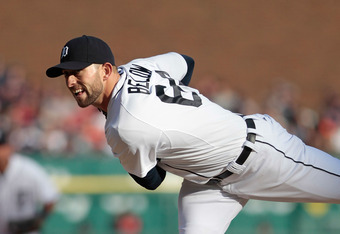 Leon Halip/Getty Images
The Bullpen
The Tigers' pen has endured a brutal stretch so far this season. One that has seen the relief staff work far too many ineffective innings and piddle away opportunities—and much needed victories for a team desperate to get over the hump.
Detroit relievers have a combined ERA of 5.78 and have given up 68 runs in 126 innings of work. These are not numbers that lead teams to Divisional Pennants and World Series Championships. No, instead they are numbers that lead to average seasons and frustrations of what could have been.
The Tigers have got to fix this piece of the puzzle if they have any thoughts of playing baseball late into the fall.  
Detroit picked up Octavio Dotel in the off-season to help protect their interests in the seventh inning as a middle-relief setup man for Joaquin Benoit, their prized offseason pickup from a year ago. Benoit's job is to hold serve in the eighth for veteran closer Jose Valverde in the ninth.
Unfortunately, that plan has pretty much gone to pot and each of them has a blown save to their credit—Valverde has two.
Other relievers like Luke Putkonen (0-2, 10.50 ERA) and Collin Balester (2-0, 6.50 ERA) have struggled mightily as of late and are not helping their team close the gap when the game is still within reach.
Detroit has had two bright spots in their bullpen this season with the resurgence and comfort of Phil Coke (1-0, 4.58 ERA) back where he belongs as the situational lefty out of the pen and his other southpaw counterpart Duane Below, the young rising phenom.
Although roughed up a bit in two of his last three outings, Below has been nearly lights out for Detroit this entire season after fighting to earn a roster spot out of Spring Training.
Now, his 2.79 ERA and 17 strikeouts in 11 games of work have earned him increased chances to be a difference maker for the Tigers. He's really only had one bad inning in 19.1 innings pitched, a four-spot he gave up to Oakland on May 11th. 
The Question
This brings to the surface whether Detroit's starters can carry the load come October if their woeful bullpen performance never gets up to muster?
There are far too many teams they'll face down the stretch that will chew them up and spit them out if everyone doesn't light a higher flame below the cross-hairs. The reality is that without improvement in the bullpen, and regardless of the pickup in pace, Detroit's starting staff has shown that the Tigers have little chance of being better than .500 if both pieces of the pitching equation don't hit on all cylinders.
The Answer
The Tigers need collective improvement from everyone that toes the rubber if they have any chance of heating up and making good on the dominance they were predicted to unleash on the rest of the American League.
It could be that they are in need of shot in the arm via a trade similar to last year's brilliant pickup of Doug Fister—even with Verlander's Cy Young and MVP performance, it was Fister that got Detroit to the pennant clinching party.
Sparky Anderson always said, "give a team 40 games before making a real assessment." The Tigers are 40-plus now and the assessment hasn't changed much in their see-saw season—get winning or go home early.
Bleacher Report Featured Columnist J. Cook is a member of B/R's MLB Coverage Team and contributes to B/R's MLB content and Detroit Tigers page. He also covers key sport interest stories for all of Detroit's major sports teams.