WWE Rumors: Triple H, Brock Lesnar, SmackDown Spoilers and Wednesday's WWE News
May 16, 2012

Looking at the Over the Limit pay-per-view, WWE really seemed to be put in a no-win situation. After WrestleMania with The Rock vs. John Cena, then Extreme Rules with Brock Lesnar's return, things were bound to calm down in a big way. 
Still, it was fascinating to see WWE just dive right into the Cena vs. John Laurinaitis feud and match. If done right, this feud could have been done over months, possibly a year, and been a big deal. 
Instead, Over the Limit will give Johnny Ace his first-ever main-event pay-per-view match. It will be fascinating to see how it does. 
Here are some news and notes from behind the scenes in WWE to get you ready for an action-packed Wednesday. 
TRIPLE H VS. BROCK LESNAR STORYLINE PANIC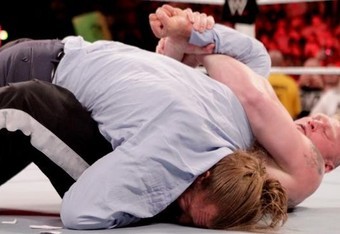 Keeping with the time-honored WWE tradition of panicking and rushing storylines instead of letting them play out for the biggest possible payoff, WWE is reportedly in a panic about the Triple H vs. Lesnar storyline and is considering moving the match up from SummerSlam to No Way Out. 
Question on Everybody's Mind: Does WWE understand what a storyline is?
Our Take: It's funny, because last week there was talk that only a select few people backstage were in the loop on this angle. WWE appeared to be keeping it a highly-guarded secret. Instead, it probably just has no idea where to go with it and has to move it up to drag it out. 
Hype Meter: 5 out of 5 Rushed Storylines
Wouldn't you think that with the wrestling minds of Vince McMahon and Triple H in charge of this, they could find a way to make this work until you get to the biggest event of the summer? Instead, it could end up being put on a B-show and the main event of SummerSlam will be John Cena vs. Vickie Guerrero. 
Deeper Dive
Lesnar-Triple H Panic (Figure Four Weekly)
--------------------------------------------------------------
JOHN CENA IN FOR A BITTER DIVORCE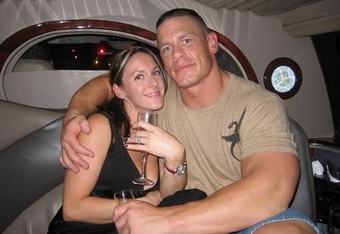 While there are rarely divorces that are going to go smoothly for both sides, some of them can be resolved quickly and relatively painless. That is not expected to be the case with Cena's divorce from his wife, at least according to a report with a source from someone inside WWE.
Question on Everybody's Mind: What will this do to Cena's on-screen character?
Our Take: You know that annoying, obnoxious thing he was doing on RAW two days ago? Plan to see a whole lot more of that until this situation is resolved. Burying his problems way down on television is going to be his one respite from this situation. 
Hype Meter: 5 out of 5 Failed Wrestling Marriages
Playing devil's advocate, Lance Storm said on a recent edition of Figure Four Daily that he didn't know why Cena got married to begin with. That might sound cruel, but he is on the road 250 days every year for WWE. He doesn't have enough time to devote to a marriage in order for it to work. 
Deeper Dive
Latest on Cena's Divorce (Wrestling Observer)
---------------------------------------------------------------
WWE DOING HORRIBLE JOB SELLING BIG SHOW FIRING ANGLE
Despite crying his way out of WWE on Monday, Big Show appears to still be on good terms with the company, as he is listed on all the company's events starting in early June. WWE is so meticulous with these angles, so it is surprising to see the creative team basically not care about this one. 
Question on Everybody's Mind: Will WWE swerve the fans at Over the Limit?
Our Take: Almost everyone has figured out that Show is going to show up at the pay-per-view to cost Cena the match with Laurinaitis. Given that Vince McMahon feels a need to do something for the sake of a surprise instead of letting stories progress naturally, regardless of what fans know, so he is probably changing the ending as you read this. 
Hype Meter: 5 out of 5 Firing Angles
Doing a firing angle in 2012 is as pointless as a Lord Tensai match. Everyone knows the way the business works, and that Big Show isn't going anywhere, so unless there is a grand plan to align him with Johnny Ace, none of what we saw two days ago makes sense. 
Deeper Dive
Updates On Big Show (NoDQ)
--------------------------------------------------------------
****WARNING*****
THE FOLLOWING SECTION CONTAINS SPOILERS FROM THIS WEEK'S SMACKDOWN TAPINGS. IF YOU DON'T WANT TO KNOW WHAT HAPPENS, SKIP TO THE BOTTOM OF THE PAGE. 
----------------------------------------------------------------
A MAIN-EVENT MATCH WITH AN ACTUAL FINISH!!!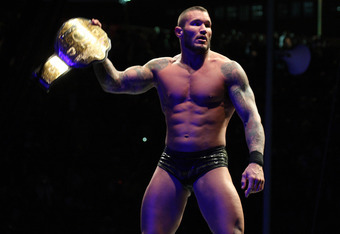 Gallo Images/Getty Images
Start spreading the news, WWE does know how to have a match end with a clean finish. In the Randy Orton vs. Sheamus contest, it was the Viper coming out on top thanks to a roll-up. After the match, Orton laid out the champion with an RKO just for good measure. 
Question on Everybody's Mind: Is Orton winning on Sunday?
Our Take: While it is not the right time to have Sheamus lose, or Orton win, never put anything past WWE. As mentioned earlier, if Vinny Mac thinks everyone knows the finish of a match, he will change it regardless of the consequences. 
Hype Meter: 3 out of 5 Finishes
It's not exactly the start of a trend—earlier in the show, CM Punk loses to Kane via DQ due to interference from Daniel Bryan—but it is something to get excited about. Who knows, if this keeps up, we could get two clean finishes on RAW next week. Sometimes I say silly things, I know. 
Deeper Dive
Complete SmackDown Spoilers (NoDQ)
-------------------------------------------------------
Check back for more on the WWE as it comes, and check out Bleacher Report's Wrestling Page to get your fill of the WWE. For more WWE talk, check out Ring Rust Radio for all of the hot topics you just can't miss. The guest on this week's episode was former WCW champion and WWE star Diamond Dallas Page