Quick Pitch: Chicago Black Sox Eddie Murphy Hit .486—Honest!
May 15, 2012
Third in a series of short player profiles spotlighting the peculiar and the noteworthy.
Little remembered from the most infamous team in baseball annals, "Honest" Eddie Murphy enjoyed a season for the ages, even as his Chicago White Sox were about to blacken their hose.
He also helped Chicago tie the Washington Senators for the league lead in Eddies, with three.
However, Honest Eddie's sobriquet is misleading—going hitless in three trips to the plate during the 1919 World Series, Murphy hardly could have exerted enough impact to be deemed honest or crooked.
And by the logic of nicknaming a player who barely appeared in the Series, why wouldn't more of the 11 Chicagoans who kept their socks clean be christened as "Honest"? (Dickie Kerr, who pitched two Series victories, occasionally appeared in print as "Honest Dickie," yet, somehow, none of the upstanding regulars who gave their all for eight Series games merited such blessing.)
A talented hitter but a poor outfielder, Murphy lost his starting job as a Philadelphia Athletics flychaser after two and a half seasons, Connie Mack selling him to the White Sox in July 1915 as part of his dynastic dismantling. Murphy had been Philadelphia's right fielder during the 1913 and 1914 World Series but hit a disappointing .227 and .188, respectively.
Strictly a platoon player and pinch-hitter on the South Side, Murphy boasted some solid seasons off the Chicago bench, hitting well over .300 in 1915, 1917 and 1920. (Curiously, Murphy did not appear in the 1917 World Series despite hitting .314 as a part-timer for the eventual champions.)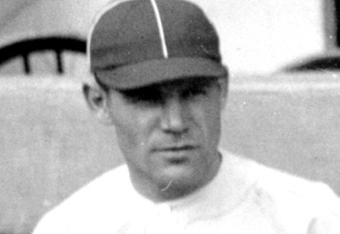 But Honest Eddie took his part-time prowess to new heights during that star-crossed '19 season, batting a dizzying .486 in 30 games, including an on-base percentage of .571 and zero strikeouts in 43 plate appearances.
A model example of clutch batting, Murphy eight times delivered a pinch-hit in his only trip to the plate, including on September 6, when a single peaked his average at .522 and on-base percentage at an off-the-scale .621. (Those eight pinch-hits led the league, as well.)
Starting only two games during the entire season, Murphy went 6-for-8, with a pair of walks.
Sadly, Murphy's defense became such a liability that, even after a .339 season in 1920, Chicago sent him in early 1921 to the Double-A Columbus Senators, where he thrived for the next five years, hitting a nifty .340.
Honest Eddie briefly resurfaced in 1926 with the Pittsburgh Pirates—ironically just weeks before Ty Cobb and Tris Speaker were forced into (temporary) retirement for their own gambling scandal in 1919—but he floundered and quickly returned to minor-league obscurity.
Notably, in 1001 plate appearances for the White Sox, Murphy never hit a home run.
To be honest, Honest Eddie, even with his .486 average, hardly affected the fortune of the 1919 Chicago White Sox—they won only six of the 30 regular-season games in which he appeared—but that Murphy refused to take a small fortune from gamblers that autumn earned him a reputation that long outlasted his playing days.