Drawing Up a Blueprint for Each NFC North Team to Defend Calvin Johnson
May 15, 2012

A group of shadowy figures sits around a table, smoke from cigars and cigarettes fills the air, clouding the light from a loan bulb above the table.
There's a nervousness around the room, a desperation which is palpable. Each figure sits stiffly—it's clear they aren't happy to be there and the distance they sit apart from each other shows they don't like being in the same room, let alone at the same table.
A throat clears.
"We can't put this off any longer. We have a problem."
A picture falls to the table, a shot of a football player in mid-air catching a ball over a bewildered defender.
"Calvin Johnson must be stopped."
Whomever these guys are, however often they meet, one thing is clear—they have yet to figure out Calvin Johnson.
In his five years in the NFL, Johnson has topped 1,000 yards three times, hit double digit touchdowns three times, and been targeted 100+ times four years straight. An injury in 2009 kept him from having five straight 1,000 yard seasons.
Try as they might, the NFC North and the rest of the league have barely slowed him down, much less stopped him.
I'd imagine that in the pretend scenario above, the guys (clearly agents of the Packers, Bears and Vikings) would end up killing each other rather than helping each other, but the truth is even if there was a magic bullet to stop Johnson, it probably would be different for every team.
Sure there would be consistent components, but in the end, what works for the Bears won't work for the Vikings.
Short of kidnapping, that is.
So, now we'll take a look at all three of the NFC North teams that have to see the man they call Megatron twice a year and how they might try to stop him.
One thing that all three teams must do is pressure Lions quarterback Matt Stafford. For a team like the Packers, that's part of an overall issue but even if it weren't, if Stafford cannot throw the ball, Calvin Johnson can't do anything with it.
Once the ball leaves Stafford's hand, it's in the hands of the secondary.
Minnesota Vikings
The Vikings have a tough row to hoe with Johnson as their secondary is less than spectacular. They aren't awful but they just don't match up well, individually, with a talent like Johnson.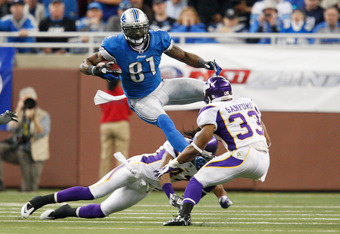 Leon Halip/Getty Images
In the first meeting between the two teams in 2011, Johnson lit up the secondary for 108 yards and a pair of touchdowns. For the most part, the Vikings had Johnson in single coverage and, well, that just didn't work. Johnson out-jumped the defenders several times, once for a touchdown. On his second score, there was a blown coverage which resulted in Johnson wide open in the back of the end zone for his second score.
The second game was a very different affair as the Vikings double-teamed Johnson at every turn. They smothered him with players and made it impossible for Stafford to get a clear throw in. He only tried four times, though Johnson came down with three of the catches. They were all short though, and he was contained all day.
That's the best way for the Vikings. Combining a solid pass rush with double and triple teams on Johnson. This will be tough to do, as Nate Burleson and Titus Young will make them pay, but keeping the ball out of Johnson's hands gives them a better chance to win.
Hit Stafford, pile on Megatron—rinse, repeat.
Green Bay Packers
The Packers had the direct opposite experience with Johnson last year. They double covered him in Week 12, for the most part containing him, although he did break free for a touchdown.
Due to injury and some other issues, the Packers didn't double cover Johnson much in the Week 17 game and he lit them up to the tune of 11 catches for 244 yards and a touchdown. Maybe the team took it's foot off the gas a bit as they knew they were playoff bound.
Still, 244 yards? No team allows that to happen.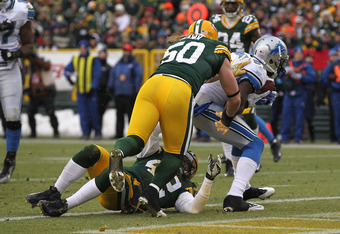 Jonathan Daniel/Getty Images
Seven of Johnson's 11 catches were for more than 20 yards. Clearly, Stafford had plenty of time to throw. As we well know, the Packers' defense had no pass rush in 2011. That can't be the case in 2012.
So, like the Vikings, they have to keep Johnson double covered. I would switch between Charles Woodson and Tramon Williams, coupled with one of the safeties over the top for help.
It works for Darrelle Revis, it will work for the Packers.
With that, they have to get to Stafford and cannot allow him to have time for Johnson to go deep.
Simply put, if they try to cover him solo or cannot get to the quarterback, he will kill them.
Chicago Bears
Early in the first meeting between the Bears and Lions, Johnson got released off the line by the corner and made the safeties look silly both with his overall speed and some broken tackles. After that, the defensive backs played off him, trying to avoid getting killed by his speed.
While the cushion worked, the methodology the Bears used in the Week 10 matchup worked better: hit him at the line.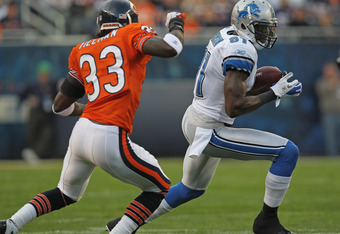 Jonathan Daniel/Getty Images
The Bears spent a large portion of that game hitting Johnson—at the line, mid-route, whenever they could. By the end of the game, Johnson was having to sit out here and there to recover from the constant pounding. He was targeted 20 times but only caught seven balls and never saw the end zone.
It was a game the Lions were blown out in, losing to the Bears 37-13.
While their defensive backs aren't terrible, they aren't great so the Bears have to play physical. They need to hit him early and often to knock him off his game.
They can't keep up with him, so they need to wear him down.
Of course, it's possible all three of these teams can use elements from the 'blueprint' to stop Johnson. In truth, there is no one way to take him out of the game.
They have to try though, as when he's on, the Lions are awfully tough to beat.
Check out the new B/R NFC North Facebook page - like us and keep up with everything NFC North on Bleacher Report!