Arsenal: Handing out Gunners' End-of-Season Awards, Part I
May 16, 2012

Ross Kinnaird/Getty Images
An uptight friend of mine, who on matters other than sport is quite affable, observed rather humorously that "you sport fanatics talk unbelievably funny...you go about saying 'we' as though you caught, threw, kicked or scored anything yourselves, while, in fact, all you do is simply shout yourselves hoarse."
It wasn't in this exact phrasing, but this was the substance.
"What's more," he continued, "sports writers actually think they can change anything a team does."
I have never told him about my attempt at blogging (there's a huge reason why), and now I don't intend to. 
I am apt to disagree with him about whether or not sport writers do change something about a team. One would imagine that they do, if their attempt at creating strands of narrative for different teams is anything to go by.
On the other hand, I think he's right. I don't imagine that anyone but fellow "fanatics," takes heed of what I write.
And so when I decide to launch out this boldly to "hand out awards" for the Gunners, I know where exactly my place is. Nevertheless, I hope the reader and I find a common ground for conversation.
Best Striker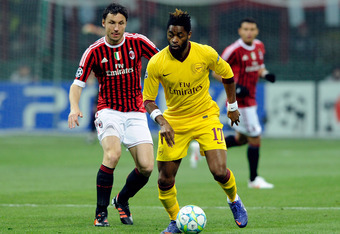 Claudio Villa/Getty Images
If you've wondered how the above has any connection to the endeavor at hand, it is this: an attempt at self-justification and at confronting the circular silliness inevitably woven into some of this.
Is there any question who Arsenal's best striker is this season?
Is he Theo Walcott? Gervinho? Park Chu-Young? Marouane Chamakh? Alex Oxlade-Chamberlain?
Of course not. Best striker goes without saying.
Best Midfielder
I use "midfielder" in the limited sense, and these are: Emmanuel Frimpong, Francis Coquelin, Yossi Benayoun, Tomas Rosicky, Abou Diaby, Aaron Ramsey, Mikel Arteta and Alex Song.
Frimpong
Against Bolton Wanderers in the Carling Cup at the Emirates, Frimpong gave away the ball in the attack that led to the Bolton goal.
Claudio Villa/Getty Images
Against Aston Villa away, deputizing this time for the absent Song, he displayed the same propensity to dispossession. What's more, he looked rather indecisive here, belying the ability he had shown in the Carling Cup loss to Manchester City at the Emirates.
The same fault surfaced again, away at Olympiacos. He did give impressive performances in the Wolves colors before his injury, but those don't count here.
Coquelin
Partnering Song in his favorite holding role in the last game of the season, Coquelin was rather disappointing. A holding midfielder must not be easily dispossessed. That negates the whole point of an enforcer and puts the defense in too much trouble.
But one must forgive him.
This was his first appearance in a while in this position. It must be observed that the sweep of the game is different in this position than it is on the flank, where Coquelin has played most of the season and done well, it must be said.
In the Carling Cup match against City, his partnership with Frimpong in the midfield was impressive.
Here though, Arsenal played a twin pivot rather than Arsene Wenger's preferred trio. I must note that Coquelin did have one massive moment of lapse in concentration that contributed to the 1-0 loss to Manchester City.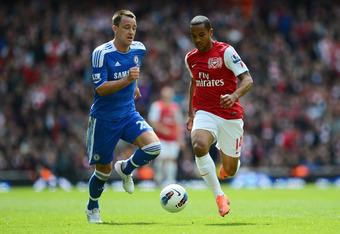 Mike Hewitt/Getty Images
Abou Diaby
Diaby missed the entire season injured, excepting a few cameo appearances.
Benayoun, Rosicky, Ramsey  
Benayoun spent much of the first part of the season coming off the bench. In the second part, his contribution was massive, with Wenger opting to play him in the big matches. As a loanee, he was well liked by Arsenal fans.
Rosicky began the season not fully fit, so that the bulk of midfield duty fell on Ramsey's shoulders, who himself wasn't very fit either. In the second half of the season, Rosicky came to life, leading to an extension of his contract.
At the tail end of the season, he showed signs of tiring out again. It may be safe to say that, despite what Rosicky himself may say, this may be the effect of his age. 
Ramsey wasn't fully fit at the beginning of the season, but someone had to lead the midfield in the absence of Cesc Fabregas and Samir Nasri. The mantle fell on Ramsey in the absence of the out-of-form Rosicky. 
After a shaky start, he found his groove in the first half of the season, with the only blemish being his exasperating penchant to miss glaring chances. Arsenal fans, though, must agree that he is hardly alone in this department.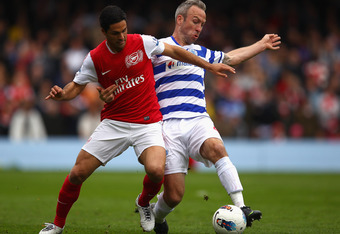 Richard Heathcote/Getty Images
After carrying a heavy first-half-of-the-season load, Ramsey faded badly, leading to a huge backlash from the fans.
Arteta
Arsenal fans weren't overly impressed when the purchase of Arteta was announced. Who wants Arteta when Juan Mata can be had?
Arteta, as James Dudko observed recently, not only has proved his critics wrong, but he has become indispensable in the team, demonstrating in the process what difference experience can make.
Arsenal tended to wobble badly in his absence. That's how important he became.
Song
44, 1, 12
These stats are staggering. First there's the sheer number of games without any sign of burnout, all as a starter and often playing 90 minutes. It still baffles me that some people are bent on making a scapegoat out of Song.
Unlike last season when he scored five goals, this season Song only managed one, but what a goal it was against Bolton Wanderers. It was a striker's goal.
Now consider the assists: 12, at the holding midfield position. I don't think there's any holding midfielder anywhere who can match this, but I'm open to correction.
I have pointed out time and again the effect of Arteta's absence in the Arsenal midfield: a certain nervousness and disjointedness. Well, the same has been true in the absence of Song. The Aston Villa match away is an example.
Of all these midfielders, I must therefore chose Song as Arsenal's outstanding midfielder this season.
Best Winger
The options are: Yossi Benayoun, Andrei Arshavin, Gervinho, Alex Oxlade-Chamberlain and Theo Walcott.
Yossi Benayoun played rather as a false 11, not really as a traditional winger. The same is true of Andrei Arshavin, who tended to be lazy, exposing thereby the left-back.
Oxlade-Chamberlain tends to cut in, displaying his instincts as a midfielder proper. 
Gervinho and Walcott play more like wingers, even though not totally in lieu of swinging inside themselves.
Due to his canny partnership with Robin van Persie, and due to the number of assists this yielded, I must chose Theo Walcott as Arsenal's best winger of the season.
Best Full-Back
Without a doubt, this has to be Bacary Sagna, despite missing half the season due to an injury, but I'm willing to hear differing opinions. 
Kudos though to Thomas Vermaelen, Francis Coquelin, Ignasi Miguel, Johan Djourou and Laurent Koscielny, who all deputized at this position when the natural full-backs were out injured.
Central Defender
Of the quintet that comprises Koscielny, Vermaelen, Per Mertesacker, Johan Djourou and Sébastien Squillaci, the award for best central defender must go to Laurent Koscielny, who was the most consistent of the lot.
Most Influential Substitute
There are three candidates: Andrei Arshavin, Thierry Henry and Alex Oxlade-Chamberlain. Marouane Chamakh did well in his last two outings for the team, but this was not impactful enough to warrant such a consideration.
Arshavin provided an important and sublime assist at Sunderland. Without that match-winning assist, Arsenal's total tally of points would be two less, meaning the team would have finished behind Tottenham Hotspur.
It doesn't matter that this is true of any of the matches the team won. When one considers how difficult this match was, the importance of this assist cannot be underestimated.
Although Oxlade-Chamberlain did make substitute appearances, his impact was mostly as a starter. He therefore qualifies as substitute only to the extent that he hasn't solidified himself as a starter and thus appears in the team mainly in place of another player.
Without Henry to bundle home Arshavin's assist, the said points from this match would not have been won. Also, without Henry to provide the vital goal against Leeds United, Arsenal would have been constrained to play an extra unwanted fixture in the FA Cup.
For sheer impact on the game and the team as a whole, I must chose Thierry Henry as the most influential substitute at Arsenal this season.
The Most Essential Player
I have three candidates: Wojciech Szczęsny, Mikel Arteta and Robin van Persie
Szczęsny's importance to the team is such that he was constrained to play the last few games of the season with a shoulder injury.
The regard with which Wenger holds him means the manager couldn't risk not playing him, even though Łukasz Fabiański could have substituted.
Without his heroics at Liverpool, Arsenal might probably have lost the match. This would be three fewer points on the seasonal tally.
Robin van Persie, on unanimous testimony, carried the team on his shoulders. Yet, when the assists dried up, his goals did as well. This is food for thought.
Whenever Mikel Arteta has played (with a few exceptions), the team has looked different. He became the glue that held Arsenal's midfield together. What's more, he scored some important goals himself.
Despite Van Persie's colossal contribution to the team, I must choose Mikel Arteta as the most essential player of the team. Arsenal have no replacement for him at present.
In part two of the article, I will consider the moments of the season.