Carlos "Chooch Train" Ruiz Keeps on Rolling
May 15, 2012

William Thomas Cain/Getty Images
It's election time again, and for Carlos Ruiz this year, the Philadelphia Phillies fans know what that means. 
The MLB All-Star Game.
Vote early.  Vote often.
The annual Midsummer Classic is scheduled to take place on July 10 at Kaufman Stadium, home of the Kansas City Royals.
As tradition dictates, baseball fans choose the starting lineups.  The process is democratic but not perfect.  The most qualified players don't always take the field.
Popularity plays a role.  Fans vote according to their hearts, not their heads. 
Hall of Famer Cal Ripken Jr., for example, was voted a starter in 2000 while hitting .239 during that season's first half.    
Further complicating things, MLB rules stipulate that each franchise is represented with at least one player from their roster. 
Admittedly, this has worked in favor of the Phillies: Mike Lieberthal (2000), Jimmy Rollins (2001) and Randy Wolf (2003) were lone Phillies All-Stars.
It has also worked the other way, though. 
Ryan Howard belted 28 home runs and drove in 84 runs before the All-Star break in 2008; it was not enough to get Howard in the game, and he stayed home.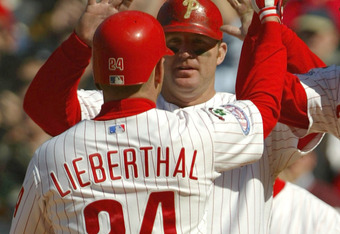 Doug Pensinger/Getty Images
This year, at the first All-Star Game played in Kansas City since 1973, Phillies catcher Carlos "Chooch" Ruiz must be there.
Certainly, a case could have been made before and Phillies fans know this. 
They know all about Ruiz's ability to successfully manage the most highly profiled pitching staff in the big leagues.
They know, too, all about Ruiz's propensity for hitting in the clutch. 
This year, Phillies fans and the rest of baseball have learned something new.  "Chooch" has emerged as the best catcher in baseball.
And there is no time like the present. 
The last-place Phillies, battling injuries and complacency, have struggled in every phase, except when "Chooch" is either at the plate or behind it.
Check the numbers: Ruiz leads all MLB catchers in hitting .337 and slugging .577 and is tied for second with six home runs and 23 RBI.
Defensively, Chooch's fielding percentage is a perfect 1.000.  He leads all MLB catchers with four double plays and is ranked third in runners caught stealing with 11.
The "Chooch Train" has left the station, and it has been carrying the Phillies all season.
Now it is up to Phillies fans. 
Vote early.  Vote often.  
Clear the tracks.  The "Chooch Train" is right on time.  Next stop: Kansas City.
All aboard!