Bryan LaHair: Why He'll Be MLB's Next 'Late-Blooming' Superstar
May 16, 2012
David Banks/Getty Images
Major league baseball isn't as formulaic as other major American sports leagues like the NBA or NFL, as star players can show up at any time, no matter what their age.
So could be the case for the Chicago Cubs first baseman Bryan LaHair, who could follow a path to success similar to the one Toronto Blue Jays outfielder Jose Bautista has taken.
Bautista, now 31, didn't really become much of a force in the league until he was 29 years old. Before the 2010 season, there just wasn't much to say about him because there wasn't much of him.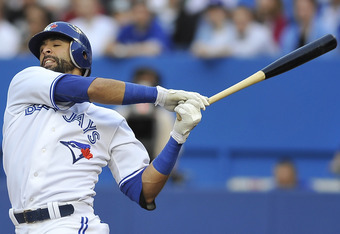 Brad White/Getty Images
He had played for four different teams, including the Pittsburgh Pirates, Tampa Bay Rays, Kansas City Royals and Baltimore Orioles. With those last three teams, Bautista was nothing close to a factor, but in both 2010 and 2011 he had a combined 97 home runs and 227 RBI.
LaHair still has much to prove, but there is certainly a chance he can become the similar late-blooming threat that Bautista has shown to be.
He is currently 29 years old and is getting his first real shot in the majors. As of May 15, LaHair is batting .356 with nine home runs and 20 RBI in 104 plate appearances per Baseball-Reference.com.
The early success has been quite a surprise out of LaHair, but it is a nice sign for the Cubs and their future. If LaHair can keep things going he way he has, the Cubs will have quite the pieces in place in the near future, especially with a veteran like LaHair leading the pack.
The Cubs do have players like outfielder Brett Jackson, third baseman Josh Vitters and—most importantly—first baseman Anthony Rizzo, who was acquired this offseason from the San Diego Padres.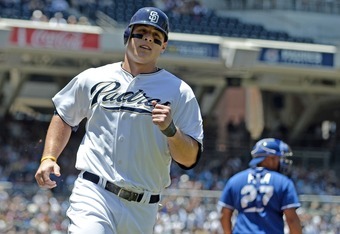 Denis Poroy/Getty Images
The reason Rizzo is important to the situation is because he is the destined first baseman of the Cubs' future, assuming he pans out.
In Iowa, he is batting .348 with 12 home runs and 35 RBI through just 138 at-bats. If he can keep that going once he gets called up to the majors, the Cubs would likely have to move LaHair to a position such as the outfield.
The outfield might have an opening if the team decides to open up spots from their current players like Alfonso Soriano, David DeJesus and Tony Campana.
The first guy to head out there will be Jackson, but one can't imagine the Cubs keeping LaHair off the field if he continues to outplay his teammates.
Hopefully for the Cubs, this is who LaHair is. The guy has only been given a few chances in MLB prior to this season, similar to what happened to Bautista.
LaHair isn't Bautista though, as he likely won't ever be a 45-plus home run kind of guy. He could be a high-percentage batter—which in some cases is better than Bautista's high-power, low-average numbers, despite him hitting .302 in 2011.
He could also be a solid run contributor in what will be a young-but-talented lineup.
If the Cubs can continue to see high production from their upcoming minor-league talent, as well as seeing some consistency from guys like LaHair and star shortstop Starlin Castro, this team could be built of many strong pieces.
In a good, surprising way, LaHair could be the unexpected star the Cubs always needed to be that consistent left-handed bat in the lineup.
The stage in Chicago is LaHair's to take, and he should be able to shine, even if things continue to be quite gloomy on the North Side.
Jeff Chase is a Featured Columnist for the Chicago Cubs and Arizona State football.
Follow @Real_Jeff_Chase