Arsenal: Reviewing Each Crazy Stage of the Gunners' 2011-12 Season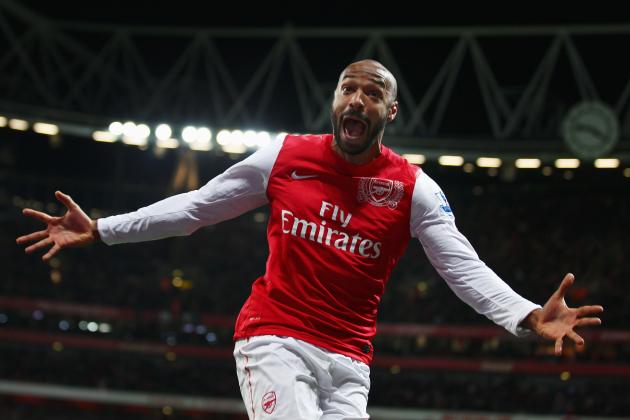 Clive Mason/Getty Images

You can make a lot of criticisms about Arsenal's play this season, but you can't say it all wasn't entertaining. From seeing the King's epic return at the Emirates to watching Laurent Koscielny hit the goal that saved the season, there were plenty of moments that made the 2011-12 season a memorable one.
If you are having post-Survival Sunday amnesia or simply want to relive the last 10 months of your Gooner life, click through this in-depth slideshow that highlights all the best and worst of another crazy Arsenal season.
Enjoy!
Begin Slideshow

»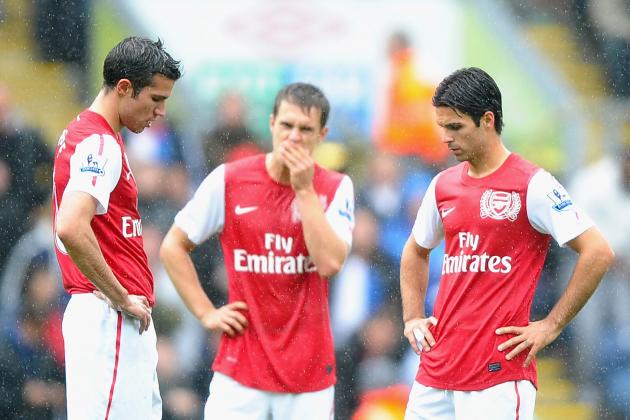 Laurence Griffiths/Getty Images

The Verdict
It might be hard to remember now, but the first few weeks of the season were some of the darkest days in the club's history. After losing the transfer battle with Cesc Fabregas, Samir Nasri and Gael Clichy, taunts of Arsenal being a feeder club began to circle around the Internet at a painfully high consistency.
We as fans were publicly demoralized on social networking sites such as Twitter and Facebook, and to make it all worse, we didn't even have good Gunners play to fall back on.
After starting the season 1-1-3 (Including an 8-2 thrashing Old Trafford), Arsenal seemed more likely to finish in the relegation zone than in a Champions League spot. Add all that with the fact that Jack Wilshere's injury seemed more serious than initially thought and Robin van Persie transfer rumors were heating up by the day and you have one of the most painful 30 days in Gunner history.
Results
Premier League
Tie at Newcastle
Loss vs Liverpool
Loss at United
Win vs Swansea
Loss at Blackburn
Champions League
Win 3-1 Aggregate over Udinese in qualification round
Tie vs Dortmund in Champions League
Highlights
Wojciech Szczesny's wonder-save against Di Natale's penalty kick in the Champions League.
Danny Graham missing a sitter in the final moments at the Emirates that would have kept Arsenal winless in the Premier League.
Lowlights
The Joey Barton scandal that got Gervinho sent off and Song suspended for three games against Newcastle.
Letting in five goals in under 30 minutes at Old Trafford, resulting in the "I'd 8-2 be an Arsenal fan" Twitter trend.
Table Position at the End of Stage: 15th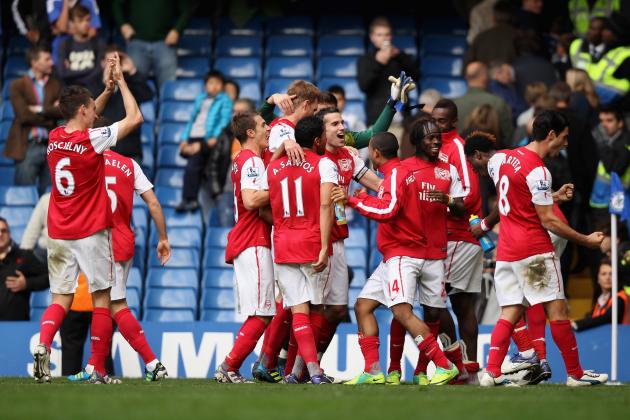 Ian Walton/Getty Images

The Verdict
Suddenly, the embarrassing realization when Arsenal looked into the mirror and saw 15th place on their forehead caused an immediate boost in motivation and results.
An initial win to the Carling Cup campaign as well as 10 points in four matches in the Champions League group stage hinted that Arsenal very well could make a cup run and end its title drought.
This was also the phase when the world realized that Robin van Persie really was going to have a special season, as the Dutchman seemed to net sensational goals for the squad week after week.
While the stage was filled with highlights such as and RVP's hat trick against Chelsea and a late winner vs. Dortmund, losses to Tottenham and City spawned skeptics wondering if this team could really compete with the big boys this season. Beating West Brom 3-0 at the Emirates is one thing, but none of us truly were convinced yet that Arsenal was serious about finishing top four.
Results
Carling Cup
Win vs Shrewsbury Town
Win vs Bolton
Loss vs Manchester City
Premier League
Win vs Bolton
Loss at Tottenham
Win vs Sunderland
Win vs Stoke
Win at Chelsea
Win vs West Brom
Win at Norwich
Tie vs Fulham
Champions League
Win vs Olympiakos
Win at Marseille
Tie vs Marseille
Win vs Dortmund
Highlights
Robin van Persie scoring a hat trick at Stamford Bridge with a little help from John Terry's slippery shoes.
Van Persie's double at the Emirates against Dortmund to seal Arsenal's Round of 16 spot in the Champions League.
Lowlights
Hearing Jack Wilshere's December return was less than probable as his season debut started becoming more in doubt.
Losing 1-0 to City in a Carling Cup game at the Emirates that immediately ended the easiest chance at silverware for the Gunners in 2011-12.
Table Position at End of Stage: 7th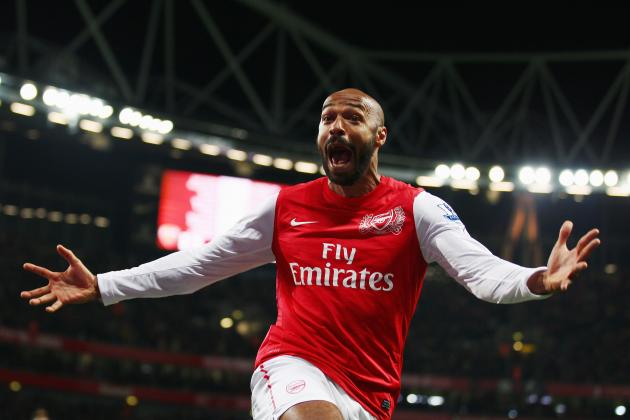 Clive Mason/Getty Images

The Verdict
It was now that many Arsenal fans really started to question why they became so invested in their beloved team in the first place. After taking care of business with Wigan, Everton and Aston Villa to tie Chelsea for fourth place, the streaky Arsenal squad then proceeded to drop points against Wolves, Fulham, Swansea and Bolton in a five-week period that resulted in me ordering a subscription of Rogaine.
One week, the King was back and getting 60,000 on their feet just like old times. The next, we were blowing a lead at Liberty Stadium and dropping all three points to the Swans in a critical match.
After one of the wildest two months of my life as an Arsenal fan, I have one statement for Arsene Wenger: Emotions are not meant to be played with like that.
Results
Premier League
Win at Wigan
Win vs Everton
Loss at Manchester City
Win at Aston Villa
Tie vs Wolves
Win vs QPR
Loss at Fulham
Loss at Swansea
Loss vs United
Tie vs Bolton
Win vs Blackburn
Win vs Sunderland
FA Cup
Win vs Leeds
Win vs Villa
Champions League
Loss at Olympiakos
Highlights
Robin van Persie's wondergoal against Everton. Truly world class.
Gunners go rampant against Blackburn at the Emirates, scoring a season-high seven goals against the Rovers.
Henry returns with a game-winning goal that sent chills through millions of Gooners worldwide. Just like old times.
Lowlights
Inevitably giving up two late goals at the Craven Cottage after Johan Djourou gets sent off for two incredibly poor tackles.
Failing to sign anyone in the January transfer market despite the significant defensive injuries being felt at the time.
Andrei Arshavin's poor attempt at defense leads to Antonio Valencia setting up Danny Welbeck's game winner at the Emirates and United's season sweep of the Gunners.
Table Position at End of Stage: 4th (Somehow Chelsea happened to be worse than Arsenal during this stretch.)
Important Note: At the end of this stage, Arsenal were 10 points behind Spurs with just 13 games to go. Jack Wilshere's Twitter bet seemed all but lost at this point.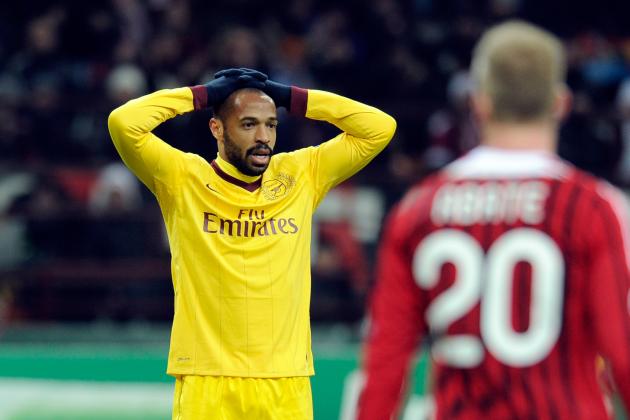 Claudio Villa/Getty Images

The Verdict
The "crisis" mode that Arsenal went through at the beginning of the season caused panic in the hearts of Gooners everywhere, but at least there was a sliver of hope at ending the painful trophy drought someway, somehow.
After a remarkable comeback in the middle of the season to get the club relevant once again in world football, all that hope was suddenly forced to cease, after losing 4-0 in the first leg at the San Siro and a few days later getting knocked out of the FA Cup evidently proved that this would not be the season the drought would come to an end.
In those seven days, the Arsenal community's frustration was the highest I've seen in a long time, as chanting "Wenger Out" was a common occurrence on social networking sites everywhere.
This was a tough week to swallow, and in all honesty, Arsene a few days later saying "Fourth is our trophy" probably didn't really add anyone to his fan club.
Results:
Champions League
4-0 Loss at Milan
FA Cup
2-0 Loss at Sunderland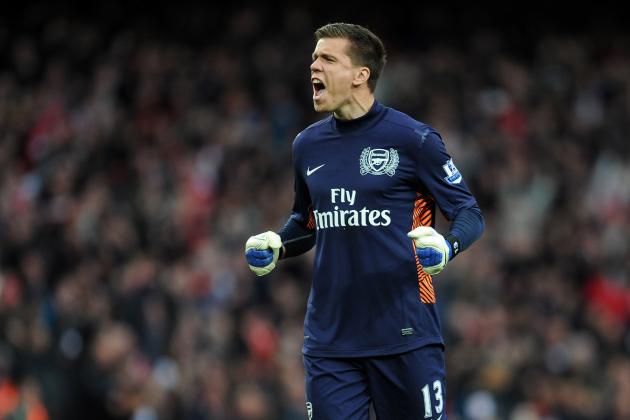 Michael Regan/Getty Images

The Verdict
Should we be alarmed that Arsenal's best play of the season came when absolutely no silverware was on the line?
It all started with a dominating performance against Tottenham that made finishing above their cross-town rivals just a little bit more realistic heading into the final weeks of the season. The win was then followed by an inspired 3-0 victory against Milan, where the Gunners were literally just fingertips away from completing one of the most unbelievable comebacks in Champions League history.
Hard-earned victories over Everton on the road, Newcastle on a last-gasp goal and City with Arteta's wonderstrike defined an Arsenal team that wasn't just determined to finish fourth in the Premier League table, but as the best team in all of London.
Results
Premier League
Win vs Tottenham
Win at Liverpool
Win vs Newcastle
Win at Everton
Win vs Villa
Loss at QPR
Win vs Manchester City
Win vs Wolves
Champions League
Win vs Milan (Loss 4-3 on Aggregate)
Highlights
Finally, Arsenal jumped Tottenham to grab third place in the Premier League table for the first time all season—a spot they would not relinquish the rest of the year.
Thomas Vermaelen's late winner against Newcastle that completely changed the race for fourth from then on. Imagine how stressful the final weeks would have been if it weren't for that moment.
Arteta's wonderstrike that gave Arsenal its first victory over Samir Nasri and Gael Clichy and set United up perfectly for another EPL title.
Lowlights
Losing 2-1 to QPR despite holding 68 percent possession at Loftus Road.
Table Position at End of Stage: 3rd (Five above Spurs with five to play. That is a 15-point swing in eight games…)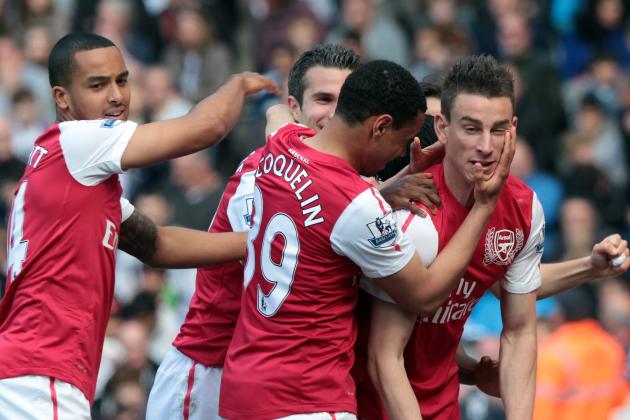 Ross Kinnaird/Getty Images

The Verdict
As if the roller coaster ride of the first seven months of the season wasn't enough, Arsenal found a way to make their UCL qualification way harder than it needed to be in the concluding moments of the season.
With games against Wigan, Chelsea and Norwich at home still left and laying in third place with points to spare, the final weeks of the season were expected to finally contain a wave of relaxation for Gunners fans.
Yet confidence turned to near-catastrophe as Arsenal dropped nine points in four games, putting Newcastle and Tottenham in a perfect position to steal Arsenal's spot in the table. To make matters worse, injuries to Mikel Arteta and Theo Walcott made the race for third (due to Chelsea's potential automatic UCL bid) all that much more tense come Survival Sunday in the Premier League.
In the end, the Gunners held on to prized third place and secured themselves a spot in next year's Champions League, avoiding an epic 30-million-pound collapse.
If one thing is for sure, it is that if it weren't for Danny Rose getting a red card and Marton Fulop having butterfingers last weekend, we all could be looking back on this season with a completely different attitude then we are today.
Results
Premier League
Loss vs Wigan
Tie vs Chelsea
Tie at Stoke
Tie vs Norwich
Win at West Brom
Highlights
The goal that saved the season. Thank you, Laurent Koscielny.
Lowlights
Falling asleep multiple times on defense in the Wigan and Norwich contests nearly proved to be fatal to the Arsenal season.
The plethora of potential "30 million pound misses" against Norwich kept Arsenal's destiny out of its own hands for the first time since ascending to third place.
Table Position at End of Stage/Season: 3rd (Automatic UCL Qualifying Spot)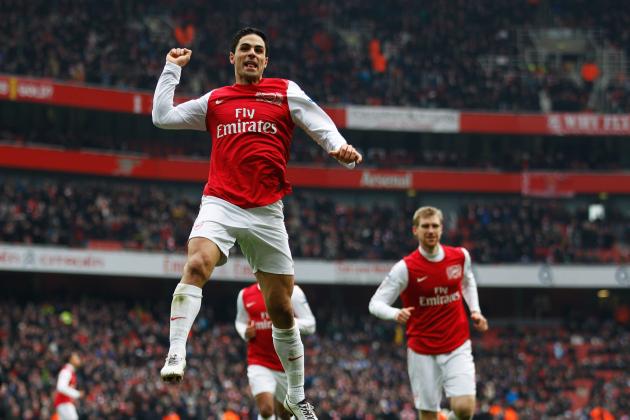 Paul Gilham/Getty Images

So now what? Another trophy-less season should leave Gooners frustrated and eager for more and yet somehow the relief that comes with the acknowledgement of how close true disaster actually was prevents us from overreacting to just nine short months of no silverware.
Maybe we are not freaking out because we have become unfortunately used to this feeling of emptiness every May when we have nothing to add to our trophy case, but something tells me it doesn't all have to do with acceptance of mediocrity.
We feel content with third place not just because we are used to it, but because we all realize that things could have finished a lot worse for Arsenal Football Club this season. Failing to qualify for Champions League football would have given our rivals a 30-million-pound handicap heading into the transfer window, as well as probably given Van Persie a lot to think about when it comes to his future at the club.
While RVP may want to move on from the club anyway, at least City aren't the clear favorites to land the captain and transform our reputation even more into a "Feeder Club."
Given all the injuries and setbacks we faced this year, third place and Kings of London really isn't all that poor a finish. In fact, it is a quite extraordinary position with the challenges faced.
It is that time of year again. The time where we reflect on the season that was and hold new hope that this time in 12 months we will have some sort of silverware to put on display. Until then, appreciate everything the 2011-12 season had to offer and start counting down the days til 2012 kickoff.
Next year will be here before you know it!