6 Areas of Need for John Wall and the Washington Wizards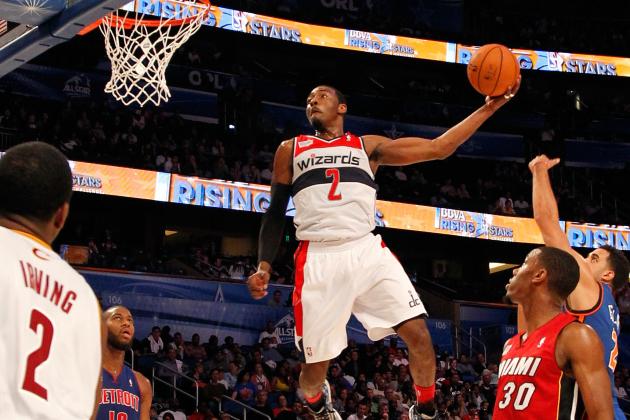 Mike Ehrmann/Getty Images

With the NBA draft a little over a month away, Bleacher Report takes a look at the offseason needs of the Washington Wizards.
They are projected to land the No. 2 pick in this month's lottery, and also hold the 32nd and 46th picks. In addition, they have the sixth-highest cap space of all 30 teams to pursue free agents.
Begin Slideshow

»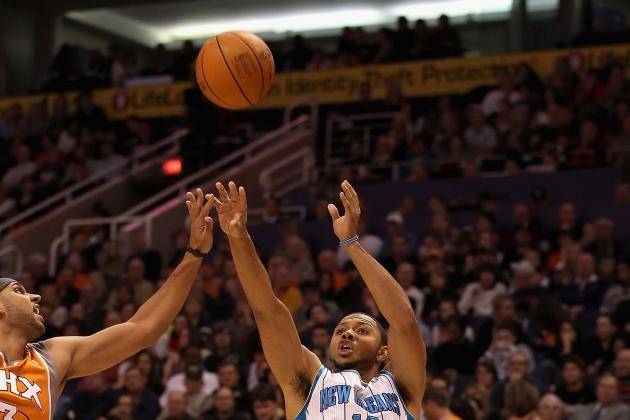 Christian Petersen/Getty Images

When your best shooter is named Cartier Martin and played in just 17 games for your squad last season, you know shooting is an area of need. The Wizards proved to be one of the worst teams in the league last season, thanks in part to being the 27th-ranked three-point shooting team at 32 percent.
Jordan Crawford isn't afraid to shoot and has the ability to create his own shot, but he's not really that knockdown shooter from deep that a successful NBA team needs (not to mention his questionable shot selection). While John Wall is easily the team's best player, his jumper has a long way to go, as he shot a horrid 7.14 percent from three-point range this past season.
Unfortunately, with a projected top-three pick, none of the highly ranked players are particularly known as shooters.
Florida shooting guard Bradley Beal wouldn't be a bad selection, but taking him as high as No. 3 overall might be considered a stretch. John Jenkins from Vanderbilt and Doron Lamb from Kentucky remain options in the second round.
If they miss out on a talented shooter via the draft, pursuing Eric Gordon in free agency is not a bad alternative either.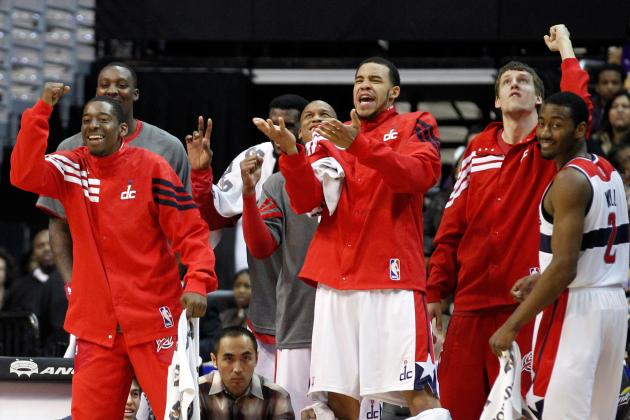 Rob Carr/Getty Images

Another reason the Wizards struggled this past season was a lack of leadership.
Management couldn't really expect the trio of John Wall (at 21), JaVale McGee (at 24) and Nick Young (at 26) to lead a group of rookies and journeymen to the playoffs. (All three were drafted as underclassmen—coincidence?)
The team took a step in the right direction by shipping Young to the Clippers and McGee to the Nuggets, and adding a veteran big man in Nene. But the team needs to add some playoff pedigree to their roster that can show the young guys what it takes to win.
While it's getting harder and harder to lure veterans to young rebuilding teams, the Wizards have a bright enough future that it shouldn't be too hard to bring in one or two key veterans.
Denver's Andre Miller, who will be an unrestricted free agent this summer, would be the perfect mentor for Wall. He would bring a level of toughness and basketball IQ that would do wonders for John Wall's development, as well as some postseason experience.
The Clippers' Kenyon Martin is another unrestricted free agent that would bring a new level of toughness and experience to a team severely lacking in both.
One reason the Wizards ended the season on a surprising six-game win streak was the energy and hustle the team was playing with.
Guys who wouldn't normally see the floor were getting big minutes. Journeymen like Cartier Martin and James Singleton were getting big minutes, and more importantly playing their butts off. Unfortunately, the talent level of these kind of guys won't cut it for a full season.
A guy like Kentucky forward Michael Kidd-Gilchrist would fit that role perfectly.
Kidd-Gilchrist is known for his high motor and never-quit-on-a-play mentality. He's the type of player who isn't afraid to put his body on the line, and as a freshman, averaged 12 points and seven rebounds in the SEC. What's even scarier is that his offensive game has loads of potential, given his length and unique skill set.
The Wizards need to hope that the lottery goes according to plan so they receive the second pick and can select the NBA ready Kidd-Gilchrist. If the balls don't bounce their way, some solid early second-round options would be Draymond Green from Michigan State (if he falls out of the first round) and Jae Crowder from Marquette.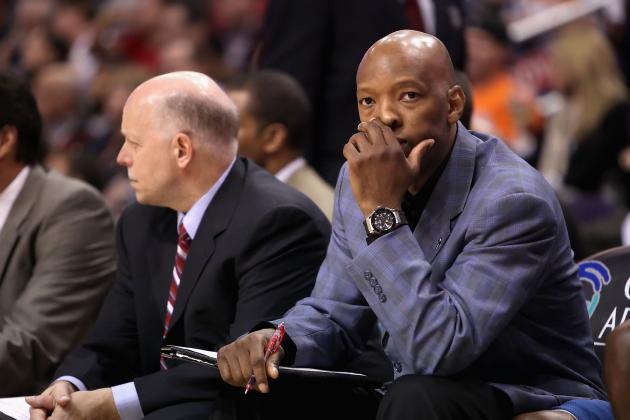 Christian Petersen/Getty Images

The Wizards need a coach—badly.
John Wall is still growing, but from year one to year two he showed little improvement as a basketball player. The Wizards need to hire a young and energetic coach to help facilitate Wall's growth and get this team to play hard throughout the course of a season.
Fortunately, they don't have to look far. Assistant coach Sam Cassell already has a good rapport with Wall, and if he were given the reigns, his energy and playing experience would help the unit as a whole.
Everything that comes out of Washington indicates that he feels he is ready to advance his coaching career. Let's see what he can do.
The way the Wizards handled Flip Saunders might scare off other big name coaches. Other potential candidates include Orlando Magic assistant Patrick Ewing, former New York Knicks coach Mike D'Antonio and former Portland Trailblazers coach Nate McMillan.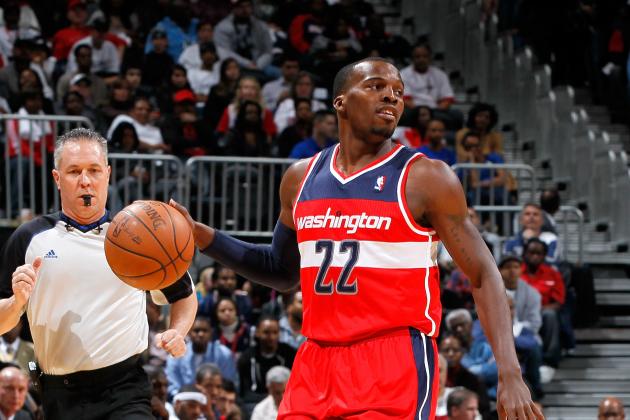 Kevin C. Cox/Getty Images

Shelvin Mack did a decent job this past season backing up Wall, but his natural position is more of a 2-guard.
Wall needs some help to take some of the pressure off him as a ball handler. Unfortunately, this year's draft class is weak at point guard. Xavier's Tu Holloway and Kansas' Tyshawn Taylor should be available in the second round, but might not be worth the value of the pick.
As mentioned previously, veteran Andre Miller would fill this need.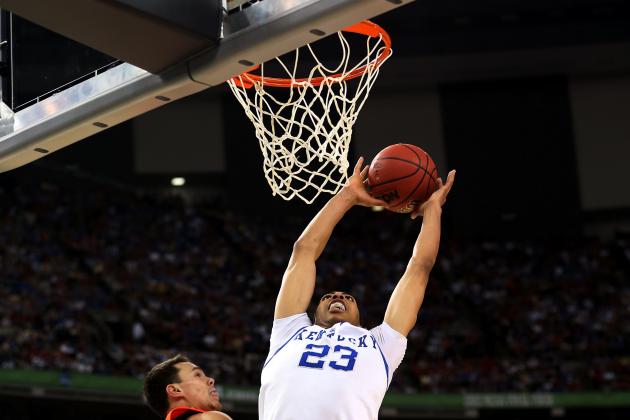 Chris Graythen/Getty Images
Can you imagine John Wall throwing lobs to this guy?
Can you imagine if the Wizards were lucky enough to land the No. 1 pick in the 2012 draft?
Kentucky freshman Anthony Davis is the clear-cut consensus first pick, and he would fill a variety of needs for the Wiz. At 19.9 percent, they have the second-best chance at attaining the No. 1 pick, but the balls don't usually bounce according to plan.
If they were to have a stroke of luck, selecting Davis would fill the need for defense, rebounding and a hustle player all in one. A starting front court of Nene and Davis, as well as the continued improvement of Kevin Seraphin and Trevor Booker would certainly give Wizards fan something to smile about.
In addition, with a solid core of Wall, Nene and Davis, it would increase the likelihood of attracting high-demand free agents (i.e., Eric Gordon).