West Virginia Football: 5 Weakest Positions to Worry About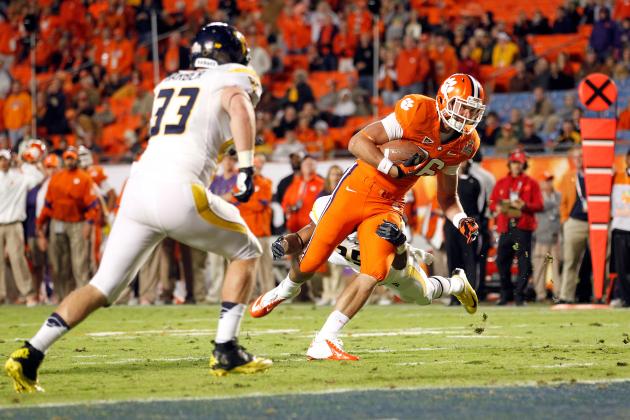 J. Meric/Getty Images

No secret that the 2012 edition of the West Virginia Mountaineers will be one of the strongest teams to hit Mountaineer Field in recent memory. The offense will be absolutely lethal as the unit returns nine starters, and the defense returns six players from last year's team.
With that being said, there are several positions that Mountaineer fans will be a bit nervous about heading into 2012.
Here are five weak positions you should worry about if you're a Mountaineer fan.
Begin Slideshow

»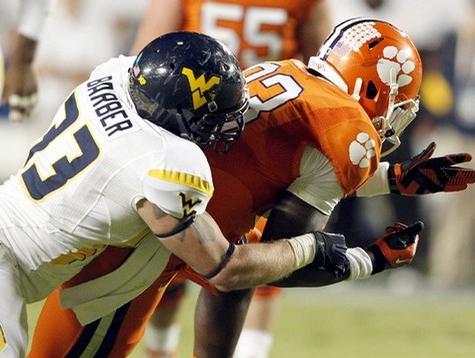 Courtesy of orangeandwhite.com
Following the spring game, it was very difficult to get an accurate feel of the West Virginia linebacker corps. For one, likely starters Jewone Snow and Terence Garvin both missed the contest with injuries; however, both are slated to return for fall camp.
Garvin will play the STAR linebacker, while Snow will line up at the BUCK position. Why this position is considered a weak point is because of so many unknowns.
How will they react to the position changes?
Well, one standout player, Jared Barber, has admitted that this has not been the easiest transition at times.
In an article by Mitch Vingle of the Charleston Gazette, the rising sophomore had this to say about the changes of his defensive assignments from a year ago: "It's a lot different [moving to a 3-4 scheme]," Barber said. "In the beginning, my head was spinning. I didn't really know what to expect. Everything was new. Now I know all the [new assistants]. I'm in the system. I feel a lot more comfortable, for sure."
He said his teammates feel the same.
Another issue that concerns me is the relative uncertainty of certain players such as senior linebacker Josh Francis. He was a JUCO All-American when he arrived on campus; however, he has started only one game in a Mountaineer uniform.
In fact, the four starting linebackers have a combined 44 starts between them, and of those, 33 belong to Terence Garvin (24 starts) and Doug Rigg (9). One player to watch is Rigg's backup, redshirt freshman Isaiah Bruce, who really impressed in the spring, but he is another player in the rotation who has very little experience.
In short, the West Virginia linebackers are very inexperienced heading into the Big 12, and it remains to be seen how they will respond against elite competition.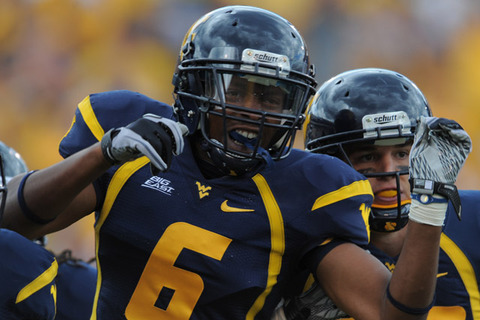 Courtesy of WVillustrated.com
This is another unit that is extremely inexperienced heading into the fall. Other than the pictured Pat Miller and Darwin Cook, no other player who will see playing time this fall has started more than 10 games in a West Virginia uniform.
As for the two-deep, Lawrence Smith, Matt Moro, Avery Williams and true freshman Karl Joseph have a combined zero starts.
The 2012 West Virginia football season will be an entirely new animal. Now the Mountaineers will face many high-powered offenses similar to what their teammates Geno Smith, Tavon Austin and Stedman Bailey run in Morgantown.
Now they will face teams that throw the ball between 60-70 times a game. It has been several years since the Mountaineers faced a legitimate Heisman-caliber QB, and when they face Oklahoma QB Landry Jones in 2012, that will be a true test.
One thing that bodes well for the group moving forward is new defensive backs coach Daron Roberts who has spent time coaching the position in the NFL. Whenever a coach with NFL experience is on a college team's, he tends to have much more credibility to his players.
Another plus for the Mountaineer secondary will be that it faces an elite offense everyday in practice, and you will not find a more electric player in all of college football than WVU's Tavon Austin.
With that being said, with so many players seeing the field for the first time in 2012, you have to be worried about the back end of the new 3-4 defense heading into fall.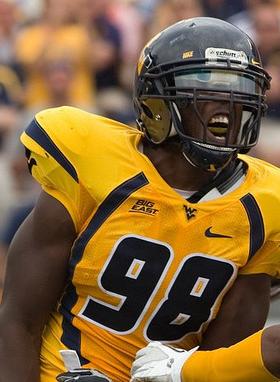 Courtesy of photoshelter.com
No position is more important in the 3-4 scheme than nose tackle. Think of Haloti Ngata for the Baltimore Ravens, a humongous 300-pounder who is a beast in the middle of the line and disrupts the offense right at the point of attack.
There is just one problem; those type of players are extremely difficult to come by, and that is a position that will have to be addressed during recruiting. Those linemen from Oklahoma and Texas are huge players who will have no problem tossing nose tackles around in the 2012 season.
One reason WVU ran the 3-3-5 scheme under Jeff Casteel in the past decade was the lack of talent in the interior of the defensive line. Sure, former DT Chris Neild was a very solid player, but unfortunately for Mountaineer fans, he is now in the NFL.
Heading into 2012, the starter at the nose will be Jorge Wright who is certainly undersized at this position at 6'2" and 289 pounds. Behind him is true freshman Imarjaye Albury and redshirt junior Shaq Rowell. Of these three, only Albury is at 300 pounds, and you can't expect a freshman to dominate at this position, particularly in his first year.
If the Mountaineers can't force pressure up the middle, it could be a very big problem stopping the run in the Big 12.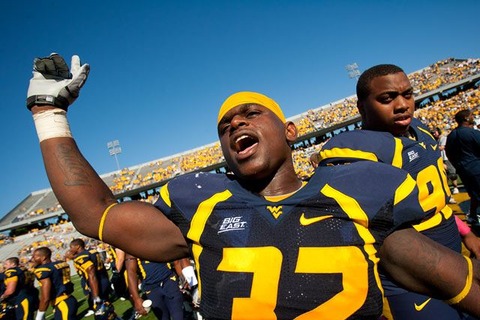 The A-back is Dana Holgorsen's version of the fullback in his offense. This year, former fullback Matt Lindamood decided to give up football due to a chronic neck injury.
Now the A-back will be Ryan Clarke, and no Mountaineer currently on the roster has had a more up-and-down career than the redshirt senior from Maryland. A few years ago he received his fair share of carries prior to huge fumble problems that cost WVU games.
The Mountaineers can't rely on Geno Smith to do everything, and it will be interesting to see if the team can perform better in short-yardage situations. If West Virginia can run better in short-yardage situations, it will likely be Clarke who has to step up.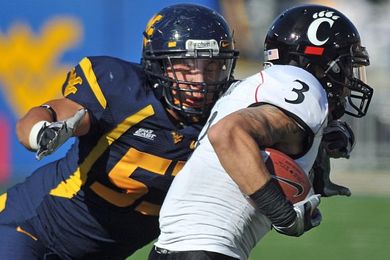 via wvmetronews.com
Starting to see the theme here? The defense is clearly the weak point of this WVU team, because let's face it, the offense is historic.
The next weak position on the team is defensive end. For starters, there is not a player at this position who has ever started a game, and following spring former walk-on and Morgantown native Tyler Anderson was listed as the starter.
Behind Anderson are a pair of redshirt players, junior Chidoziem Ezemma and sophomore Trevor Demko. This group has 30 appearances between them with zero starts. That has to be a bit scary, particularly since WVU's defensive ends were fantastic last year with Bruce Irvin and Julian Miller.
It will be very interesting to see how this group responds in 2012, particularly with new coach Erik Slaughter and playing a different scheme.