New York Yankees: 10 Potential Trade Options for the Bullpen in 2012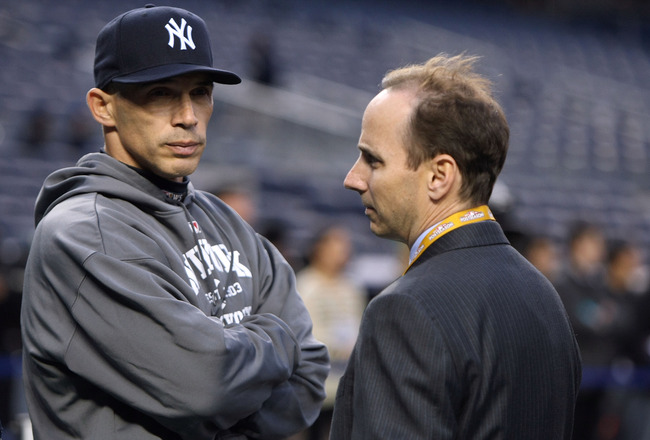 Al Bello/Getty Images
Before the 2012 season, nobody was worried about the bullpen for the Yankees.
Now entering the middle of May, it's gone from bad to worse and they might need a little help.
Joba Chamberlain suffered a severe dislocation of his ankle, which pushed back his return time.
Mariano Rivera tore his ACL two weeks ago and is out for the entire 2012 season.
Plus, Pedro Feliciano and David Aardsma are on the disabled list as well, and who knows if either one will pitch in 2012.
Now to add to the list, as it was announced on Tuesday afternoon, David Robertson is on the disabled list with a left oblique strain.
The Yankees really may need to look to trade for some bullpen help if they want any chance of staying in the American League East race.
Here are 10 bullpen options Brian Cashman can look into to trading for between now and July 31.
Matt Thornton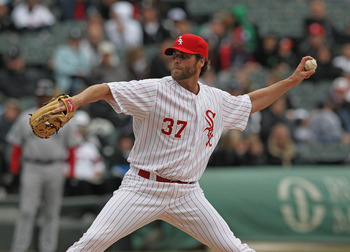 Jonathan Daniel/Getty Images
2012: 1-3, 4.30 ERA, 14.2 innings, 17 strikeouts
Matt Thornton's name has always come up in discussions concerning relievers who teams might want to trade for.
The 35-year-old left-hander is more than the left-handed specialist for a bullpen, he makes a lot of appearances, pitches a lot of innings and is very valuable in the Chicago bullpen.
If the White Sox fall out of the race and the Yankees need to find a solid lefty, especially if either Boone Logan or Clay Rapada struggles, Thornton could be a name that intrigues the Bombers.
He is expensive for a reliever, making $5.5 million in 2012, $5.5 million in 2013 with a team option for 2014, but that's something the Yankees could afford if they think Thornton is worth adding on.
Matt Capps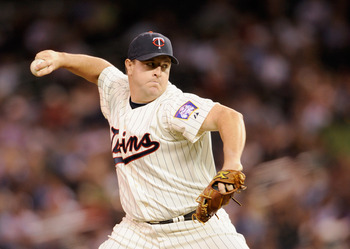 Hannah Foslien/Getty Images
2012: 0-2, 3.86 ERA, 14 innings, 7 strikeouts, 7 saves
The Twins' closer could be a reinforcement who the Yankees could look into once Minnesota falls out of the race—a scenario which could happen very soon, given that the Twins are one of the worst teams in the American League.
Capps was a trade-deadline acquisition by Minnesota two years ago when the Nationals traded Capps to the Twins in exchange for Wilson Ramos and a minor leaguer.
Capps is making $4.5 million in 2012 with a team option for 2013, which will most likely be declined, so getting Capps would be a rental, but given his closing experience and his durability, he could be an option for the Yankees to look into.
Jonathan Broxton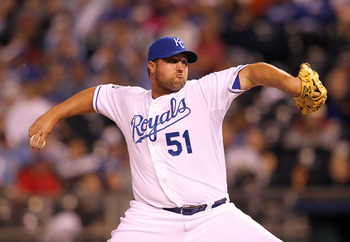 Jamie Squire/Getty Images
2012: 0-1, 1.32 ERA, 13.2 innings, 9 strikeouts, 8 saves
Going into the 2012 season, Broxton needed a rebound season coming off an injury-plagued 2011 that saw the Dodgers sever ties with their former closer.
Broxton came in as the original setup man, but with a season-ending injury to Joakim Soria, Broxton has been filling in for the Royals as their closer and he's done a good job.
When the Royals played the Yankees earlier in the month, Broxton got himself into trouble, but pitched his way out of it to convert the save for Kansas City, so Broxton has shown grit and mental toughness on the mound.
Broxton is making $4 million in 2012 and is only signed for this season, so Broxton would be another rental, but if Broxton is looking to enhance his value for 2013, pitching for the Yankees in a pennant run could help it.
Shawn Camp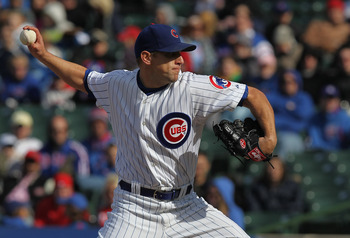 Jonathan Daniel/Getty Images
2012: 2-1, 3.15 ERA, 20 innings, 15 strikeouts
Shawn Camp has been pitching well for the Cubs in 2012 and could be a reliever who comes up in trade talks very soon, as Chicago falls out of the playoff race.
Camp has experience pitching in the American League, starting out with the Royals and then mostly with the Toronto Blue Jays.
The 36-year-old is only making $550,00, so if the Yankees had interest in swapping for Camp, it would be a minimal salary to inherit. (The Mariners are on hook for $750,000 after they released him back in February.)
Camp's numbers might not jump off the charts at you, but he's been durable for his career and could be a solid trade option for the Yankees to look at.
Kerry Wood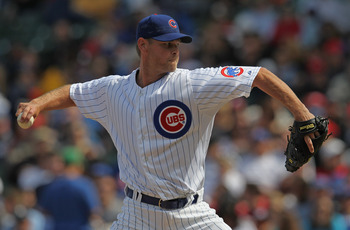 Jonathan Daniel/Getty Images
2012: 0-2, 8.59 ERA, 7.1 innings, 5 strikeouts
Kerry Wood's numbers don't exactly impress most, but it's what he did back in 2010 that makes him an attractive option.
At the trade deadline of 2010, the Yankees acquired Wood from the Cleveland Indians to be their setup man for the playoff run.
Wood was absolutely sensational pitching for the Yankees with a 2-0 record and a 0.69 ERA.
He turned down several offers from other teams to return to the Cubs because his family lives in the area. Getting Wood to want to leave Chicago will be tough, but he did it once before to pitch for the Yankees.
If Wood wants a chance to pitch in the postseason again and if he gets his numbers back to respectability, Wood again can be a trade option for the Bombers.
Kameron Loe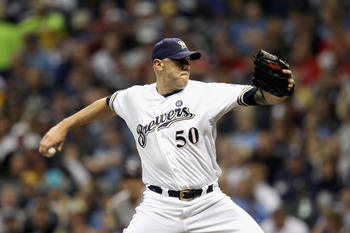 Christian Petersen/Getty Images
2012: 2-1, 2.30 ERA, 15.2 innings, 8 strikeouts
Kameron Loe once started out as a starting prospect for the Texas Rangers, but never panned out for them.
Loe spent two years pitching in Japan before coming back to the States to pitch for the Brewers in 2010.
Since then, Loe has been a big part of their bullpen and has pitched well for them over the last three seasons.
Loe pitched well against the Diamondbacks in the NLDS, but was roughed up by the Cardinals in the NLCS. But at least Loe gained some experience of pitching in the postseason, something money doesn't buy.
At 30-years-old, Loe is very affordable at $2 million and if the Brewers fall out of the race in the summer, Loe could be an option for the Yankees to look at.
Matt Belisle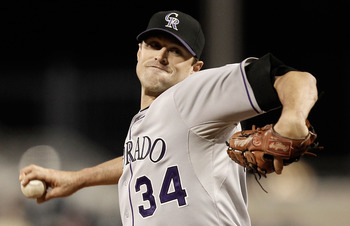 Jared Wickerham/Getty Images
2012: 1-2, 2.50 ERA, 18 innings, 11 strikeouts
Matt Belisle has been a career National Leaguer, pitching for both the Reds and now the Rockies.
He began as a starter for Cincinnati, but was converted into a reliever by the Reds, which ended up helping his career, considering that Belisle has been very strong pitching in the Rockies' bullpen.
In 2011, Belisle went 10-4 with a 3.25 ERA while pitching in Coors Field, which impresses me given that Colorado is not the easiest place to pitch.
The 32-year-old right-hander could be a very attractive option for the Yankees for their bullpen. He's currently making $3.75 million in 2012 and would make $4.1 million in 2013 with an option for 2014.
He would be more than a rental, but could be worth looking into.
Rafael Betancourt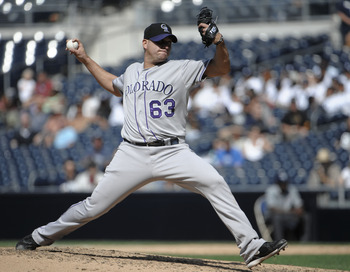 Denis Poroy/Getty Images
2012: 1-0, 2.08 ERA, 13 innings, 13 strikeouts, 6 saves
Some might remember Rafael Betancourt from when he pitched for the Cleveland Indians, before he was traded to the Rockies in July of 2009.
Betancourt has pitched very well for the Rockies, keeping his ERA down and striking out a lot of batters in the process.
The 37-year-old reliever is making $4 million in 2012, $4.25 million in 2013 with an option for 2014.
He's an older reliever and wouldn't be a rental, but if Betancourt can pitch well in Coors Field, then he could pitch well in Yankee Stadium.
Betancourt has some experience pitching in the postseason with both Cleveland (2007) and Colorado (2009), which helps his value go up even more.
Luke Gregerson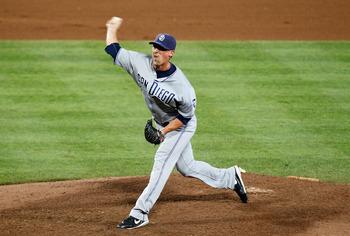 Kevin C. Cox/Getty Images
2012: 0-0, 3.18 ERA, 17 innings, 16 strikeouts.
Some people might not know too much about Luke Gregerson because he pitches out in San Diego, but he's one of the more underrated relievers in the game.
In 2010, he set the major league record for holds with 40 in that season.
He's only 28 and has just gotten his career going while pitching for the Padres, but San Diego isn't going to contend anytime soon.
Brian Cashman is always good at finding relief help through free agency and through trades.
Gregerson could be one of the best options available if Padres GM Josh Byrnes is looking for something decent in return for one of his best relievers.
He traded Mike Adams away last year to the Rangers. Maybe the Yankees take a look at Gregerson in 2012.
Huston Street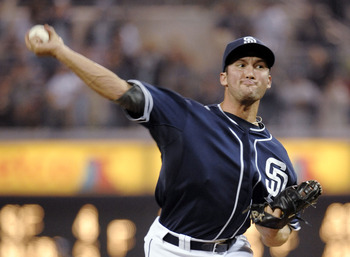 Denis Poroy/Getty Images
2012: 0-0, 0.93 ERA, 9.2 innings, 13 strikeouts, 4 saves
Most of you might be familiar with Huston Street as he was the former closer of the Oakland A's, then became the closer of the Colorado Rockies after he was dealt in the trade that sent Matt Holliday to Oakland.
Street had three solid seasons in Colorado, then was traded to the Padres before the 2012 season and started out well in San Diego before he landed on the DL with a right lat strain on May 5.
As long as Street can get back to being healthy and pitches well like he did early on, Street will be a very attractive option for teams looking for bullpen help this summer.
Of the guys mentioned, Street makes the most money, with his salary at $7.5 million with an option for 2013, so Street would likely be a rental for a playoff run.
If Street continues to pitch well in 2012, Josh Byrnes might be able to get some value for his closer, but if the Yankees want to shore up their bullpen with American League closer's experience, Street might be one of the best options on the market.
Keep Reading

New York Yankees: Like this team?