Texas A&M Football: Aggies Need to Add More JUCO Players to Compete in SEC
May 18, 2012

Chris Graythen/Getty Images
The biggest difference between the Southeastern Conference and every other league in the country is that the SEC is stronger on the lines. Texas A&M needs to recruit more junior college players in order to measure up on the offensive and defensive line against their SEC foes.
It is a generally accepted fact that 50 percent of every recruiting class you bring in will not contribute on the field. Even though A&M signed six defensive linemen in the 2012 recruiting class you cannot count on all of them to pan out.
If three pan out then that will be a good class.
The Aggies have depth issues at defensive tackle going into the 2012 season. Considering Edmund Ray is the only true defensive tackle signed in the 2012 class, there is obviously an immediate need there.
Some people oppose JUCO recruits because they think there are too many risks with them. The logic is that if they could not make it academically in high school, how will they succeed in college? Some recruits also end up in junior college because of off the field problems, and some programs do not want to deal with that kind of baggage.
Junior college do football coaches at four year colleges a big service. They help separate the wheat from the chaff. Junior college offers a higher level of competition than high school. If you can succeed at the junior college level, then odds are that you can succeed while playing for a four-year college. They also get the players on the right track when it comes to academics.
Bill Snyder was able to completely turn around a moribund Kansas State football program by successfully mining the junior colleges for talent. Michael Bishop and Daniel Thomas are two examples of difference makers that Snyder found in junior colleges.
Snyder knew that he would never be able to find enough talent in the state of Kansas or the surrounding state to support a top 25 football program. What talent there was in the surrounding states, was being scooped up by Nebraska. To combat that he became the best coach in the country at identifying and developing junior college talent.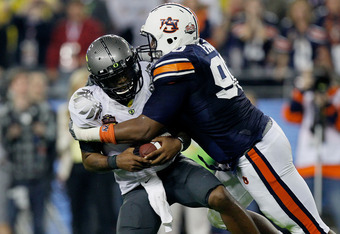 Kevin C. Cox/Getty Images
Texas A&M does not need to copy Billy Snyder and bring in recruiting classes with 10-15 junior college players in it. They should take a page out of Bob Stoops' playbook and bring in junior college recruits to fill holes.
When Stoops knows he has a position where he is not strong on his team, he looks to junior colleges to add depth and talent. Josh Heupel and Torrance Marshall are glaring examples of this approach.
Alabama has won two of the last three national championships and Nick Saban looks to JUCO recruits to help fill out his class. Alabama lost three defensive backs to the NFL draft, so Saban signed two JUCO defensive backs to help replace them.
Auburn was led to the 2010 national title by two former junior college players. Cam Newton and Nick Fairley were both national award winners at Auburn. Both came to Auburn from junior colleges.
Luckily for A&M, Kevin Sumlin is no stranger to recruiting the junior colleges. Sumlin signed 15 junior college players during the four years he was the head coach at Houston. He also worked under Stoops at OU, so he has seen how JUCO players can help a program.
Sumlin brought in one junior college player in his first class at A&M in defensive back Otis Jacobs.
He has already hit the JUCO circuit hard this spring. According to Billy Liucci from TexAgs.com, the Aggies have offered five junior college players for the 2013 class. Four of those offers are to defensive tackles where the Aggies need the most help.
The Aggies have to do everything in their power to raise their talent level on the field so they can be competitive in the SEC as soon as possible. Bringing in junior college recruits in every recruiting class will help them achieve that level of success in a more expedient manner.