Chelsea Transfer Rumours: Blues Should Break Bank for Radamel Falcao
May 15, 2012

Clive Rose/Getty Images
According to a report in the Daily Mail on Tuesday, Chelsea have got their sights set on Atletico Madrid striker Radamel Falcao.
Then again, the same paper routinely claims that any one of 101 everyday items can give you cancer and that same-sex marriages are a sign of the coming apocalypse.
Still, it's an appealing link that any regular viewer of the Premier League who has seen Falcao play would love to see happen.
The Blues are thought to be hopeful of taking the brutally talented Colombian forward off the Europa League holders' hands for £15 million and sending Fernando Torres back to his boyhood club in a part-exchange deal, something which interim manager Roberto Di Matteo dismissed in his press conference ahead of the Champions League, as reported by ESPN.
Atletico, it is said, would much rather have £50 million in a suitcase for a player they paid £35 million for only last summer. 
If there is even the slightest inkling from the Rojiblancos that they are willing to do business, then Chelsea should do whatever it takes to make the deal happen. Falcao is an ideal fit for a role leading the line at Stamford Bridge on so many levels.
It is highly likely that Didier Drogba will be leaving the club this summer after a stellar eight years there. The 34-year-old will be difficult to replace, and Falcao is one of the few players in world football capable of doing so. He may not be able to rock a pair of flip flops in quite the same way, but he can certainly offer a lot of what Chelsea will be missing if Drogba does make a lucrative switch to China or elsewhere.
The 26-year-old does not have the same aerial advantage as his Ivorian counterpart—at 5'10" he is around four inches shorter—but he is still one of the most fearsome headers of the ball anywhere in the world game and his strapping frame ensures he maintains a real physical presence up front.
Despite Falcao's reputation for being as lethal in the air as the bird of prey he shares a name with, he is skilled with the ball at his feet—Exhibit A being his stunning opener in the recent Europa League final—and offers a range of options in attack.
He has the strength to play on his own, but is also extremely effective as part of a front two. Over the past two seasons, he has partnered Hulk at Porto and Adrian Lopez at Atletico, and has scored 29 European goals in that short time—an exceptional return.  
Lopez himself ended as the Europa League's third top-scorer this season with eight in the competition, while last term Hulk scored 23 goals in just 26 games in the Portuguese league.
Clearly, Falcao does not hog the goal scoring duties despite contributing so heavily to them. Netting 24 goals on your first season in the Spanish league is not to be sniffed at, especially when you consider that only Lionel Messi and Cristiano Ronaldo finished above him in the scoring charts with their respective freak hauls of 50 and 46.
In addition, as his current boss Diego Simeone saw while watching the player in Argentina at River Plate, he can even commit himself full-time to a supporting role.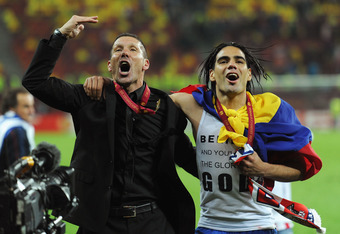 Michael Regan/Getty Images
ESPN quoted the Atletico coach as saying in January, soon after taking over at the Vicente Calderon: "I knew Falcao at River and there he played behind Sebastian Abreu, moving well all over the attack.
"For Colombia he was the spearhead and at Porto, he played with two strikers."
It is this versatility and willingness to work hard for his strike partner which could be the key to Chelsea getting the best out of Fernando Torres.
With Drogba's imminent departure expected, as well as that of his fellow Ivorian Salomon Kalou, Chelsea will only have Torres and Daniel Sturridge as genuine first-team centre-forwards.
The young Romelu Lukaku may have bags of potential but he currently looks a long way off competing for a regular place. At the moment, it is only his haircut that is living up to the "new Drogba" tag.
Players with such an ability to adapt to the differences—whether they be subtle or stark—of being deployed in a variety of roles usually have a decent degree of intelligence, something to which Falcao's journalism studies earlier in his playing days would certainly suggest.
The man from Santa Marta also has bags of personality, something which would serve him well among the egos and "characters" in the Chelsea dressing room. The club's initiation ritual of singing a song a capella in front of the squad on your first day would not pose a problem either, judging by the "cojones" he has already shown.
Despite his name meaning "Falcon," Falcao is so cool that his nickname is "Tiger," something which led to this bizarre video of him being introduced to two of the big cats on the Calderon pitch recently. The way he has a go at petting the animals but is always primed for a quick escape displays his aforementioned combination of bravery and brains perfectly, 
Having won the treble with Porto last year and retaining the Europa League trophy with his new club last week, Falcao is a proven winner and in his mid-20s is approaching his peak years.
Chelsea owner Roman Abramovich has already shown that he is still willing to spend big on a player if he really wants them. If there is a chance he can get Falcao, he must not hesitate in writing another big cheque.