ESPN's Mike Sando Not Bullish on the Rams Leaving St. Louis for LA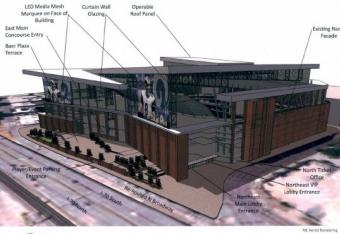 ESPN's Mike Sando, who covers the NFC West for ESPN, joined St. Louis Post-Dispatch columnist Bernie Miklasz on his radio show this afternoon and shared several thoughts on the St. Louis Rams' lease negotiations.
Here is a quick breakdown of the interview with Sando:
- Sando said the NFL coming back to Los Angeles is absolutely "no slam dunk."
"They, the Rams, are going to have a hard enough time getting this done in their own backyard in St. Louis, let alone somewhere else. And who knows what will happen in the next two years when the Rams, if they do get to that ledge to leave in 2015, the landscape can only be different again."
- On Kroenke moving the Rams back to LA: They are conveniently thrown out there, "but they've had a few chances now haven't they?"
- Fans have to be aware of the process. The CVC low-balled their offer for what they can do and the Rams came back with a higher end offer for what they want. The arbitrator will come back with an offer in the middle, and the burden then shifts to the city because if they accept the arbitrator's changes, than the lease becomes binding and continues through 2025.
- If a deal is not reached, then the Rams go to a year-to-year lease in 2015. That doesn't necessarily mean discussions will begin about the Rams leaving town. It could become about a new stadium in St. Louis. "This is part of a process, not an end result," Sando said.
- Milklasz pointed out that St. Louis and the Rams are at a starting point that has began much sooner and earlier than it usually does. Most of the time, it comes down to the last minute and everyone has to rush to throw ideas together. They are ahead of the curve, not at the end, and both sides have left themselves tons of time to find a resolution.
Where will the Rams be in 2016?
- Fans in St. Louis would be reassured if owner Stan Kroenke would give a statement saying he wants to stay in St. Louis, but that's not his style. It could also be because of a leverage play. Kroenke's plans are expensive, but fans shouldn't come away necessarily think that he definitely wants to leave town. Miklasz further expressed that Kroenke isn't asking for the "sun, moon and stars" so he can run away, but he's laying out a vision for the team and the city.
- The test is the financing of the proposal. In Kansas City five years ago, the Hunt Family had an initiative for a new stadium near $375 million, and they paid $125 million of it. When the Seahawks built their stadium 10 years ago, their owners paid more than $100 million of the $300 million. The team has some leverage, but it's reasonable to expect ownership to invest something.
- Miklasz said the city needs to stop having the attitude of "no" from the start because it could make the dialogue to get Kroenke and the NFL to chip something in that much more difficult.
This article is
What is the duplicate article?
Why is this article offensive?
Where is this article plagiarized from?
Why is this article poorly edited?

St. Louis Rams: Like this team?