Ranking the 2012 Philadelphia 76ers' Postseason Run with Its All-Time Best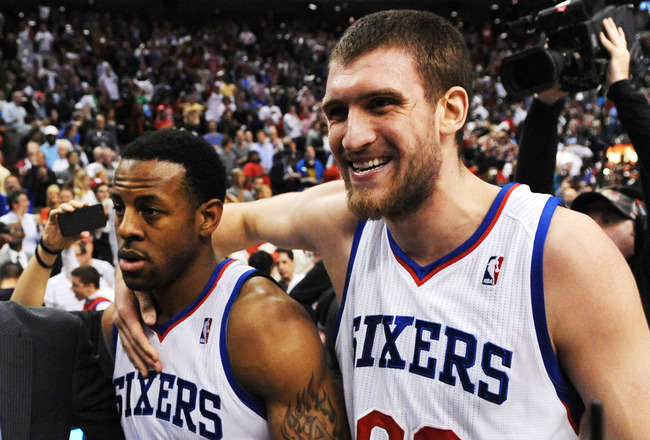 Drew Hallowell/Getty Images
Entering the 2012 NBA Playoffs as an eighth seed, no one expected much from the Philadelphia 76ers.
Now, they find themselves in the second round even at 1-1 with the Boston Celtics after defeating the Chicago Bulls in five games. For one of the very few times in not only Sixers history, but Philadelphia sports history as a whole, some luck finally fell their way.
The Sixers are a team rich in history and surprisingly, this has been one of their more impressive seasons.
But to take an even closer look, let's see how where this season ranks with the rest of their past postseason performances...
Note: Only counting the Philadelphia 76ers, not the Syracuse Nationals
5. 2012 Season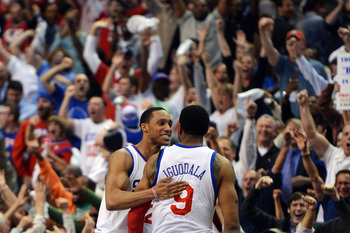 Drew Hallowell/Getty Images
Although the Sixers have made significant progress entering the postseason, there have been games they won where they didn't play the best basketball.
Having said that, defeating the number one team in the first round (yes, minus Derrick Rose, but give them some glory) has value to it and who knows what they can do this series after taking one in Boston.
There is no doubt this has been the Sixers' best run in the last ten years and if they go even further, it can go even higher on the list.
Since this postseason is still in its prime, it's hard to put this one much higher because we just don't know what will happen.
4. 2000-2001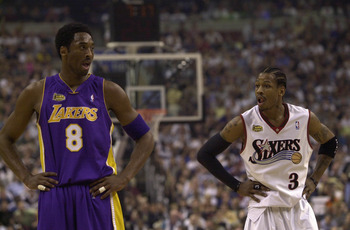 Ezra Shaw/Getty Images
This Sixers team was truly made their run primarily on the shoulders of Allen Iverson and head coach Larry Brown.
In fact, the next leading scorer after Iverson's 31.1 per game was Theo Ratliff with 12.4 points per game. For a team in the championship, that's not very common.
Although they did make it to the finals, they barely found their way there after two straight seven game series against the Toronto Raptors and Milwaukee Bucks. Still, this team was able to clutch out both game sevens and that's something to acknowledge.
And oh yea, and it wasn't just Iverson who did it all this time. Aaron McKie led the team with 22 points while Dikembe Mutombo snagged a crucial 17 rebounds to bring them to the Eastern Conference finals.
The Sixers made a nice run here, but ended up losing the momentum again the Lakers in the finals when they only managed to win one game.
An undesirable outcome, but a great postseason run nonetheless.
3. 1981-82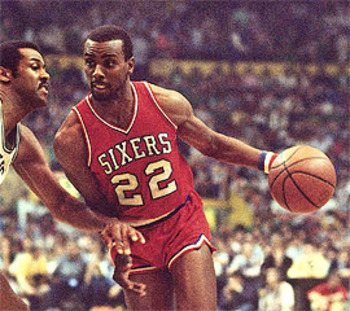 What really puts this postseason run high was their upset over the Boston Celtics in a seven game series in the Eastern Conference finals.
Andrew Toney, guard, led the team with 34 points in their game seven victory. On top of this, Maurice Cheeks recorded a double-double with 19 points and 11 assists and Julius Erving scored 29.
It was an overall team effort to defeat the Celtics by 14 points, 120-106 in game seven to send them to the finals.
Although they lost to the Lakers too just like Iverson's 2001 team, this run saw a bigger challenge and overcame a historic rivalry in a seven game series.
2. 1966-67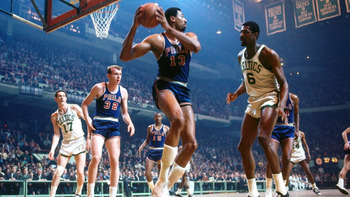 This was Philadelphia's first NBA Finals victory and was the greatest regular season in franchise history.
This squad was led by one of basketball's greatest, Wilt Chamberlain who averaged 24.1 points and 24.2 rebounds per game (yes, these are real stats).
The Sixers defeated the rivals, Boston Celtics, 4-1 to get to the NBA Finals where they defeated the San Francisco Warriors in a six game series.
During the stretch, the Sixers actually developed a six game win streak and won their first game of the finals in overtime.
Along with Wilt, Billy Cunningham, Hal Greer, and Chet Walker all contributed to the great postseason run to a championship.
1. 1982-83
Stephen Dunn/Getty Images
Although Wilt Chamberlain's squad recorded the best record in Sixers history, the infamous "Fo', fo', fo'" team put together a near-flawless post season by losing just one game.
To take a deeper look at their postseason success, Philadelphia swept the New York Knicks in round one, defeated the Bucks 4-1 in the Eastern Conference finals, and then swept the Lakers in the finals.
During this stretch, Moses Malone averaged 26 points and nearly 16 rebounds per game while Dr. J and Andrew Toney contributed over 18 points per game, and Maurice Cheeks with a little over 16 respectively.
This squad truly put together a team effort and define a true championship caliber team.
Clearly, the 1982-83 Sixers put together the best postseason run in franchise history.
Conclusion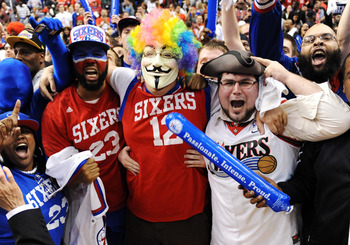 Drew Hallowell/Getty Images
I know there have been other seasons where the Sixers have went further than what the Sixers have done now and certainly had a better team.
However, here we are strictly talking about playoff runs and those teams that were great on paper, expected to win and didn't follow through were not put on the list (1966, 1968, 1977, etc.). Those are actually more disappointing and heartbreaking to fans than they are noteworthy.
As one can tell, this Sixers squad has a lot of potential to be one of the greatest runs in Philly sports history if they go further. They knocked off the one seed and have a chance to upset their long time rivals in Boston.
They aren't flashy with a lot of talent, but that's what makes this run that much more special.
Keep Reading

Philadelphia 76ers: Like this team?