Tennessee Volunteers Football: Is Derek Dooley on the Hot Seat or Not?
May 16, 2012

Kevin C. Cox/Getty Images
One of sports' most overused terms is the "hot seat." Each league introduces its season with a rundown of which coaches are on the hot seat that year and what they have to do to cool it down.
Tennessee Volunteers head coach Derek Dooley is one of these coaches for college football according to some, but is his seat really that hot?
I can't even beat around the bush with this one. The answer is unequivocally yes.
The Hot Seat 
A professional coach in the NFL ends up on the hot seat after a three-game losing streak, but it usually leads nowhere. I think New York Giants head coach Tom Coughlin has been on the hot seat since the day he was hired in 2004. He has won two Super Bowls since then.
In the NBA, every coach is on the hot seat all the time. It was rumored that if Mike Brown and Vinny Del Negro didn't win their first-round series with the Los Angeles Lakers and Clippers, they'd be fired. Think of that! You coach your team to a top-five seed in the NBA playoffs and might get fired after losing a Game 7.
In college football, we do a little bit better with throwing around the hot seat term. No one knew Tyrone Willingham was on it in 2004, but he got the axe after just three seasons, saving us from hot-seat talk all offseason. On the other hand, everyone knew Rich Rodriguez's seat was boiling and that he had to make the leap in 2010 at Michigan or he'd get fired. Michigan didn't and he did.
It seems that in college, the term hot seat is used more appropriately. In the case of Dooley at Tennessee, I'd have to say the talking heads got it right again.
Dooley Back in 2013?
I talked a few months ago about what I believed athletic director Dave Hart would require of the 2012 Vols in order for Dooley to be brought back in 2013. Due to the turbulence felt in the football program over the past five years, these requirements were somewhat below most fans' preferences, but they seemed reasonable.
Then I got to know Hart more.
Hart was the athletic director at Florida State from 1995 to 2007, during some of the Seminoles' best years in football. He made the move to Alabama to be the No. 2 man under Mal Moore in 2008 and experienced more football success there.
He wants to win and has a history of knowing how to get it done.
The common theme at both Florida State and Alabama was the terrific head coach. Florida State's legendary Bobby Bowden coached through most of Hart's tenure there, and Nick Saban was the man at Alabama. Hart knows what the first step to a winning college football program is: coaching.
Therefore, the expectations for Dooley in 2012 have increased. No longer is a 6-6 season with a bowl win the bare minimum for retention, as I first said.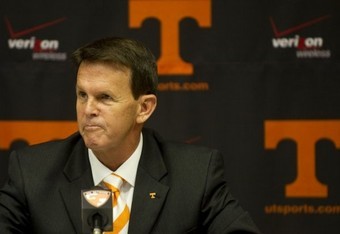 It's eight wins minimum, and the bowl game is especially important. For example, if Dooley gets the Vols to 8-4 at the end of the regular season and then loses the bowl game, I'm not sure he stays.
It's up to the leadership of the Tennessee squad, the wealth of offensive talent and the solid back seven on the defense to get it done.
For the Program, Let's Hope the Seat Cools
When you can so easily spell out the requirement for a coach being brought back or not, you know he's on the hot seat. Your specific win-loss scenario might differ from my own, but I doubt it's by much. Regardless, the fact that you and all your fellow Vol fans have a checklist for Dooley to meet in 2012 is evidence that the seat is hot.
But let me make one thing very clear: Tennessee needs Derek Dooley to perform.
It's not that he's a brilliant coaching mind (he's solid) or a lights-out recruiter (though he's quite good). It's simply that Tennessee doesn't need to start over for the third time in five years with a new coach. While Georgia and South Carolina continue to improve, and Florida rebuilds itself, Tennessee can't afford to get farther behind in the SEC East.
So while Dave Hart and the Big Orange faithful might have a list of coaches ready to go if Dooley doesn't work out, there is no doubt that the best-case scenario is for the 2012 team to come together, win and help throw some water on Dooley's hot seat.
The orange pants can only take so much heat.