Baltimore Orioles: Why the Orioles Will Sign Adam Jones to a Long-Term Deal Soon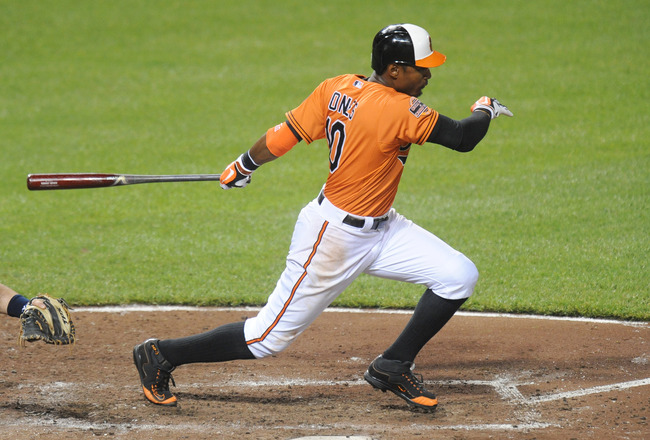 Mitchell Layton/Getty Images
Baltimore Orioles management and fans have seen the writing on the wall for months now. Adam Jones has developed into one of the premier outfielders in all of baseball and it will take a large contract to lock him up for the next several seasons.
Jones isn't a free agent until after next season, but the time for the O's to act is now. The Orioles must either sign Jones to a long-term extension or trade him away for several top prospects while he is still under team control through next season.
His value on the trade market will suffer the longer the Orioles wait because most teams don't want to trade away their top prospects for only a few months with a star, like the Brewers did for CC Sabathia in 2008.
On the other hand, the longer the Orioles wait, the more expensive it will be to sign Jones long-term.
I believe Baltimore management will shift their attention from finding possible suitors for Jones to striking a deal with the All-Star.
The Longer the Orioles Wait, the More Expensive He'll Be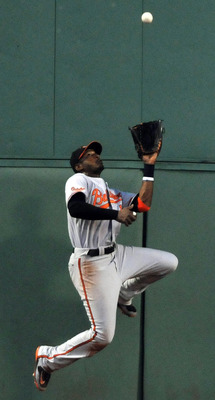 Darren McCollester/Getty Images
Adam Jones is off to a fantastic start this season. He is on pace to hit well over 40 home runs, drive in close to 100 runs and his OPS sits at .941.
If he can maintain that pace, his worth will shift from Andrew McCutchen-type cash—six years and $51.5 million—to Matt Kemp money. Kemp signed an eight year, $160 million deal this past off-season.
Jones has gone on tears like the one he is on to start this season and he normally comes back down to Earth at some point before taking off again.
If this hot steak turns out like the previous ones, the Orioles have nothing to worry about, but what if he doesn't cool off and this is his Kemp-like breakout season?
The Orioles should sign Jones now before he costs something to the tune of $160 million.
The Orioles Are Competing Now
Mitchell Layton/Getty Images
If the O's were in last place and showed no signs of moving out of the A.L. East cellar, it would make sense for the Orioles to move Jones and stock the farm system.
But the Orioles are in first place despite many injuries and a tough schedule to start the season. This could be the season Orioles fans have been waiting for since the late '90s.
The Orioles have a young core of very good players and several top prospects almost ready for the big leagues. Jones is at the heart of this young core and trading him would decimate any hope the O's have for this season or even the next few.
Jones is a clean-up hitter who plays a Gold Glove center field. Those type of players don't grow on trees and with the O's on the brink of contention, it would be foolish to let Jones go.
A Trade Could Backfire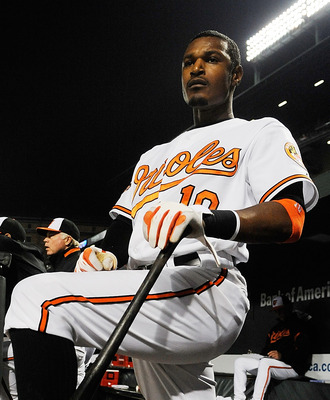 Patrick McDermott/Getty Images
Trading away superstars for a big return of top prospects is one of the quickest ways to set a franchise up for years of quality baseball.
GM Dan Duquette himself once swung a trade which landed him Derek Lowe and Jason Varitek for Heathcliff Slocumb. That trade helped develop a core of players that would end the Red Sox curse and bring them a World Series victory.
Adam Jones is significantly more important to the Orioles than Slocumb was to the Red Sox but still, a trade involving Jones could net the Orioles a huge return.
There are no guarantees when it comes to even the best of prospects, though. Sometimes the guys received in a trade fizzle out and never develop into the players they were supposed to become.
The Orioles know they have an all-star center fielder that plays everyday and can help win ball games now and for years to come. Why risk losing a player like that for some prospects that may or may not pan out?
Keep Reading

Baltimore Orioles: Like this team?