Fun with Numbers: Statistical Oddities from the NFC South Quarterbacks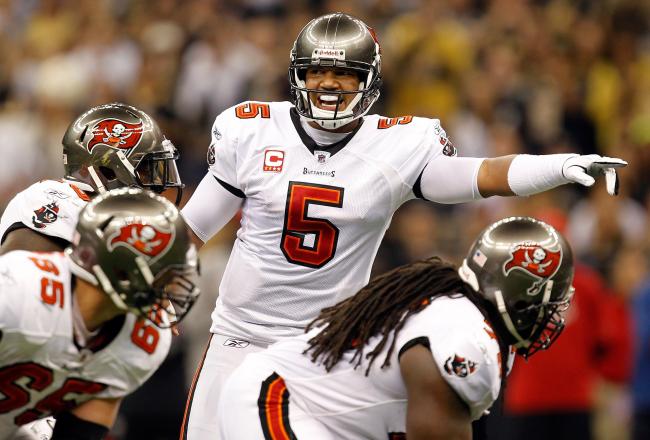 Bucs QB Josh Freeman got a lot of help from his receivers runnig after the catch. But what does that mean?
Streeter Lecka/Getty Images
Whoever said math isn't fun was way off base.
Now, I've sat in enough calculus classes to know that I couldn't care less about the value of "X" as it approaches infinity, but I do think using numbers and stats can be loads of fun.
Without numbers we wouldn't have the Tommy Tutone classic "867-5309/Jenny," nor would we have the answer to everything: 42.
We also wouldn't be able to keep score or pit players' performances against others. But be careful, not all statistics use numbers properly or tell the whole story.
Here are three statistical oddities about quarterbacks from the NFC South and what you should know about each:
Which NFC South Quarterback Benefited the Most from His Receivers' Yards After Catch Numbers?
Tampa Bay quarterback Josh Freeman threw for 3,592 yards last year but only 1,887 of them (52.5 percent) were his yards through the air. The remaining 1,705 yards came after the catch. Atlanta quarterback Matt Ryan had the least help from his receivers, as he threw for 4,177 yards last year with 2,502 yards (59.9 percent) being his passing yards and 1,675 coming from yardage after the catch.
Analysis: These numbers don't mention anything about the types of routes the receivers were running or what types of defenses were on the field when the passes happened.
Don't be quick to judge Freeman as a quarterback who can only flourish with help from his receivers, or that Ryan lives on passes that leave his receivers little chance to run. Imagine what can happen if Freeman gets more time to throw in 2012 and makes better decisions leading to more completions. Also, think about Ryan and his new vertical-minded offensive coordinator Dirk Koetter. What happens if Ryan's receivers in 2012 turn into YAC monsters?
Would It Surprise You to Hear That Drew Brees Was Not the Most Accurate NFC South Passer on Throws of 20 Yards or More?
If you factor in dropped passes, Tampa Bay's Josh Freeman had an accuracy percentage of 52.8 percent on his passes of 20 yards or more. For a reference point, Brees completed 52.1 percent, Cam Newton 40.4 percent and Matt Ryan 30 percent.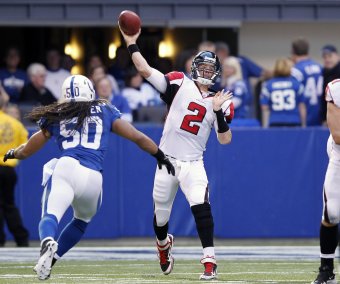 Of the NFC South QBs, Matt Ryan had the most trouble with passes of 20 yards or more.
Joe Robbins/Getty Images
Analysis: Freeman only threw passes of 20 yards or more on 6.5 percent of his dropbacks, meaning he didn't throw nearly as many deep balls as the other three. Newton attempted the most deep passes with 89 last year, while Brees had the most yards (1,192) from deep balls.
All these stats are telling, but the most telling might be Ryan's inadequacies on deep routes. Not only was his 30 percent accuracy ratio the worst in the division, no quarterback in the NFL with at least 50 attempts of 20 yards or more had a worse percentage.
Who Is the Most Elusive Quarterback in the NFC South?
The obvious answer would be Cam Newton. No other quarterback on the planet is more feared for his ability to get his feet moving and make things happen.
However, if you look at which quarterback in the NFC South is sacked the least when under pressure, Drew Brees is the guy you want in that situation.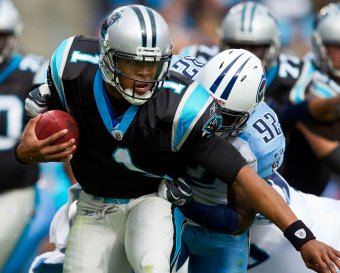 Cam Newton took 35 sacks while under pressure in 2011, the most of any NFC South QB.
Brian A. Westerholt/Getty Images
Analysis: Newton was actually sacked 16.8 percent of the time when he was pressured in the pocket. That's the worst figure of the NFC South quarterbacks.
Brees was only sacked 13.8 percent of the time he was pressured, third in the NFL among signal-callers with at least 500 dropbacks.
Now, before you argue that Brees had a better offensive line, remember that I used percentages, not actual sack figures. That should make that argument moot.
So, while I'd much rather have Newton running for me in the open field, or even through traffic on the field, when the pressure is on in the pocket, give me Drew Brees.
This article is
What is the duplicate article?
Why is this article offensive?
Where is this article plagiarized from?
Why is this article poorly edited?