Ty Isaac Commits to USC: What Does This Mean for the Trojans Going Forward?
May 15, 2012
It was only yesterday that I broke down the advantages of both Michigan and USC in the recruitment of 5-star running back prospect Ty Isaac.
At the end of the story, I predicted that Isaac would commit to Michigan.
I was wrong.
This morning, it was announced by the Isaac family that Ty has verbally committed to play for USC.
In my opinion, with distance mentioned so frequently as a factor by Isaac and his parents, who hail from Joilet, Illinois, this is a pretty big upset for the Trojans.
Isaac is rated as the No. 1 RB and 5-star recruit by Scout.com, and he sits among the nation's best on all the other lists from major recruiting publications.
This is a very impactful commitment for the Trojans, and I'm here to give a couple reasons why.
From a pure football standpoint, this is a good fit. Isaac is a 6'2", 220 pound running back with excellent speed, elusiveness, vision, quickness and agility.
What also makes Isaac stand out is his hands, as he has natural ball skills, can factor as a receiver out of the backfield and is more than a check down option for quarterbacks on passing plays.
Isaac is so so as a receiving back, I wouldn't be shocked to see Lane Kiffin use him in a role similar to the one Malaefou McKenzie played at USC in the 2000's.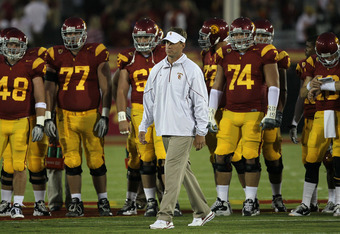 Stephen Dunn/Getty Images
Mckenzie was a jack of all trades, playing RB, FB, some slot receiver and H-Back. It took advantage of his running skills and exploited matchups he had against linebackers in the passing game.
I really can see Isaac excelling in a similar fashion, along with being a traditional running back.
From a depth standpoint, USC is in dire need of multiple running backs in this 2013 class. Not only was Isaac highly sought after, he was highly needed.
The Trojans will only have about three scholarship running backs next year, and that's counting converted-yet-hurt-linebacker Tre Madden returning.
So Isaac gives the backfield another infusion of talent but also a sorely needed body for sheer depth and numbers.
From a recruiting standpoint, Isaac committing to USC has huge implications. For starters, this shows again that USC can go anywhere in the country and take an elite player, as other programs will continue to be concerned when recruiting a prospect and the Trojans come calling.
Luring Isaac away from Illinois to Los Angeles is a coup in itself, but the Trojans beat out red-hot recruiting Michigan and cross sectional rival Notre Dame for him.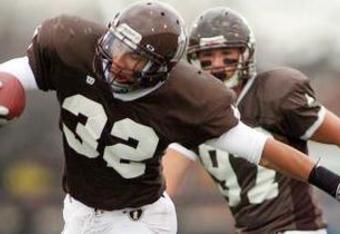 Also with recruiting, Isaac's commitment will impact the decision of 5-star RB Justin Davis. Davis is announcing his decision on Thursday, and before Isaac pledging to the Trojans, USC was felt to led for Davis.
With the Trojans needing multiple backs in this class and stressing competition, does Davis still announce for USC or choose to go elsewhere?
There's a solid chance that Davis still commits to USC on Thursday, as Isaac told Scout.com that the two elite rock toters have talked, and they both feel they could accomplish a lot in the offense.
So in all, this means a ton for the Trojans, as landing Isaac impacts the program highly football-wise and recruiting-wise.
Edwin Weathersby has worked in scouting/player personnel departments for three professional football teams, including the New York Giants, Cleveland Browns and the Las Vegas Gladiators of the Arena League. He spent a year evaluating prep prospects & writing specific recruiting and scouting content articles for Student Sports Football (now ESPN Rise-HS). A syndicated scout and writer, he's also contributed to WeAreSC.com, GatorBait.net and Diamonds in the Rough Inc., a College Football and NFL Draft magazine.