Preakness 2012 Odds: Unheralded Racers You Can't Ignore
May 17, 2012

Elsa/Getty Images
Bodemeister and I'll Have Another aren't running a two-horse race.
Believe it or not, there will be other thoroughbreds competing in the 2012 Preakness Stakes. All the attention surrounds Bodemeister and I'll Have Another. While they earned the hype, it wouldn't be a shocker if they got knocked off by a horse you never heard of.
Here are four horses that will challenge the two heavy favorites on May 19th at Pimlico (odds via allhorseracing.com).
4. Cozetti (20/1)
Cozetti replaced one of the early favorites in Dullahan, and according to BloodHorse.com's Steve Haskin, the horse is ready to do some damage. Cozetti's trainer, Dale Romans, said after the swap: "He's ready to go. We wanted a good work and he likes a track with a little water on it. I think he's going to run huge."
3. Optimizer (12/1)
Optimizer has history on his side. His trainer, D. Wayne Lucas, not only has plenty of experience, but displays of dominance as well. Lucas has had five horses cross the finish line first at the Preakness.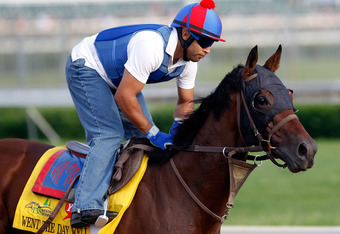 Rob Carr/Getty Images
2. Went The Day Well (10/1)
Since 1984, only three horses that didn't participate in the Kentucky Derby have won the Preakness. Went The Day Well ran at Churchill Downs so he already has a leg up on half the field.
And like Optimizer, Went The Day Well also has a phenomenal trainer in Graham Motion.
1. Creative Cause (10/1)
Creative Cause has the same edge that Went The Day Well holds—he competed in the Kentucky Derby.
And according to SportingNews, the horse's trainer, Mike Harrington, is confident in his horse's ability to rebound. After deciding to fly Creative Cause to Baltimore he said: "I think he's got his mojo back. If the flight takes it out of him, we'll have to see."
Counting out any of these four horses, especially Went The Day Well and Creative Cause, would be foolish.
David Daniels is a featured columnist at Bleacher Report and a syndicated writer.