Examining Patriots and Franchise Tag, What Does Future Hold for Wes Welker?
May 15, 2012

Marc Piscotty/Getty Images
If recent history is any indication, Patriots wide receiver Wes Welker will soon be the recipient of a long-term contract.
As first reported by Greg Bedard of the Boston Globe and later confirmed by Welker himself, Welker signed the franchise tag, which is worth $9.515 million for the 2012 season. The next step would seem to be a long-term deal, which the Patriots and Welker have until July 15 to reach an agreement upon.
But that's not the only path that the Patriots and Welker can go down. As we've seen in the past with the Patriots, one of three things happen: the player and the team reach a long-term deal before the season, the player plays out the franchise tender and signs a long-term deal elsewhere or the team trades the player.
2002: Adam Vinatieri; signed three-year deal before season
2003: Tebucky Jones; traded to New Orleans Saints before season
2004: No franchise player
2005: Adam Vinatieri; played out franchise tag and signed with Indianapolis Colts in 2006
2006: No franchise player
2007: Asante Samuel; played out franchise tag and signed with Philadelphia Eagles in 2008
2008: No franchise player
2009: Matt Cassel; traded to Kansas City Chiefs before season
2010: Vince Wilfork; signed four-year deal before season
2011: Logan Mankins; signed seven-year deal before season 
Three of the seven players that the Patriots have put the tag on have signed a long-term deal with the Patriots before the season began (Vinatieri '02, Wilfork '10 and Mankins '11). Two of the players were traded (Jones '03 and Cassel '09), and the other two played out their tags with New England before signing a long-term deal elsewhere (Vinatieri '05 and Samuel '07). In total, five of the seven players tagged by New England have gone on to sign a long-term deal in the near future, be it with the Patriots or another team.
That being said, those players have been fortunate to stay healthy; the biggest potential setback to Welker is that he gets injured in practice and his value falls flatter than a dropped pass to the turf.
But all that assumes that the Patriots even want to sign him to a long-term deal. He has been wildly important to the team, but exactly how valuable is Welker to the Patriots offense?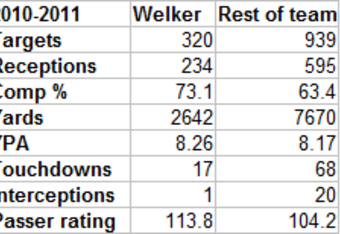 Statistically speaking, there's no question how valuable he has been. But contracts are never about the past; they're only about the future projection. Does Welker project to produce as he has in the past few years for the life of a long-term deal? And what is his intrinsic value to the Patriots, as opposed to his market value to not just the Patriots but other teams?
That difference seems to be the likely hang-up in a long-term contract.
Just yesterday, Wes Welker told WEEI's "Mut and Merloni" show, "There's nine and a half million reasons why I wouldn't miss any regular season games." 
But if there are reasons to get a long-term deal done, it's because of that unknown element of an injury and the variance in value.
Those 9.5 million reasons took a while to outweigh that and however many other reasons Welker may have had not to sign his franchise tender. But the love of football outweighs all for Welker.