Damian Lillard: Highlights, Analysis and Pro Projections
June 8, 2012

Ethan Miller/Getty Images
Damian Lillard is an electrifying scorer who can play either guard position. He was second in the nation in scoring at 24.5 points per game and lead Weber State to a 25-7 record this past season.
Because of an injury he suffered in the 2010-2011 season, he could have come back for another year, but he declared for the draft on April 3.
It is clear that Lillard can put the ball in the hoop, but scouts want to be convinced he can run a team as well. His ceiling is highest at the point guard position, so his playmaking ability will be the major focus as he attends the NBA Draft Combine.
Lillard was truly one of the standouts at the combine. He shot the ball well and showed great athleticism. This tweet came from Henry Wofford of CSN Bay Area:
Oakland Native PG (Weber State), Damian Lillard just had a nasty dunk at the NBA Draft Combine. Second straight day he has looked good.

— Henry Wofford (@HenryWoffordCSN) June 8, 2012
According to Chad Ford of ESPN, Lillard is the top point guard available. I believe he is the best player that is currently classified as a point guard, but Kendall Marshall, from North Carolina, is a better pure lead guard.
Here is a scouting report on Lillard that highlights his strengths and weaknesses.
(Height, weight and stats per statsheet.com)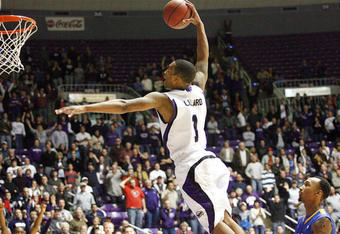 Profile
Height: 6'2" 
Weight: 185 pounds 
School: Weber State
Date of Birth: July 15, 1990
Best NBA Position: Point Guard
College Stats: (Key Stats Underlined) 24.5 PPG, 34.5 MPG, 46.7 FG%, 40.9 3FG%, 88.7 FT%, 4 APG, 5 RPG, 0.2 BPG, 1.5 SPG
Skill Grades
Athleticism: A
Size: A-
Intangibles: A
Rebounding: A
Ball Handling: A
Defense: B-
Shooting: A
Passing: B-
Post Game: B-
Basketball IQ: B+
Upside: A
Strengths
Lillard is very quick and has exceptional body control. He can drive and finish with either hand and his handle in traffic is solid. At 6'2", he has good size for the point guard position; he is strong, but he could add a little muscle to become a post-up option against smaller guards.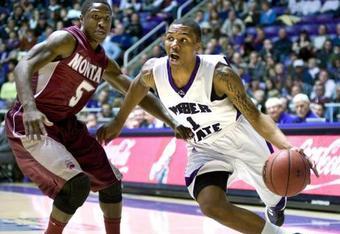 He is a much better-than-average rebounder at the point guard position. He averaged five boards per game, due to his solid leaping ability and motor. Perhaps Lillard's best attribute is his pure shooting.
This kid can fill it up from anywhere on the court. He shot almost 47 percent from the field, over 40 percent from three-point range and a sick 88.7 percent from the free-throw line. To compound that, he gets to the line a ton; his 257 free throw attempts was sixth in the nation.
Lillard can be a high volume scorer in the NBA for sure.
Check out Lillard in action in this highlight reel from his time at Weber State:
Weaknesses
Lillard has yet to prove to NBA teams that he can be an NBA point guard. At 6'2", this is his best NBA position, but he must show he can facilitate an offense. At Weber State he was clearly the best scoring option, but he'll need to feed his more talented NBA teammates.
I'm not saying he can't adapt, but as of now he hasn't shown that ability.
Lillard is not as committed to his defense as he is to his offense. Though he isn't horrible in this regard, he gambles too much and can lose track of his man when he doesn't have the ball.
These are issues that can be worked out, and they are often present with young prospects who have carried a huge offensive load like Lillard did at Weber State.
Again, this is a fixable deficiency.
NBA Player Comparison: More Athletic Stephen Curry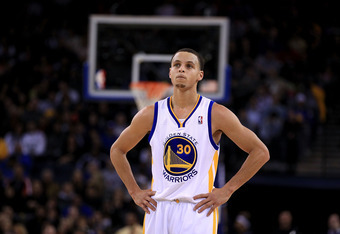 Ezra Shaw/Getty Images
Coming out of Davidson, some doubted whether Curry would continue his scoring ability in the NBA. Davidson is not a major program, and Curry's competition was questioned.
Some also wondered if Curry could run the point in the NBA, as he had been such an explosive scorer at Davidson (25.3 points per game in three years).
Curry proved he could score in any league and that he could run the point adequately as well. In three seasons, Curry has averaged 17.5 points and 5.8 assists per game.
Both Curry and Lillard are great shooters, but Lillard has more bounce, and he's physically stronger than Curry. Lillard will face the same questions about competition and his ability to run the point, but this kid is for real.
While Kendall Marshall is the best pure point guard prospect, Lillard is the best overall player at the position in this draft.
Draft Projection
From No. 8 to No. 13 
Follow Brian Mazique and Franchiseplay.net for reactions, analysis and news from the world of sports and sports video games.