New York Mets: 5 Players That Sandy Alderson Should Eye in the Draft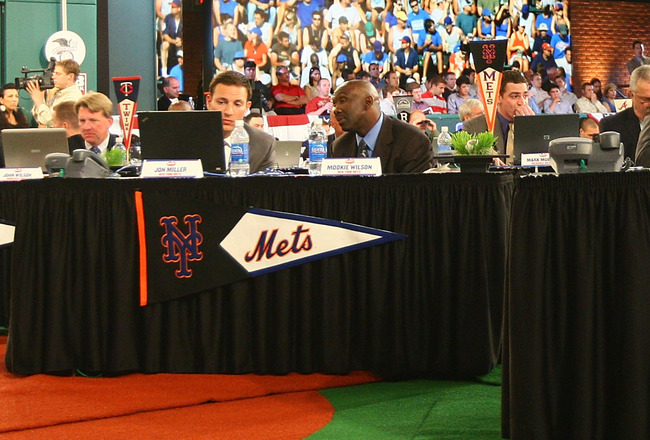 Mike Stobe/Getty Images
With the MLB draft coming in a few weeks, nothing is certain about whom Sandy Alderson is thinking of picking.
After deviating from Omar Minaya's low-ceiling, high-floor philosophy of drafting college juniors with the choice of Wyoming high school outfielder Brandon Nimmo in the first round, followed by Oklahoma prep pitcher Michael Fulmer in the compensatory round, there is no telling whether Alderson will want almost instant gratification with a college junior or a project with another prep choice.
Fortunately for the Mets, their position at No. 12 overall gives them plenty of options on whom to choose.
This slideshow will examine five players whom Sandy Alderson should take at No. 12 overall.
So without further delay...
Lance McCullers Jr., P, Jesuit High School, Tampa FL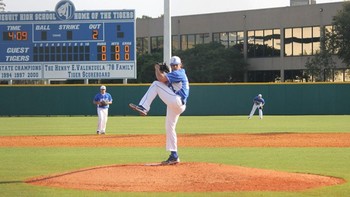 At one time, Lance McCullers would have been out of the Mets' reach, as he was once projected to be a top-five draft pick, but for reasons unknown, his stock has slipped to the point where he was projected to go to Boston 24th overall.
McCullers has a fastball that can go up to 97 MPH on the radar gun, an 80 MPH changeup and a high-velocity curve.
Although there have been rumblings that he needs to work on his command, he would make a nice addition to a potentially stacked rotation that would include Matt Harvey, Zack Wheeler, Jeurys Familia and Dillon Gee.
Stryker Trahan, C, Acadiana High School, Scott LA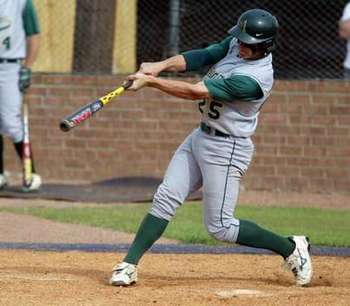 I had previously entertained the notion of the Mets drafting a catcher in the first round.
Unfortunately, Mike Zunino is bound to be off the board by the third pick at the most by now.
With that in mind, I went for the next-best option here in Louisiana prep product Stryker Trahan.
Trahan's scouting report reveals that if he does rely on his traditional batting stance, he has the potential to hit for power, crushing, as the report said, "majestic blasts when he squares it up."
He also has great speed for a catcher, and his fielding is considered solid.
While Josh Thole is the catcher for the foreseeable future, It might not hurt to take a long look at Trahan, as he does fit the mold of what Alderson did last year.
Michael Wacha, P, Texas A&M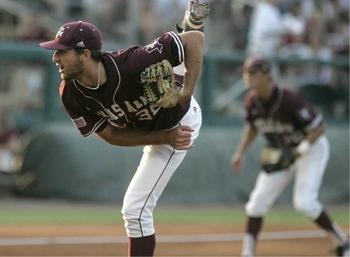 If Sandy decides that Lance McCullers is not his guy, then he should look at Texas A&M starter Michael Wacha.
Wacha has been perfect this year, going 8-0 with a 2.14 ERA and 95 strikeouts.
He's been in ace form all season and could play a major part in the Aggies' attempt to make it to the College World Series again.
Although Wacha distrusts his breaking balls, his fastball is enough to compensate, as it can go as high as 94 MPH.
His fastball and his junior year production could potentially lead to a top-15 pick projection, allowing him to fall into the Mets' lap.
Gavin Cecchini, SS, Alfred M. Barbe High School, Lake Charles LA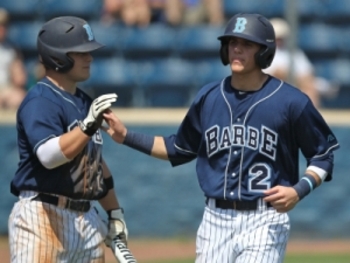 One of the more interesting prospects of this draft is Louisiana prep product Gavin Cecchini.
Cecchini is the younger brother of Red Sox minor leaguer Garin (seriously, who comes up with these names?) Cecchini.
Gavin is a highly rated shortstop who could fit into the Mets lineup if drafted.
Cecchini has the stuff to be a contact hitter, with great bat speed and above-average speed.
He will definitely be a project, but if things go well for him, he could find himself as a hitter in the No. 5 spot of any lineup.
What really does it for him is his defensive capability, as his scouting report says he could remain a shortstop as he goes through the minors.
Travis Jankowski, OF, Stony Brook University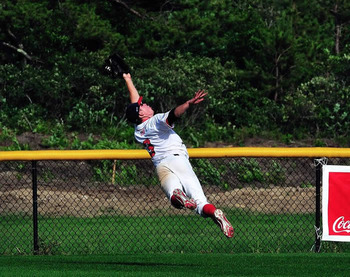 For every 30 first-round college baseball players, at least one comes from a smaller school.
In this case, it's Stony Brook's Travis Jankowski.
Jankowski, a former high school football star who ended up choosing baseball in college, was a late bloomer, as his determination to play football made baseball take a back seat.
When he finally took the baseball field full time, his stats bloomed, and now he's hitting .393 on the year with 32 stolen bases.
Jankowski is essentially the NCAA equivalent to Kirk Nieuwenhuis, and he could draw plenty of interest in the draft. Count the local Mets as one team who could be interested.
Keep Reading

New York Mets: Like this team?