NASCAR: Kurt Busch's Temper Preventing Ricky Bobby-Esque Redemption
May 15, 2012

Kevin C. Cox/Getty Images
In the end, this is just starting to look foolish.
Just one week removed from running the popular Ricky Bobby "Me" paint scheme from 2006's Talladega Nights, Kurt Busch was back to his old self in the Sprint Cup race at Darlington. After rocketing by half a dozen cars in the first few laps, he faded, eventually spinning with six laps to go in the Southern 500 and collecting Ryan Newman.
After doing a burnout on pit road that startled the crowd—and Newman's crew, whose stall Busch passed through while they were still in it—and bumping Newman on pit road at the end of the race, the two teams had an altercation. That ended with a NASCAR official falling onto Busch's hood and a busy NASCAR hauler after the race.
In a lot of ways, Busch resembles the fictional Bobby, from the loss of a top ride to the divorce of his first wife to a less-than-stellar handle on his temper. The difference, of course, is that by the end of the movie, Bobby figured it out and put together a happy ending. Busch, on the other hand, is turning the end of his movie into a farce.
The 2012 season was supposed to be a time for refocusing by the temperamental Las Vegas native. After a series of incidents last year, including a well-publicized dust-up with ESPN's Dr. Jerry Punch in the season finale at Homestead, Busch was dumped from a Chase-contending ride at Penske Racing.
He opted to rebuild his Cup career with Phoenix Racing, a small but popular outfit, on a one-year contract, while also splitting the Nationwide Series schedule with brother Kyle at Kyle Busch Motorsports and running superspeedway races for Phoenix.
Results have been mixed so far. Busch has been typically solid in the Nationwide equipment, scoring a solid win at Richmond with KBM and four top-10s in five starts overall. But Busch has been as far down the Sprint Cup standings as he's ever been in his career; he currently ranks 25th with a single top-10, which puts him on pace for his first season outside the top 20 in points since his rookie year in 2001.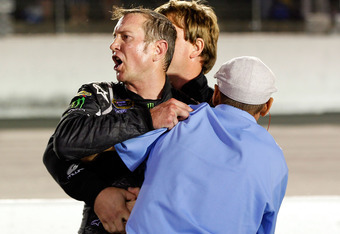 Geoff Burke/Getty Images
That middling performance has led Busch's hot temper to boil over. Busch and Finch have a verbal agreement not to break their contract with one another, but Finch is a strict owner who demands performance as justification for any hiring. Kyle upholds those same expectations.
Kurt's reaction to that hasn't been great: After the Richmond event, USA Today reports that he he joked to reporters, "(Kyle) told me what to do driving at like lap 40. And I was like, 'Here we go. Here's the owner telling the driver how to drive."
On a more serious note, sponsorship concerns have arisen, with Finch hinting that it may be difficult for the team to run the full season unless somebody signs on to back the team. Kurt had been doing a solid job of promoting both Tag Heuer and Monster Energy at the start of the year, but the Darlington incident could undo anything positive to come out of the season thus far.
Newman, for one, lacks confidence in the 2004 series champion.
"It's easy to see and it's easy to say that Kurt blew a fuse again," Newman told Dustin Long after the race. "I'm not sure why he did it and tried to run over our guys and NASCAR officials. And nobody is. I think the chemical imbalance speaks for itself."
"(I think he) was so frustrated that he doesn't know how to deal with his anger."
Former teammate Matt Kenseth, on the other hand, isn't worried about Kurt, even if he knows that team owner Jack Roush will never bring him back. "Everybody changes, everybody goes through different phases of their career, different phases of their life," he told reporters after the race. "There's always a second chance out there."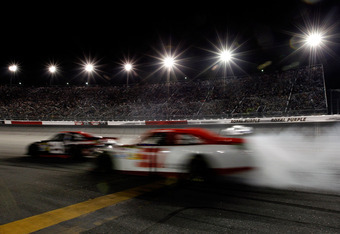 Tom Pennington/Getty Images
The question is where that chance will come from. Furniture Row Racing has talked to Kurt about establishing a second car and becoming Dodge's flagship team for 2013, but Darlington may have thrown a wrench in those plans.
Not many other quality seats are open for next year, as Penske won't bring Kurt back, Joey Logano and Martin Truex Jr. will probably see contract renewals and Richard Petty has enough trouble attracting sponsorship for the famous No. 43 as it is.
Kenseth remains confident in his friend's ability to secure a drive with another top team—"I would be surprised if he wasn't able to keep a ride or stay in a competitive car"—but after his latest incident, many in the NASCAR garages remain unsold on Kurt Busch.
He hasn't shown any progress in dealing with the anger issues that damage sponsorship relationships and bring home torn race cars, and Finch's patience may be running out if he continues to tear up equipment. 
And while Kurt might have seen himself as the real-life Ricky Bobby, he may be closer to a different movie character altogether: Russ Wheeler, the bad guy of Days of Thunder. And in this day and age of big sponsorship deals, being the bad guy might be enough to leave you on the sidelines.