LA Dodgers: What to Watch for During Matt Kemp's DL Stint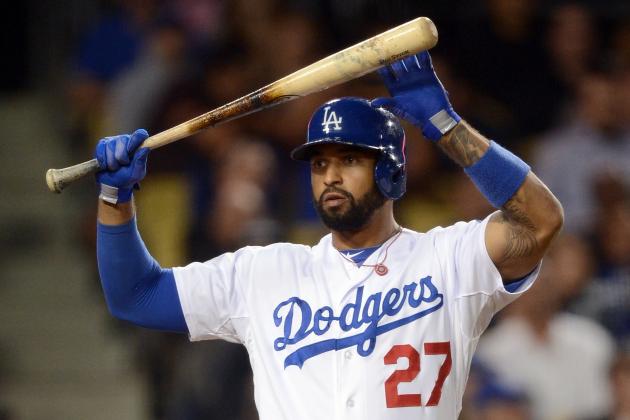 Harry How/Getty Images

Dodger center fielder Matt Kemp was having quite the start to his 2012 campaign. In 34 games he had mustered up a .359 batting average with 12 home runs and 28 RBI.
More surprisingly, he led the Dodgers to an MLB-best mark at 24-11. But all of that changed Monday night when the team officials announced that Kemp had been placed on the 15-day disabled list for just the second time in his career.
What does this mean for the Dodgers? Only time will tell, but here are a few things to keep an eye on.
Begin Slideshow

»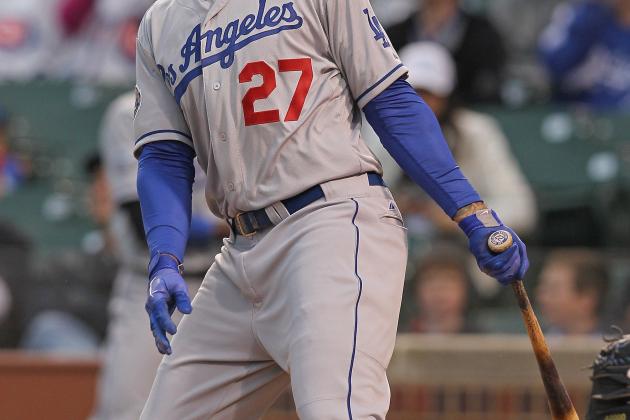 Jonathan Daniel/Getty Images

Coming off a 2011 season in which he clubbed 39 homers and stole 40 bases, Matt Kemp was not shy about his predictions for the year to come. He was proud of his season, which saw him fall only one home run short of the first 40-40 season in Dodger history and complete the first 30-30 campaign in LA since Raul Mondesi in 1999.
However, Kemp said from the start of the offseason that he wanted to go 50-50 in 2012.
With this injury, he can kiss that prediction good-bye. Tallying 50-50 would be a lofty goal while healthy all year and playing every day. With the hamstring issues, his production had slowed, making the feat more difficult, and through his 34 games he had managed only two steals.
Achieving 50-50 would have been spectacular, but now it is more realistic to expect something much more modest.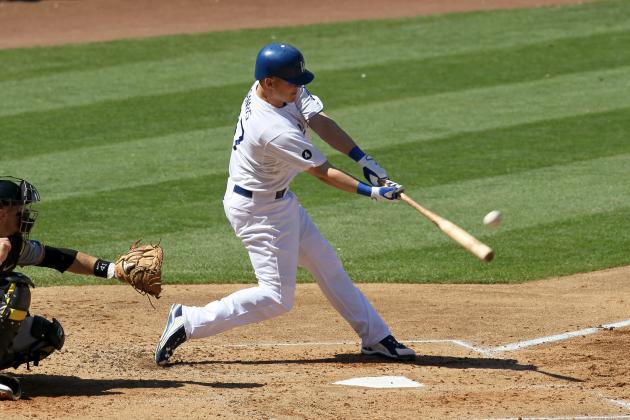 Stephen Dunn/Getty Images

With Kemp down, the Dodgers have recalled 1B/OF Jerry Sands to fill the vacancy on the 25-man roster. He should get a chance to play with all of the moving parts Don Mattingly now gets to work with.
Left field for the Dodgers has been somewhat of a revolving door of aging veterans, and Jerry Sands would love to come in and lock the position down.
Because he also plays first base and James Loney has struggled to the tune of a .245 average with one home run and eight RBI, Sands could see occasional play time in the infield.
Juan Uribe also hit the DL on Monday, so that is another spot that Mattingly has to fill, simply leaving Sands with more chances to prove he is ready to perform at the big league level.
If Sands shows he can hit the ball and be an asset to a Dodger lineup void of someone to protect Kemp and Andre Ethier, he could earn himself a shot to play every day.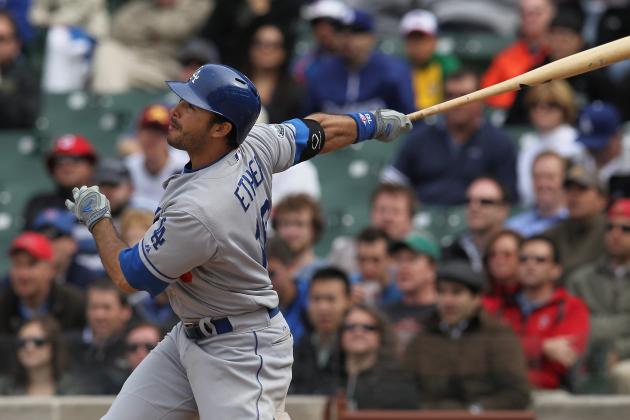 Jonathan Daniel/Getty Images

Andre Ethier has been one of the steadiest bats in the Dodgers lineups for years now. However, questions still remained about Ethier's health and if he would even finish the season in a Dodger uniform.
With the way Ethier is playing right now, general manager Ned Colletti will not even consider the move. The Dodgers are in contention, and Ethier has been a huge part of that. He boasts a .308 batting average with eight home runs and a team-high 33 RBI.
In Kemp's absence, Ethier will hit in the third or fourth spot of the order. In the team's first game without Kemp on Monday night, he hit fourth behind newly-acquired Bobby Abreu. If the Dodgers want to keep scoring runs, Ethier is going to have to be the man to drive them in.
If Ethier fails to help runners cross the plate, the task will be left to A.J. Ellis, who is in his first season as the Dodgers starting catcher, and James Loney, who has struggled to this point.
If the Dodgers want to keep winning games, the majority of the offensive burden will fall on Ethier's shoulders.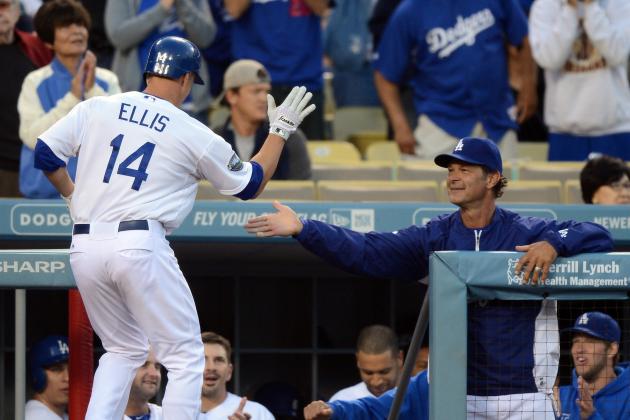 Harry How/Getty Images

This is not the same Dodger squad that we saw last season. The 2012 Dodgers know how to fight and scrap for runs, averaging just over four runs per game.
But what's better that their offensive firepower is their pitching. The Dodger pitching staff boasts a 3.15 combined ERA, good enough for third best in baseball, and back that up with 23 quality starts in 35 games, fourth best in the league.
Who would have guessed when the season started that 35 games in, not only would the Boys in Blue have the best record in baseball, but Chris Capuano would lead the rotation with a 2.06 ERA and Ted Lilly would lead the team with five wins? It is simply astounding what this Dodger staff has done.
As long as they can ride this wave of phenomenal pitching and muster up a few runs each night, the Dodgers can and will survive an injury to Matt Kemp.