USC Football: Will Marqise Lee Outshine Robert Woods in 2012?
May 15, 2012

Stephen Dunn/Getty Images
Now that former Oklahoma State star receiver Justin Blackmon, the winner of the last two Biletnikoff Awards, has moved on to the NFL, the title of "college football's best receiver" is currently up for grabs going into the 2012 season.
There are a few deserving candidates that merit consideration for the honor, but it's likely the tag will ultimately be bestowed upon USC's Robert Woods this offseason.
Last year, as just a second-year sophomore, Woods solidified his status as one of college football's elite pass-catchers, leading the Pac-12 with 111 receptions, totaling more than 1,300 yards of offense and scoring 15 touchdowns.
Woods' sensational 2011 campaign earned him plenty of postseason accolades, including numerous All-American honors, a spot on the All-Pac-12 first-team offense (he was the only unanimous selection), and it helped him become one of three finalists for the prestigious Biletnikoff Award.
If Woods were eligible for the 2012 NFL draft, there's no doubt that he could have competed with Notre Dame's Michael Floyd to be the second receiver selected and he would have likely been a Top-15 pick.
Now that the 6-foot-1, 190-pound junior is returning to Los Angeles, there's no doubt he will be showered with a ton of preseason praise this summer.
The former 5-star prospect out of California's Junipero Serra High School has certainly lived up to his enormous recruiting hype, and USC fans couldn't have asked for anything more out of Woods during his first two seasons in a Trojan uniform.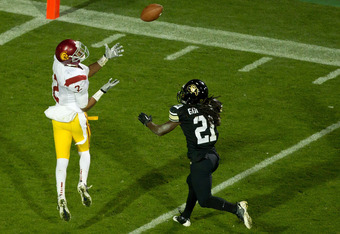 Justin Edmonds/Getty Images
With QB Matt Barkley—the consensus favorite to be this year's Heisman Trophy winner, as well as the favorite to be the No. 1 pick in the 2013 NFL draft—set to return for his senior year, Woods will have the type of talented signal-caller he needs to truly shine this season.
What he'll also have, though, is plenty of competition for the "college football's best wide receiver" title, especially from some of the top wideouts in his own conference.
The Pac-12 is loaded with potential star receivers such as Washington State's Marquess Wilson, California's Keenan Allen and Oregon State's Markus Wheaton. However, the one receiver that could be most capable of stealing away the spotlight from Woods in 2012 might just be the player lining up across from him on the other side of the field—his Trojan teammate Marqise Lee.
As a freshman last season, Lee burst onto the scene with a supremely impressive debut performance, catching 73 passes for 1,143 yards and scoring 11 touchdowns in 2011. All three totals bested what Woods accomplished as a freshman the year before, and they were some of the best numbers put up by a first-year receiver in school history.
Woods and Lee know each other well, as they both played together at Junipero Serra, where Lee was also a highly touted and coveted recruit, and they've now teamed back up to give USC arguably the best receiving tandem in the country for the 2012 season.
While Woods may be the more polished product and the more fundamentally sound receiver at this point, Lee has the potential to be just as good, if not better, over the next few years.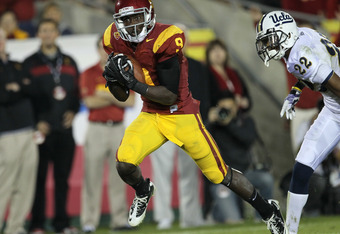 Stephen Dunn/Getty Images
I've already said that I feel Lee is the second-best sophomore in college football behind Oregon RB De'Anthony Thomas and, like Woods, I think he has the chance to be a future Top-10 NFL draft pick, even though he won't be eligible until the 2014 draft.
It almost doesn't seem fair that college football's best quarterback, Barkley, can have two of the top receivers in the nation to work with, but that's the reality Pac-12 defenses will once again have to face this season.
While expectations for Woods will be exceedingly high this year, as he's sure to garner a ton of preseason publicity during the offseason, I don't think it would be all that shocking if Lee ended up putting together the more impressive campaign in 2012.
The 6-foot, 190-pound sophomore is one of the most gifted athletes in the country, and he has the size, hands, leaping ability and overall route-running instincts to present a matchup nightmare for basically any defensive back that tries to contain him.
Woods and Lee are both special playmakers, and they have the chance to be two of the greatest receivers in USC history, which is certainly saying something given the types of wideouts that have come through the program over the years.
As long as the two star pass-catchers play up to their potential in 2012, and as long as they play a key role in USC's run to a Pac-12 championship, I frankly don't think any Trojan fan will care who puts up the better numbers this season.
It will definitely be interesting to see how opposing defenses try to contain the two of them, though.
Both receivers will demand double-coverage. However, you really just can't feasibly put enough defensive backs out there to lock both of them up, especially since USC has tight ends like Randall Telfer and Xavier Grimble that are capable of burning a secondary down the seam.  
Woods and Lee are two of the most exciting and explosive receivers that you're going to see in college football in 2012, and what's so great about them is that they're both humble enough to feed off each other and let one another each soak up the spotlight when it's their respective time to shine.
With Barkley, Woods and Lee all back in the mix, USC should once again have one of the most potent and powerful passing attacks in college football this season. With those three exceptional talents leading the way on offense, the Trojans will have what it takes to make a legitimate run at not just a conference championship, but a national title as well in 2012.