7 Reasons Metta World Peace Will Propel L.A. Lakers Past OKC Thunder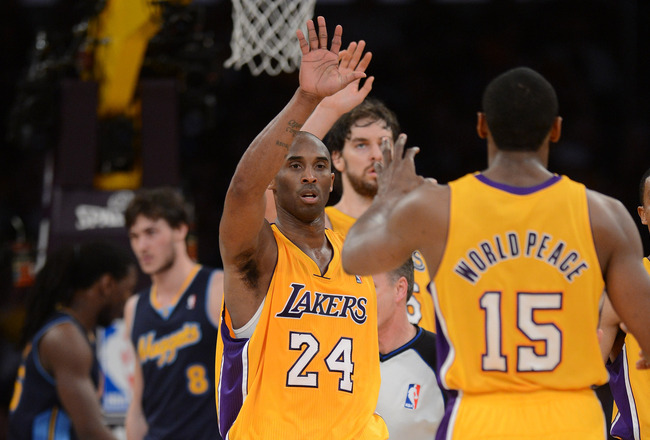 Harry How/Getty Images
If you said, back in 2004, that Ron Artest would change his name to Metta World Peace and be Kobe Bryant's most essential teammate, nearly everyone would have laughed at you. However, that is the case.
World Peace has become a huge asset to the Lakers late in the season and in the playoffs so far. He's averaging 15 points a game, and every point is sorely needed. The Lakers tend to lose motivation, quit on defense and lack offensive flare on many an occasion. This is why Metta World Peace will help the Lakers.
With World Peace in the game, the Lakers will be propelled past the OKC Thunder in the 2012 NBA playoffs.
He Plays Hard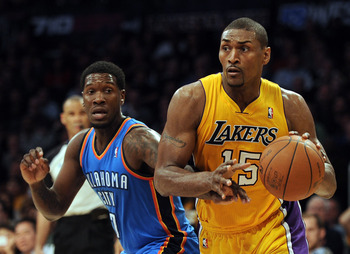 Harry How/Getty Images
It's been well-documented that during the series against the Nuggets, Kobe Bryant made it known he wanted World Peace back. He said, "He's the one guy I can rely on, night in and night out, to compete and play with a sense of urgency, with no fear. I'm looking forward to having that by my side again."
Kobe comes to play every night, even when he isn't feeling his best. He's the only player who does so, with the exception of World Peace. Say what you will about World Peace, the man comes to play every night, sometimes too intensely—but that's exactly what the Lakers need.
He's the Lakers' Best Defender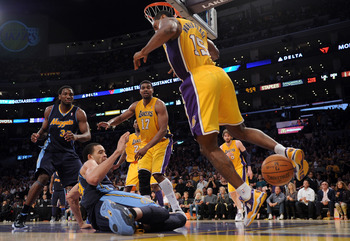 Harry How/Getty Images
People tend to have short-term memories when it comes to sports, so think to the Nuggets series. Compare the defense in the first six games against the last one, when the Lakers got World Peace back. Players who had been causing the Lakers problems throughout the series suddenly all but disappeared with MWP in the game.
He's got a fierceness on defense that the entire team lacks—even Kobe on occasion. This is so important against the young, fast Oklahoma City Thunder.
Significant Improvement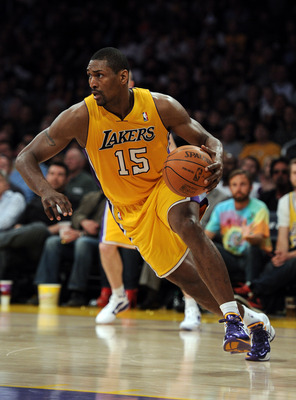 Harry How/Getty Images
MWP made significant improvement between the regular and postseason. During the regular season, World Peace averaged 7.7 points, 3.4 rebounds and 2.2 assists. During the playoffs, he's averaged 15 points, five rebounds and two assists. While he's only played in two games during the postseason, he was also averaging around these same numbers leading up to the postseason.
This is exactly what the Lakers need: improvement. MWP has been documenting his personal progress via Twitter, which isn't necessarily what all the Lakers need to do, but that kind of accountability keeps him honest, and it shows.
He Brings an Energy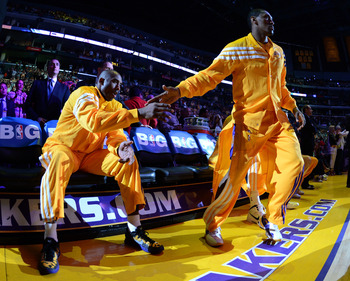 Harry How/Getty Images
As Kobe Bryant pointed out, MWP brings an energy to the game that the Lakers typically lack. While he's already won one championship, he plays as if he were just as hungry as he was for his first. There is no quit in him, and it is contagious.
The first game with him back, Game 7, the energy could be felt throughout the whole team. While he isn't a captain, he's still very much a leader on the team, and they all respect him.
His energy is contagious and can help keep the team alive in close games that come down to the wire, which will be many in this series.
Encourages His Team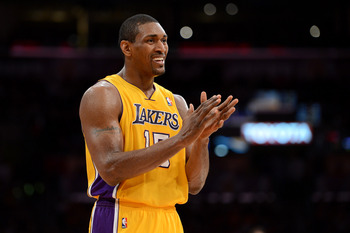 Harry How/Getty Images
Along with Metta's energy is an ability to encourage his team. Whether he's out on the court or on the bench, MWP is able to keep his teammates motivated. This series against OKC is going to be tough and long-fought. If the Lakers are going to win, they will likely need to take the Thunder the distance.
The young Thunder are coming off a long rest while the Lakers are coming off a Game 7 win. This means they'll need a little extra something to get the wins they need.
He Can Keep Up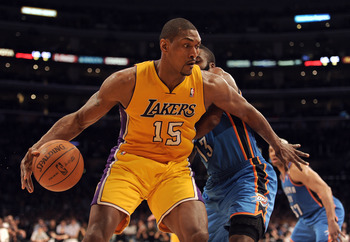 Harry How/Getty Images
Despite his age, World Peace is one of the most athletic players on the Lakers. He isn't quite as fast as the Thunder, but he does have the endurance that it takes to win this series. Looking at the Lakers' bench after nearly every playoff game so far, the players are exhausted, Kobe in particular. While they're all in good enough shape, few of them can keep going like Metta can.
Playing sustained offense is far easier on a person than playing good defense for a whole game, and that's exactly what Metta does. He doesn't quit on D until he's sitting on the bench. Keeping up with the Thunder's offense is a key to winning this series.
Keeps Them Motivated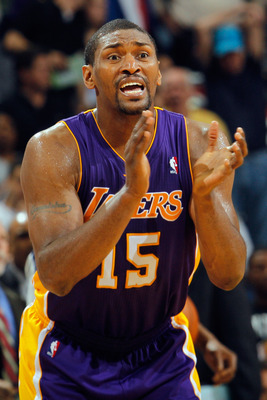 Chris Graythen/Getty Images
Metta has recently become some sort of philosopher—at least, compared to what he used to be.
Kevin Ding of the OC Register tweeted, "Metta: 'I thought we did OK. We played Denver at home also, and they blew us out also. So we keep focusing.'"
Through pointing out little things like this, he helps motivate the team and keep things in perspective. They were embarrassingly blown out by the Thunder in Game 1, so Metta saying something like this shows his positivity. It would be easy for the Lakers to get down on themselves and struggle to get through Game 2, but it's guys like Metta that lift others up.
It's very clear the Lakers struggle to motivate themselves. They're a very cerebral group of guys—Pau Gasol and Andrew Bynum, especially—which means they need nurturing and encouragement. A "rah-rah" speech doesn't get these guys going, but rather pointing out strengths. Metta brings that to the Lakers at all times.
Keep Reading

Los Angeles Lakers: Like this team?