Top 9 Position Battles to Watch in Miami Dolphins Training Camp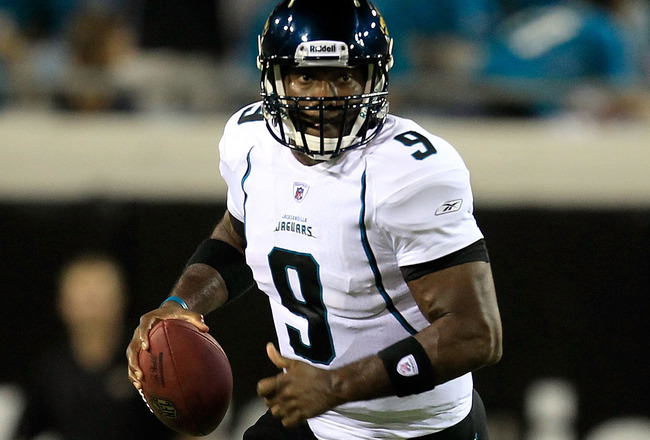 Sam Greenwood/Getty Images
The Miami Dolphins are a team in transition.
There's a new coaching staff in town, and with a new staff comes a wave of new players, and with a wave of new players come position battles.
Players from the old regime will duel players from the new regime, and this competition should force players to elevate their games.
Which positions will host battles this summer?
Here's a look.
Starting Quarterback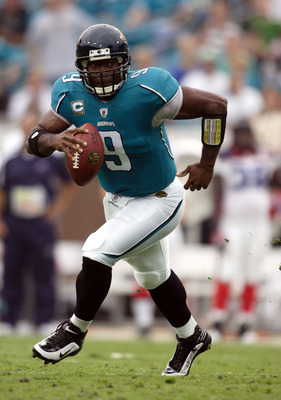 Marc Serota/Getty Images
Despite his admirable play last season, there's no guarantee Matt Moore will retain the starting quarterback job.
David Garrard might've missed the entire 2011 season recovering from back surgery, but he's just two years removed from a Pro Bowl appearance, and he knows the West Coast offense from his days with the Jaguars.
Meanwhile, Matt Moore's infamously poor practice performances could severely hamper his chances of fending Garrard off. Although Moore excels on Sundays, Joe Philbin cannot place his confidence in a player who struggles Monday through Saturday.
Ryan Tannehill will also be in the mix, but I don't think he can defeat two polished veterans in a quarterback competition.
Predicted Winner: David Garrard
Running Back 4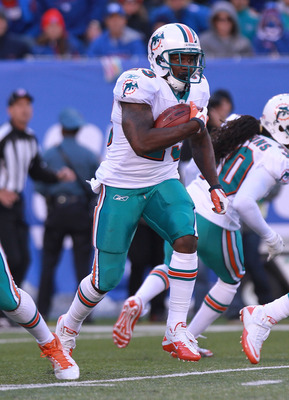 Nick Laham/Getty Images
The battle for the Dolphins' fourth running back spot is quite complicated.
In the months leading up to the 2012 NFL Draft, the Dolphins—given Reggie Bush's durability issues and Daniel Thomas' disappointing rookie season—re-signed Steve Slaton and signed CFL star Jerome Messam.
Then, Lamar Miller unexpectedly fell into the fourth round, and the Dolphins scooped him up.
Now, the Dolphins have a surplus of running backs.
Slaton doesn't offer anything that Bush, Thomas and Miller don't, but he might be the most well-rounded.
Meanwhile, Messam is totally unproven, and is about to undergo his second knee surgery in five months.
The Dolphins need a fullback and a short-yardage back, and Messam could handle those duties, but his knee issues hinder his chances of making the team.
Charles Clay can fill the fullback role, but that still leaves the 'Fins devoid of a short yardage back.
This uncertainty opens the door for a surprise name like undrafted free agent Jonas Gray to win the job.
Ultimately, the Dolphins will probably let Charles Clay handle most fullback duties, and let him, Slaton, Thomas and Gray fight for short yardage carries.
Predicted Winner: Steve Slaton
Wide Receiver 3, 4, 5 and 6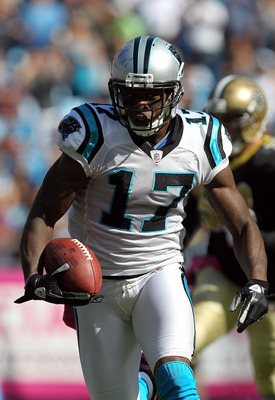 Streeter Lecka/Getty Images
Davone Bess and Brian Hartline will enter the season as Miami's number one and two wide receivers.
Behind them, however, it's a total tossup.
The Dolphins have nine wide receivers capable of earning a roster spot including: B.J. Cunningham, Jeff Fuller, Clyde Gates, Rishard Matthews, Marlon Moore, Legedu Naanee, Julius Pruitt and Roberto Wallace.
These nine wideouts will compete for three or four roster spots (Depends how many wide receivers the Dolphins want to keep on the active roster. I expect them to keep six, so there will be four open spots).
Predicted Winners: Legedu Naanee, Clyde Gates, Roberto Wallace, B.J. Cunningham
Right Guard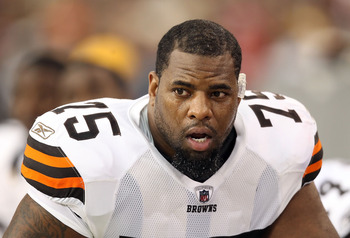 Artis Hicks
Christian Petersen/Getty Images
Honestly, I don't think Miami's starting right guard is on the team right now.
If camp started today, then John Jerry, Nate Garner and Artis Hicks would compete for the starting job—not particularly comforting.
But, as teams begin trimming their rosters, a few quality veteran offensive linemen will be cut. I expect the Dolphins will either wait and sign one of these castoffs, or sign Jake Scott, who the team brought in for a visit back in March.
Predicted Winner: Player not yet on the roster
Right Tackle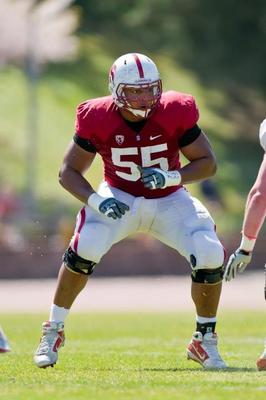 Second round pick Jonathan Martin and fourth-year veteran Lydon Murtha will compete for the starting right tackle job in camp.
This should be the most intense and exciting position battle to monitor.
Martin is a highly-touted prospect who has the anatomy of a franchise offensive tackle, and he is clearly part of the Dolphins' future blueprint.
However, Murtha is loaded with potential as well. Had Murtha not suffered a season-ending toe injury last summer, he could've been Miami's starting right tackle last season.
Predicted Winner: Jonathan Martin
Safety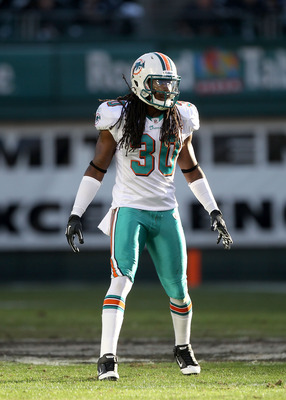 Ezra Shaw/Getty Images
Joe Philbin said, via Armando Salguero of the Miami Herald, "while not totally interchangeable, strong safety and free safety players could do one or the other."
In other words, there won't be a great distinction between free and strong safety in defensive coordinator Kevin Coyle's defense. So, Chris Clemons, Reshad Jones, Jimmy Wilson, Tyrell Johnson and Tyrone Culver will compete for the two starting jobs—let's not label them "free" and "strong" safety.
Clemons and Jones have the edge due to their experience, but Wilson, Culver and Johnson are more than capable of seizing one of the starting roles as well.
Predicted Winners: Chris Clemons and Reshad Jones
Keep Reading

Miami Dolphins: Like this team?