WWE: John Cena Can Get John Laurinaitis Fired at Over the Limit, Will It Happen?
May 15, 2012

John Laurinaitis came to the arena on WWE Raw arrogant and pompous as always but walked out of the ring with a look we have rarely seen.
After Laurinaitis spoke to the crowd and repeatedly called them losers, John Cena's music began playing.
John Cena entered the arena without a sling, looked at the camera and said, "I'm dinged up but I'm good." From there he ran to the ring and confronted Laurinaitis.
Cena got in Laurinaitis' face and sniffed him, telling him that he reeked of desperation. Cena called out Laurinaitis for firing The Big Show, calling him a scumbag and a loser. 
After several minutes of mocking Laurinaitis, Eve walked to the ring with a letter from the WWE Board of Directors. Cena ripped the letter from Laurinaitis and read it aloud,
Dear Mr. Laurinaitis, we have important news regarding your match with John Cena at Over the Limit...Your match with Mr. Cena will be one-on-one, there will be no special guest referee, no one is allowed at ringside. The only way to win is by pinfall and submission. Any superstar who interferes in the match will be immediately terminated.
Cena could sense the fear in Laurinaitis after he learned there was no way around facing Cena one-on-one.
Cena then finished reading the last line of the letter, "Should you, Mr. Laurinaitis lose this match to John Cena, then you will be officially terminated."
After Cena asked Laurinaitis to share his major announcement that had been rumored, Laurinaitis walked up to Cena, slapped him across the face and left the ring.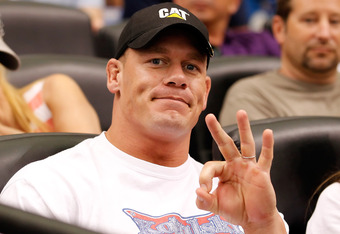 J. Meric/Getty Images
The stage is set for Sunday night now. There is no clean-cut winner to this match. There seems to be no way that Cena can lose to Laurinaitis one-on-one, but can Laurinaitis' days in the WWE actually be over?
Is there any way Cena can lose this match and if so, how? He just defeated Brock Lesnar; there's no reason he can lose to Laurinaitis is there?
The anticipation for Sunday continues to grow as this match just became a lot more appealing.