2012 NHL Free Agency: Why Carolina Hurricanes Will Sign Zach Parise
May 16, 2012

Bruce Bennett/Getty Images
Without a doubt, the most desirable free agent on the market.
A former first-round pick, 94-point playmaker and five-time 30-goal scorer.
And the current captain of the New Jersey Devils.
No less than a league's worth of teams are courting the 27-year-old star winger, from Detroit to Dallas to the hometown Devils, who will become an unrestricted free agent (UFA) on July 1 if not re-signed by New Jersey before then.
Parise can enter free agency expecting a whopping new contract. His expiring one-year, $6 million deal is anticipated to be significantly outdone by Parise's next covenant. Many experts project the new contract to carry a $7 million to $8 million cap hit for up to seven or eight years.
So how could the Carolina Hurricanes, a small-market, Southern franchise without a playoff berth for three straight years, manage to win the high-stakes bidding war for this star scorer?
To start things off, they certainly have the interest.
Star center Eric Staal has long been aching for two strong wingers to play with, and, for much of the past six seasons, has failed to make that wish come true.
With Jeff Skinner, Tuomo Ruutu and Jussi Jokinen composing Carolina's set-in-stone second line and Brandon Sutter centering the team's checking line, Staal's winger options have consisted mostly of inadequate fourth-liners and inexperienced prospects.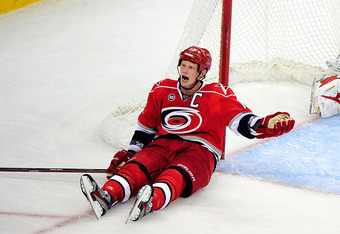 Grant Halverson/Getty Images
But now, Jiri Tlusty's breakout season of '11-'12—which shattered the 24-year-old's previous career highs with 17 scores and 36 points—has given Staal one viable player to work with, and the second, whoever it may be, will probably be identified shortly.
GM Jim Rutherford has expressed tremendous interest in filling the gaping hole during this year's offseason, telling reporter Michael Smith "We're really looking for a player that's in the prime of his career."
Rutherford also added, "Where do you get that player? Free agency is a possibility. There's not going to be many of them…but if that player is available, we will have the resources to go after that player."
Parise could be a perfect fit, given his team-first attitude, positive personality and, of course, excellent playing skills would assimilate with Staal, Tlusty and the 'Canes coaches very nicely.
Moreover, Rutherford and the Hurricanes have a plethora of cash and cap space to work within this summer.
Owners Peter Karmanos and a number of other shareholders have given the green light for a payroll increase after years of cap floor-level salaries. Carolina is still not about to jump up into the cap ceiling range, either, but with $20.3 million in cap space to work with and only four free agents (two of them RFAs) to deal with, they don't need to.
In most prior cases, the type of contract Parise is reportedly looking for would be simply off the charts for the Hurricanes—a price they wouldn't even consider.
This time around, conversely, the 'Canes are interested in fish even as big as Parise. As TSN's Darren Dreger reported in a March edition of TSN's "Insider Trading", the Hurricanes are "going to go hard after Zach Parise".
The idea seems simply unfathomable, especially for a team like Carolina—but the money is there, the need is there and the perfect player is there, too.
They'll have plenty of competition and countless roadblocks in the quest to sign Parise, yet the rest of the NHL cannot write the Hurricanes' chances off as just another improbable, fantastical Rutherford daydream.
Zach Parise.
The Carolina Hurricanes' next headline star?
Mark Jones is a Bleacher Report featured columnist for the Carolina Hurricanes and the NHL. In three-and-a-half years with the site, he has written more than 375 articles and received over 490,000 total reads.