Pac-12 Television Network: The Facts and What It Means to You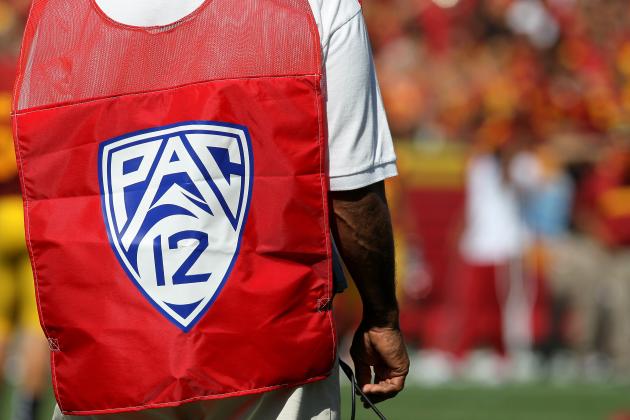 Stephen Dunn/Getty Images

August 15, 2012, will mark a bright new day in the Pac-12 conference. On that day, the conference will launch its brand-spanking-new TV network.
The Pac-12 network will consist of seven new cable network channels: six regional channels and one national.
What will it mean to your viewing habits? What will it mean to the conference? Let's look at the who, what, where and the latest news about the Pac-12 TV Network.
Begin Slideshow

»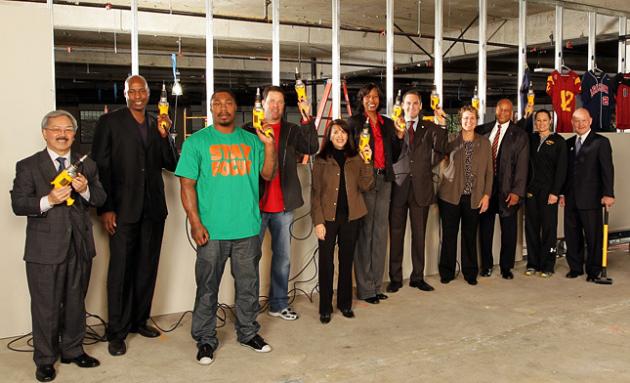 si.com
With studios in San Francisco—the photo is from the February, 2012 groundbreaking with Marshawn Lynch and Ronnie Lott, among others—the Pac-12 Network will feature a network for each of the Pac-12 regions that have two universities, along with one national network.
The regional networks will be grouped in the following regions: Washington, Oregon, Northern California, Southern California, Arizona and Mountain.
According to SI.com, the Pac-12 Network will air 850 live events. Of those, 350 events—including all football and basketball games—will be seen on both the national channel and regional versions of the network.
That means that if you are a USC fan living in New York and you subscribe to a sports tier on Time Warner Cable, you will be able to see every USC game this season. If you are an Oregon fan living in Seattle (unlikely, but I do know about ten), and you have Comcast, you can hide out in your media room and watch the Ducks to your heart's content without risking public vilification.
SI.com also said it is expected that the national programming will include 35 football games, more than 100 men's basketball games and 40 women's basketball games.
The west tends to be heavier Olympic-events viewers than the rest of the country. So, the Pac-12 Network will take advantage of that and will also air approximately 100 Olympic events on the six regional networks. That focus will be on events that do not always get coverage on the major networks and will highlight Pac-12 schools and athletes in each region.
Other programming will include coaches shows and other local features.
.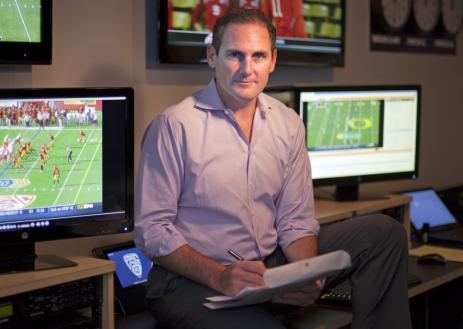 USA Today.com
On board as Pac-12 Commissioner since 2009, Larry Scott has proved to be a competent administrator and a visionary who continually thinks outside the box on college football, an entity not known for fast, visionary moves.
I thought adding Utah and Colorado was a brave step in upsetting the apple cart, but the expansion was nothing compared to the impact this TV network will have.
Credit Scott with bold ideas, relationship building and deal making to bring this off.
The cable operators are players in this adventure, too. Signed up so far are the country's four biggest cable companies: Comcast, Time Warner Cable, Cox Communications and Bright House.
These distribution deals apply to the Pac-12's geographic footprint.
According to SI.com, in Pac-12 states the national and/or appropriate regional network will be available on basic cable from day one. The national network will be available on those companies digital sports tiers in other parts of the country.
Satellite distribution on operators like DirecTV and Dish and telephone companies have not been announced, although the conference has said that they are working on it.
From day one, the Pac-12 TV Networks will be available to 40 million homes across the country—many more potential viewers than other TV deals like the Big 10 and Longhorn networks, for example.
And, the Pac-12 retains full ownership of the networks, unlike the ESPN and FOX deals.

Hired last fall to run the overall venture that has been named Pac-12 Enterprises, president Gary Stevenson is a major player and will be the "buck-stops-here" guy regarding the ultimate success of the start-up. Stevenson helped launch the highly successful Golf Channel in the mid-'90s.
Clearly, Scott knew something about licensing, TV negotiations, hiring and branding. Really, it's quite surprising that the Pac-12 college presidents had the cojones to hire this guy. All of us who love the Pac-12 should be very grateful that they did.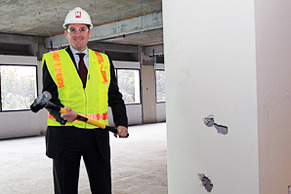 SI.com
No problemo. The games won't be shown just on television.
"Everything that's on the Pac-12 Network, from day one, is going to be available on your iPad or on any mobile device," said Commissioner Scott in an interview with SI.com. Scott has also indicated that the networks will feature all sorts of new technology and all the bells and whistles we could want.
Cool.
Pac-12 Enterprises will be headquartered in San Francisco. The whole enchilada will include the TV networks, a conference digital network and a sponsorship department.
In less than one year, the go-go start-up has hired Stevenson, acquired a headquarters location, hired an executive team and is on its way to adding approximately 125 total employees prior to launch day.
What's amazing about all this to me is that it comes on the heels of the 12-year, $3 billion conference deal with ESPN and FOX. That deal, negotiated by Scott in 2011, was bigger than previous SEC and Big Ten TV deals (if we can't beat you on the field, we'll beat you in business—neener, neener.)
Very ambitious. Very aggressive.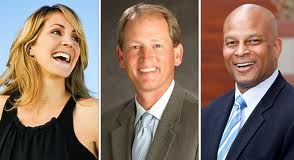 Just when we thought we were finally rid of Rick Neuheisel...
Yes, it's true. Now he will be coming into our living rooms potentially 35 times a year. Good grief.
Neuheisel, along with Ronnie Lott, the former USC All-American football player, and Summer Sanders, the former Stanford and Olympic swimmer, have been hired as the initial on-air talent for the Pac-12 Networks.
The conference said Neuheisel, Lott and Sanders will serve as "the initial faces" of the networks. Neuheisel and Lott will be analysts for football games, and Sanders will serve as a host and provide analysis for a variety of events.
In case you've forgotten, Neuheisel has been the head coach at three different Pac-12 schools: UCLA, Washington and Colorado.
In a piece written by Bob Condotta of the Seattle Times, Neuheisel joked about his initial meeting with Pac-12 officials: "If your resume requires that you've either been fired or booed by every team in the conference," he said he told them, "then I am certainly your leading candidate."
The fall programming schedule will be unveiled in June.
Welcome home, Ronnie and Summer and, ah, Rick.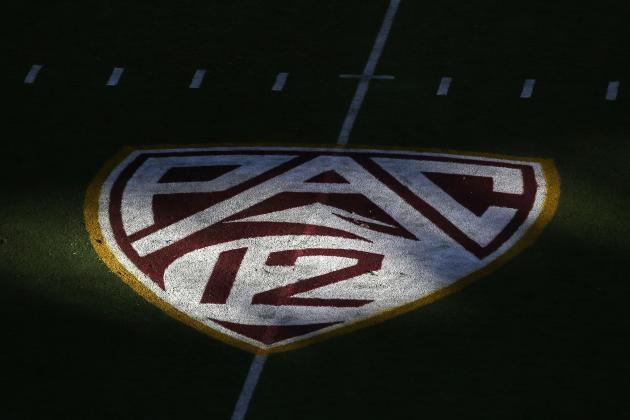 Christian Petersen/Getty Images

What's next are two things: a launch date of August 15.
Then, watching whether you, the fan, embrace the Pac-12's bold vision and turn on in big numbers to watch.
I, for one, hope you do.