New York Mets: Why Johan Santana Can Be the Best Mentor for Pitching Prospects
May 14, 2012

Marc Serota/Getty Images
There were a lot of good questions about Johan Santana going into spring training this season.
Is he fully recovered from shoulder surgery? Will he be too cautious? Will he not be cautious enough?
There were more questions after Santana needed an anti-inflammatory shot in March. The New York Mets remained uncertain about whether he'd pitch on Opening Day. It seemed like everyone was bracing for the worst.
Now, six weeks into the season, Santana is at the top of his game. His 1-2 record is illusory. His ERA is under 3.00, he's mixing his pitches well and he's pitching into the late innings with no apparent effect on his arm.
He's not the pitcher he was in his Cy Young days, but you can say that about a lot of 33-year-old pitchers, even those who haven't had a shoulder rebuilt.
What Santana has demonstrated is pitching savvy, the kind of wisdom that comes with both experience and confidence.
Experience and confidence also brings leadership. Part of leadership is mentoring. And the Mets have some highly touted young pitchers in the farm system who are going to need some big-league advice.
When Santana was in doubt and Mike Pelfrey suffered a season-ending injury, the clamoring began for bringing a couple of those pitchers to New York. Matt Harvey, who's piling up strikeouts for Triple-A Buffalo, is one oft-mentioned name. Zack Wheeler, who's just returned to Double-A Binghamton after a nasty fingernail injury, is another.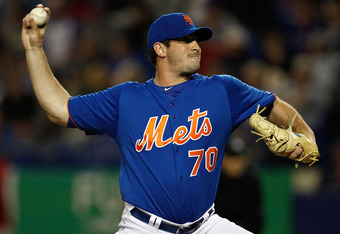 Sarah Glenn/Getty Images
Manager Terry Collins is adamant about the prospect of bringing up his prospects. He told ESPN.com that Harvey and teammate Jeurys Familia are "going to spend, I'm sure, the majority of the year in Triple-A."
As for Wheeler, he still needs to master the Double-A level before Citi Field is a real possibility.
But there's no doubt that those farmhands will end up in New York, probably in September, perhaps next year. They've already been in the spotlight at the minor-league level. The pressure on them to perform will be enormous.
That's where Santana comes in. He's been through the doubts and the self-assessments, and he's found a way to reinvent himself. Not just as a No. 1 starter, but as a team leader. That's tough to do when just about everyone is questioning your ability.
Through it all, Santana has stayed cool. He could have vented his frustration in April, when the Mets offense wasn't doing much to support his comeback or bolster his confidence. He could have made excuses.
Instead, he's managed to tune out the doubters and lead by example. When the young'uns arrive, that kind of leadership could be the difference between a shaky start and a solid career.