WWE Can't Lose: Fatal 4-Way at Over the Limit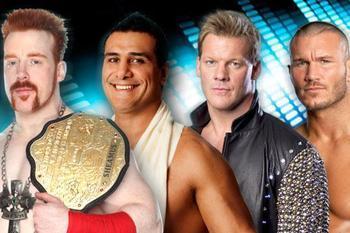 At Over The Limit, WWE has pitted four of its biggest names against each other in a Fatal 4-Way for the World Heavyweight Championship. Sheamus, Randy Orton, Alberto Del Rio and Chris Jericho will all go head-to-head in what I believe will be the match of the night.
That's not even the best part, though. You see, as members of the IWC, it's typical for a majority of people to complain about something. Not because something is bad, but because we all just want something different. It doesn't mean we all just hate everything the WWE has to offer. We're a "community" full of different tastes and as such, we get passionate about what we enjoy.
With that said, as a member of the IWC, I can honestly say that no matter who walks away with the World Heavyweight Championship, I'll be happy. There are plenty of reasons why each member can win, and I'll break down the combatants and the case for their victory in every slide. I expect plenty of people want one particular star to win, so it'll be interesting to see how this goes and the fact that anybody has a case to win this match makes it all the more exciting to see.
Chris Jericho
Chris Jericho is a multiple-time World Champion—including winning the first ever WWE Undisputed Championship, a title he won by defeating both The Rock and Steve Austin in the same night. With that said, since his return, Jericho has been...less than spectacular, I should say.
Winless at PPVs, having had no real impact on the product as of late and a lackluster and somewhat one-sided feud with CM Punk are all Jericho has to his name since his return early this year, which brings me to the reason Jericho could walk out with the World Heavyweight Championship.
Jericho's return has to be validated in some way, and at this point, the only way I see his return being validated is a World Championship run. Not only would it help Jericho seem legit again since his loss to Punk, but it also would help out the current champion, Sheamus, if he's picked to be in a feud with Jericho next.
Jericho is a good person when it comes to putting people over, and I think this is a good way to reward him. Also, Jericho is sure to make Sheamus look good in a feud over the title. Aside from that, I could easily see Jericho feuding with Orton, seeing as how WWE hasn't touched much on the fact that Randy took Jericho out during his last run.
Overall, there's not really a lot of downside to having Jericho walk away with the title this Sunday.
Randy Orton
The Viper, The Apex Predator and The Face of Smackdown is one of the top superstars today, and with good reason. His time in the WWE has been fruitful, and at the writing of this article, among many accolades Randy has accumulated, he's a nine-time World Champion and the youngest World Heavyweight Champion in WWE history.
Orton will look to make it an even 10 World Championships this Sunday, and you'd be hard-pressed to find reasons not to think Orton couldn't come away this Sunday with the World Heavyweight Title. A talented Superstar in the ring, Orton is probably the best technical wrestler in the WWE, able to pull passable matches from less-than-stellar opponents, and as World Heavyweight Champion, I believe it would be valid to say we'd get to see that as the main focus on Smackdown. Along with that, this would be a fitting way to get the title off the newest member of WWEs' "Elite Four" (Cena, Orton, Punk and Sheamus, the new guy) without making him look weak and making Orton look good.
Along with that, the Fatal 4-Way could lead to some intense battles and interesting storylines. I brought up the possibility of an Orton/Jericho feud, which could stem from the match, but there's always the possibility we'd get something new from the match in the form of Alberto Del Rio vs. Randy Orton.
There's even a small possibility that WWE could throw us a curveball and give us Sheamus vs. Orton in a face vs. face feud.
Alberto Del Rio
Alberto Del Rio is one of those superstars most people tend to either love for his ring work or hate for his gimmick, with few in the middle ground. Personally, I'm a big fan of his and have been since his debut, and in the short time he's been here, he's done a lot.
Two-time WWE Champion, Royal Rumble Winner and Mr. Money in The Bank are all accolades that Del Rio has had in less than four years on the roster, and this Sunday, it's within the realm of possibility that Del Rio adds "World Heavyweight Champion" to his resume. Since his return following WrestleMania, Del Rio has been looking as sharp as ever and has since he made a convincing case as to why he could end up our next World Heavyweight Champion.
Not bad on the mic and a genius in the ring, Del Rio is a superstar who has all the skills of a champion, and at Over The Limit he just may make it back to the mountaintop. Coming from this match, there's a world of possibilities as to what the future could hold for Del Rio, as we've not seen him face off against any man in this match before in a full feud.
Couple that with WWE's willingness to push this man to the moon and back, and you gotta believe Del Rio has a shot—especially with the match type being a Fatal 4-Way, where none of the Elite Four have to be pinned or forced to submit (leaving Jericho the odd man out for Del Rio.) It'll be interesting, to say the least, and if he does come away with the belt here, I like to think WWE will let Del Rio run with the title instead of immediately taking the title off of him like they have in the past.
Sheamus
Last but not least, we have the current World Heavyweight Champion. "The Great White" Sheamus has been pretty impressive in his WWE career, though, I have to admit, I didn't take much notice until he was drafted to Smackdown. Obviously, it's been a good move because on the Blue Brand, Sheamus has seen his stock rise like few others have.
At this point, Sheamus sits atop the mountain that is WWE as World Champion, and it's hard to argue against the move. As of now, Sheamus looks to be in a good place for the most part, but that could all be proven wrong in just a few short nights, when Sheamus defends his record-breaking World Championship on the line against four of the WWE's best.
A lot is riding on this for Sheamus. On one hand, WWE has put a lot of effort into building this man up, and honestly, anything less than at least six months of him being Champion will hurt both Sheamus and prove the entire endeavor to be fruitless. On the other hand, it could serve as a fresh start depending on who is the one to unseat Sheamus and could prove to have even better results.
Feuds with Jericho and Del Rio would all be new for Sheamus, and at the very least, we could see something rare in Randy Orton vs. Sheamus in a face vs. face feud.
End/Thoughts?
Like I've been saying, WWE can do a lot with this Fatal 4-Way, and all of it is good. I know there will be those upset that their favorite guy didn't win, but I think, in the long run, that things will be good no matter how this match plays out.
So, with that said, who are you rooting for? Sheamus, Del Rio, Orton or Jericho?
Keep Reading