NBA Playoffs 2012: Can the Lakers Beat the Thunder?
May 14, 2012

Harry How/Getty Images
Peace be with you.  And also with you.  All hail the return of Metta World Peace.  The Lakers finally closed out Denver in Game 7.  A task they should have done two games ago.  
But the series stretched to 7 because of the inexcusable lack of effort in Games 5 and 6.  Especially Game 6.  Kobe Bryant battled a terrible stomach bug all day game day and still showed up to play. Which is more than I can say for Andrew Bynum and Pau Gasol.  Bryant was so severely dehydrated that he needed four IVs just to make it through his own flu game. But Bynum and Gasol were just invisible. 
Actually, Bynum wasn't invisible.  He was worse.  He didn't hustle and bratted it out on the bench again at the end, refusing to join his teammates in the huddle.  How do you not have your sick teammate's back?  This is why Kobe is the superstar he is: max effort regardless of circumstances.  Kobe was heroic, but the Lakers still lost.
The fallout the next day here in Los Angeles was predictably severe.  The media and the fans (and Magic Johnson) went straight to whose head(s) would roll.  The general conclusion being, with the exception of No. 24, no one is safe.  Not coaches or players.
For the second year in a row, Gasol failed to show up consistently in the playoffs.  We already know that Mitch Kupchak does not look favorably upon such behavior.  Gasol should know that.  And if he doesn't, he need look no further than where Lamar Odom's locker used to be.  Gasol is expensive and getting older and is no lock to be wearing a Lakers jersey next year.  His only hope is to bring it for the balance of the playoffs.  And in Game 7, he finally played with the passion and energy we know he is capable of. 
Andrew Bynum is another matter.  I think Andrew thinks he is untouchable.  He is not.  You are playing with fire, Andrew.  You do not show up the Buss family on national TV the way you have the last few weeks.  This franchise, one of the jewels in the crown of the NBA, willl not be held hostage by your antics and game-to-game decisions about whether you wish to play that day.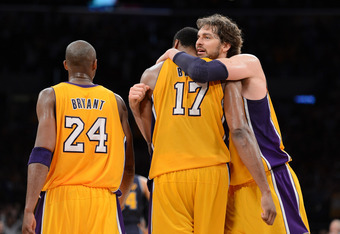 Harry How/Getty Images
Now that Kobe has his magic new knee, the Lakers are not as beholden to you as you seem to assume. 
So, Denver is in the rear-view mirror.  But we should pause to give full credit to a very feisty Nuggets squad.  They are going to be around for a while.  The rest of the Western Conference better get used to it.  The Lakers' half-hearted effort and the freedom from expectations that comes from playing with house money gave this group the confidence boost these mostly young players needed.  And full credit to George Karl, who did a masterful job of coaching.  Mike Brown?  You might want to take note of it. That's what coaching a playoff series looks like.  Not the stale, slow-to-adjust coaching you and your staff have been doing.
The Lakers now advance and will meet Oklahoma City.  You thought Denver was difficult?  Get ready for a better, faster, smarter version in the Thunder.  They're rested and they don't just want to beat the Lakers, they want to win the championship.  
If the Lakers are going to have any chance against the relentless Thunder, they will have to bring the kind of energy and determination they showed in Games 1 and 7.  Otherwise, it is going to be a very short series. 
It's kind of crazy here in L.A. right now.  The Lakers, Clippers and L.A. Kings are all in the playoffs.  I couldn't be happier for the Staples Center venue and especially all the staff and surrounding businesses who were doubly affected by the NBA lockout since two NBA teams call Staples home.  There is an electricity in the air and downtown will be abuzz with all the activity. 
Just to give you an idea of what things will look like behind the scenes, here is a link to the Los Angeles Times of a time-lapse video of Staples turning over the house from Lakers to Kings.  It's awesome. 
The Lakers may start the playoffs at OKC, but they'll be back in front of their own fans before you know it.  I'm not prepared to make a prediction about the series at this point until I see what kind of effort the Lakers bring in Game 1. 
If they come out firing on all cylinders, well, we could have ourselves a series.  It's really up to them.