How Derrick Rose's Long Rehab Will Impact Chicago Bulls Offseason Plans
May 14, 2012

Jonathan Daniel/Getty Images
Update: Tuesday, May 15th at 10p.m. EST
After initial reports indicated Derrick Rose recovery would take him as many as six to nine months, Rose's surgeon now offers a more dire forecast (via NBAonESPN):
Surgeon saysD-Rose out 8-12 months.es.pn/JFKmB6

— The NBA on ESPN (@NBAonESPN) May 15, 2012
That could change Chicago's offseason plans even more. If the Bulls are facing the possibility of an entire season without Rose, acquiring a starting point guard obviously becomes that much more of a priority.
While Derrick Rose's surgery to repair his torn ACL was a success, the news isn't exactly rosy for the Chicago Bulls and their legion of disappointed fans. Due to a protracted period of recovery and rehabilitation, last year's MVP could miss the first three months of next season, as the Chicago Sun-Times' Neil Hayes explains:
The usual recovery time for someone undergoing ACL surgery is 6-9 months. The Sun-Times has learned that Rose was told to expect an eight-month rehabilitation, which would allow him to return to the Bulls in late December or early January. However, Rose has been told that he could be back playing basketball within four to five months, although not at the elite level required in the NBA.
It goes without saying that whenever Rose does return, he probably won't be playing at an MVP level. That's not to say he won't be effective.  Also, there is every reason to believe the star point guard will be just fine when the playoffs roll around.
But even in the best-case scenario, Tom Thibodeau's team will be deprived of its best player for a significant time.
Yes, Chicago managed to get by pretty successfully with Rose sidelined for 27 games this season. This club even had a chance to advance to the second round of the playoffs without him–though Joakim Noah's ankle sprain hurt those odds considerably.
Nevertheless, if Rose misses at least half of next season, the Bulls could find themselves struggling to retain home-court advantage in the next postseason's first round.
This would put a lot of pressure on Rose to return and play big minutes, a less-than-ideal outcome for a team attempting to stay healthy for the playoffs.
We know C.J. Watson can fill in admirably, but he's still more of a defender than an offensive threat. He made just 37 percent of his field goals during the regular season and a dreadful 24 percent in Chicago's first-round series against the Philadelphia 76ers.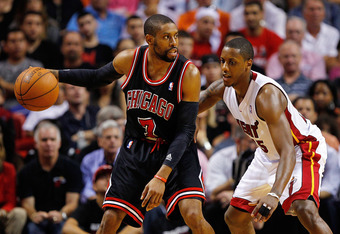 Mike Ehrmann/Getty Images
In an ideal world, the Bulls could somehow add a guy who can create his own shot, and maybe even a few plays for his teammates. At the moment, Chicago's roster is replete with spot-up shooters (like Richard Hamilton, Luol Deng and Kyle Korver), and guys who don't have the polished post abilities to score in the paint without some help (Joakim Noah, Taj Gibson).
Whether they target a more traditional point guard, a combo-guard or a even a shooting guard, the Bulls need someone who can make things happen from the back-court.
Chicago will have the 29th pick in this June's draft, and while this year's class is projected to be a deep one, it's hard to imagine the Bulls finding someone able to step in right away.
That doesn't mean the Bulls should abandon a draft-based strategy. This club is already spending a lot of money and is set to spend a whole lot more if and when Taj Gibson and Omer Asik ink new deals.
Several teams have two first-round selections in the draft, including the Portland Trail Blazers and Houston Rockets, whose four combined picks will all land among the first sixteen selections. The Bulls could attempt to pry one of those picks away, perhaps sacrificing some of the roster's depth for a chance to give the back-court a jolt.
This draft doesn't have a wealth of quality point guards outside of Weber State's Damian Lillard and North Carolina's Kendall Marshall, but scorers like Austin Rivers could very well still be around late in the lottery.
Streeter Lecka/Getty Images
The Bulls could also look for a veteran on the trade market or perhaps a sign-and-trade deal to land a free agent like Raymond Felton or Jameer Nelson, who may opt out of his final season with the Magic. Before adding a star Steve Nash to your wish list, though, remember that Rose won't be out forever.
Whoever the Bulls target must be comfortable with either coming off the bench or playing at shooting guard.
That might make someone like Jamal Crawford an ideal target (depending on the logistics involved with signing him or engineering a sign-and-trade deal with Portland).
Chicago may not have much cap flexibility, but this organization does have a number of young assets, including valuable big guys like Gibson and Asik. As much as it would pain fans and management alike to part with one of them, the Bulls can't afford to go another half-season with a depleted back-court.