St. Louis Cardinals: 3 Keys to Beating Chicago Cubs
May 14, 2012
Dilip Vishwanat/Getty Images
The St. Louis Cardinals are in the midst of a three-game losing streak after getting swept by the Atlanta Braves this weekend. Now, they face a quick two-game series against the Chicago Cubs before heading out to the West Coast on Wednesday.
In order to break out of their mini-slump, there are some things that are going to have to change.
Let's take a quick look at three keys to beating their archrivals this week.
Get Jake Westbrook Some Run Support
Jake Westbrook has been outstanding so far this season, accumulating a 1.76 ERA. But his record is only 4-2, indicating that his teammates haven't been giving him enough run support.
In his two losses (both to the Pittsburgh Pirates), the Cardinals have scored a total of three runs. That's not going to get the job done, obviously. Scoring four or five runs for him on Monday night is going to be very important.
Get More Production From Matt Holliday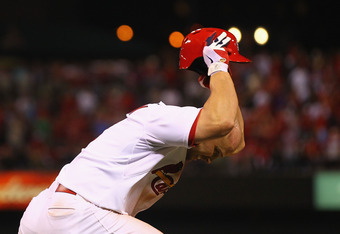 Dilip Vishwanat/Getty Images
Holliday isn't playing like a guy who is making $17 million this season. He's been playing more like a guy making the league minimum. He's hitting .255 with six home runs and 23 RBI, which is not what he is capable of doing.
Though he's been showing signs of breaking out of his slump lately, he needs to step up his game this week. He needs to anchor this offense the way he is capable of doing, or the Cards are going to struggle.
Find Ways to Keep Allen Craig in the Lineup
Lance Berkman is back from his injury and is ready to reclaim his first base position. That means Mike Matheny is going to have to find new ways to get Allen Craig and Matt Carpenter into the lineup.
Craig has been especially hot since he came back from his injury. In just 10 games played this season, he already has five home runs and 16 RBI. Taking away his playing time might cause him to cool off, which is something the Cardinals can't afford right now.