Ryan Lochte: What 'Disappointing' Showing in Charlotte Means for 2012 Olympics
May 14, 2012

Streeter Lecka/Getty Images
Before the 200-meter individual medley began, Ryan Lochte had yet to medal in a single race at the Charlotte UltraSwim Grand Prix. He did finish the night with a strong performance, setting a new meet record in the 200 IM—helping the earlier struggles be forgotten both by fans and himself.
With the 2012 Olympics approaching, Charlotte offered a preview of Lochte, one of the world's greatest swimmers. Although he did not excel in the water as he normally does, there is no reason to worry—Lochte will be, yet again, one of the most dominating swimmers in the Olympic pool in London.
No single person was more disappointed than Lochte himself. Stating that his overall performance was "disappointing", Lochte also knew the Grand Prix in Charlotte was just another race in preparation for the Olympics. At least that is the sense you get from him when he spoke after the event, as reported by Jason Devaney of NBC.
"I hate to lose," said Lochte. "I like winning. I mean it didn't happen but I had to keep reminding myself this isn't the big picture. The big picture is the trials and Olympics. I just have to keep focused for that, keep moving forward. People won't remember this meet. They'll remember the trials and the Olympics."
Luckily, the Grand Prix has no Olympic implications, and Lochte was able to use this as a training tool. Think of it as nothing other than that, a training tool. When the event was down to the last race and Lochte realized he had not won, he ditched the briefs and dawned a regular suit—training was over, and it was time to get serious.
As reported by the Associated Press, Lochte credits his coach, as he stated, "After my swims this weekend I think coach realized, 'you know what, you have to have a good one getting out of this meet,'" Lochte said. "So I put the suit on and had a decent swim."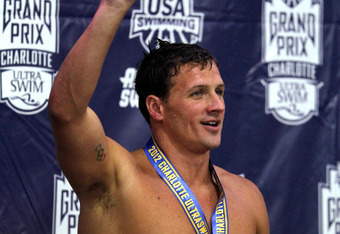 Streeter Lecka/Getty Images
If setting a new meet record is just a decent swim, I cannot wait to see what a strong swim will be like during the Olympics.
The result of the meet record in the 200 IM shows exactly how impressive Lochte is as a swimmer, despite the poor showing at the event. Having scheduled six races, he completed five, and despite exhaustion, set a new record in the sixth. Keep in mind that Lochte's Olympic teammate and main rival, Michael Phelps, only competed in two races.
What does his overall disappointing performance mean for the 2012 Olympics, though? Do not invest much stock in the idea that Lochte will be replicating his lackluster swimming. As we saw in the record-setting race, there is a final gear Lochte is able to access when needed.
When the need to win rather than train was present, the decorated swimmer had no problems turning heads while racing to an easy victory. When the Olympic Trials ensue, the world will once again see Lochte excel, and he may very well find his only competition being Phelps.
Charlotte was training time, and now it is time to permanently race in that final gear. If Lochte can continually find his final gear, there is only reason to believe Lochte will leave London with medals hanging around his neck.