Pacquiao vs. Bradley: 8 Reasons "Pac Man" Will Have the Battle of His Life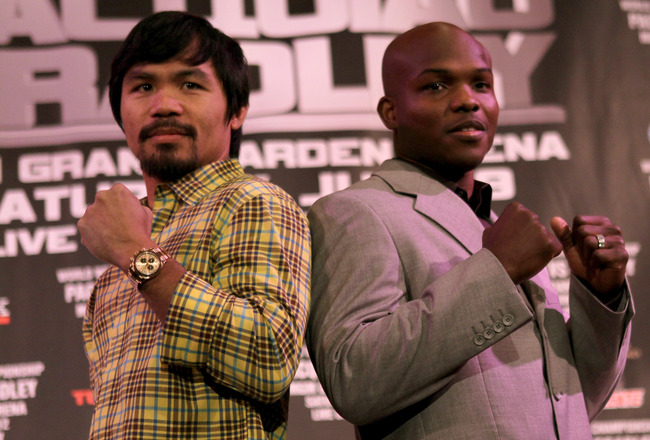 Stephen Dunn/Getty Images
On June 9th, Manny Pacquiao (54-3-2, 38 KOs), 33, will fight Timothy Bradley (28-0, 12 KOs), 28, for Pacquiao's WBO welterweight title at the MGM Grand in Las Vegas, Nev.
While almost every fight involving Pacquiao is seen as merely a prelude to an inevitable showdown (fingers crossed!) against Floyd Mayweather, it would be foolish to overlook someone of Timothy Bradley's class and skill.
Considering what Bradley brings to the table, as well as Pacquiao's most recent performance against Juan Manuel Marquez, it is plausible that we could be in for a thrilling and hotly contested fight.
In analyzing Bradley's best attributes, it becomes clear that he possesses certain intangibles that will give him the chance to have success against Pacquiao. Of course, Bradley's strengths are not guaranteed to be effective against Pacquiao, nor should they make Bradley the betting favorite.
However, Bradley does have the skill and speed to hang with Pacquiao, and he will undoubtedly make this a tougher and closer fight than expected.
Can Bradley pull off the upset? Absolutely. Let's find out why he'll give Pacquiao such a tough fight.
Pacquiao's recent form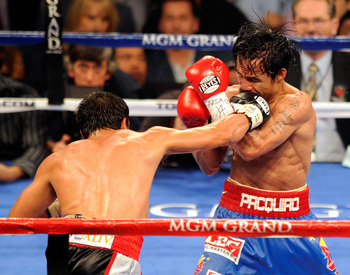 Ethan Miller/Getty Images
By "recent form," I'm referring to Pacquiao's controversial majority decision win over rival Juan Manuel Marquez (54-6-1, 39 KOs).
Distractions aside, Pacquiao appeared vulnerable and especially susceptible to Marquez's crisp and precise right-hand counters. While he did show relentlessness, Pacquiao failed to dominate and overwhelm Marquez in the way we have become accustomed to.
It's fair to suggest that Marquez might simply have Pacquiao's number. All of their fights have been controversial, and Pacquiao likely struggles against Marquez because of the Mexican's precise counterpunching and straight shots.
Still, the propensity Pacquiao showed for getting hit in the Marquez fight bodes well for Bradley. When discussing and dissecting a fighter as complete as Pacquiao, looking at potential weaknesses is more productive than mulling over his well-documented offensive prowess and blazing speed.
In that vein, Bradley has the resources to analyze how to hit Pacquiao and, maybe, beat him to the punch.
Bradley's right hand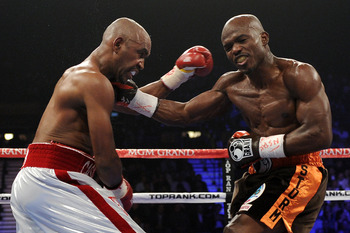 Harry How/Getty Images
Bradley's strongest and most effective punch is his straight right hand, and he throws the shot in an awkward, clubbing motion that can land from multiple angles.
As I mentioned before, Pacquiao was susceptible to Juan Manuel Marquez's right hand, and this potential weakness plays well into Bradley's skill set. While Bradley is not as adept a counter puncher as Marquez, he displays an excellent ability to launch his clubbing right when moving forward.
Bradley's ability to push his opposition back and use his forward momentum to propel and launch his right hand could make Pacquiao uncomfortable. A straight right hand is traditionally the most effective punch against a southpaw, and Bradley, whether attacking or countering, should have opportunities to land his right against Pacquiao.
Bradley's jab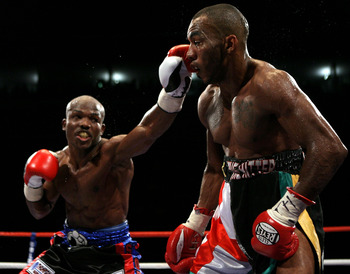 John Gichigi/Getty Images
In watching recently Bradley fights, including his impressive win over Lamont Peterson and victory over Luis Carlos Abregu at welterweight, it quickly becomes evident that the Palm Springs, California native throws a purposeful jab.
Bradley rarely throws a lazy jab and exhibits the ability to double and triple the punch. This weapon will be crucial against Pacquiao, considering how Manny was able to pick apart Antonio Margarito, for instance, when the Mexican challenger was aimlessly moving forward without throwing punches.
Bradley is obviously not Margarito, and that is certainly a good thing. Against Pacquiao, look for Bradley to double and triple his jab to back Pacquiao up. This tactic is what will create openings for his right hand, and if Bradley can control the tempo of the fight with his jab, he has a chance to do damage.
Bradley's body punching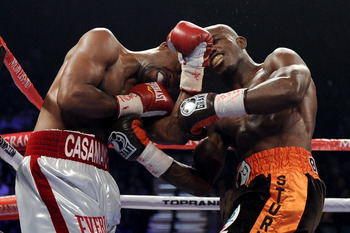 Harry How/Getty Images
Bradley has shown steady commitment to body punching, and this attribute will serve him well as he attempts to deal with the whirlwind that is Manny Pacquiao.
One of Pacquiao's best assets is his fluid movement, which allows him to land combinations from odd and constantly shifting angles. In order to counteract this, Bradley will have to pound Pacquiao's body to slow down his lateral movement and force him to plant.
Bradley's quality body punching bodes well for this strategy of taking away Pacquiao's legs. Whether it is in the clinch or punctuating a combination, Bradley is comfortable throwing to the body in a multitude of situations. This commitment and versatility will have to be on full display if he wants to bother Pacquiao.
Conditioning and pace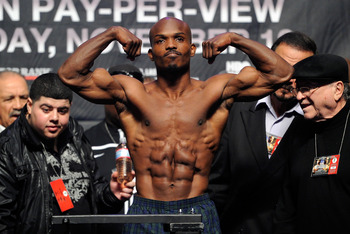 Ethan Miller/Getty Images
Manny Pacquiao is undoubtedly one of the best-conditioned fighters in the world. He is able to consistently throw combinations and keep up his lateral movement for the duration of championship-level fights.
Bradley, however, can more or less match Pacquiao when it comes to stamina and overall physical conditioning. Bradley always enters fights in phenomenal shape, and he has proven that he can handle the added seven pounds of fighting at welterweight when he defeated Luis Carlos Abregu.
Bradley was less active in the Abregu fight and only averaged 44 punches per round. However, if you look at Bradley's track record heading into the Devon Alexander fight, he had averaged over 60 punches thrown per round. If Bradley can maintain or exceed this pace for the entire fight against Pacquiao, he will make it very competitive.
Bradley's versatility
John Gichigi/Getty Images
Bradley has shown the ability to fight and attack in multiple ways. He is comfortable moving forwards or backwards, and this versatility will serve him well against Pacquiao.
Having already mentioned Bradley's jab and right hand, it is also worth noting that "Desert Storm" throws a purposeful left hook. This punch is especially effective when countering, and Bradley likes to throw it off the break, often using it to start exchanges.
Bradley's jab and classy footwork enable him to box from the outside, but he is equally adept at in-fighting. For instance, in Round 7 against Abregu, Bradley was able to land multiple power shots while Abregu was holding on, which demonstrates Bradley's comfort and willingness to mix it up on the inside.
Getting in close and making the fight ugly affords Bradley a chance to crowd Pacquiao, which will give Manny less room to fire off those six-punch combinations.
Bradley's Head and Forward Movement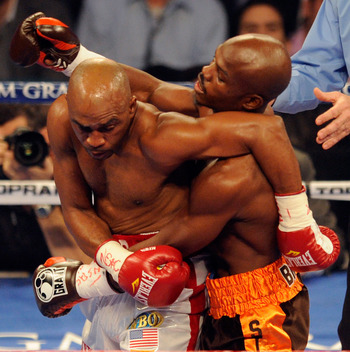 Ethan Miller/Getty Images
Bradley moves forward like a tornado, and his flailing arms and low center of gravity make him hard to hit when doing so.
When accounting for Bradley's right hand, you also have to be aware of his head. Whether it's intentional or not, Bradley's right hand and head often land at the same time, and dealing with Bradley's chaotic but balanced forward movement can be difficult for opposing fighters.
Pacquiao, a southpaw, will have to be mindful of Bradley's powerful cranium, and the way "Desert Storm" swarms gives him a chance to take the fight into the trenches, which will probably be his best chance to win.
Bradley's undefeated record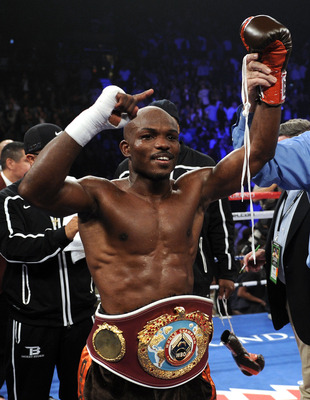 Harry How/Getty Images
This fight, in many ways, is an audition for Timothy Bradley. While respected by insiders, Bradley doesn't have mainstream appeal. If he beats Manny Pacquiao, this will change.
Bradley has built his undefeated ledger against some quality opposition, and he will undoubtedly be highly motivated to preserve his unblemished record. In a fight where Pacquiao is clearly the more experienced fighter, the fact that Bradley "doesn't know how to lose" (as a professional) has to count for something.
If Bradley wins, a fight against Floyd Mayweather could loom on the horizon, and it goes without saying that Pacquiao will face the best version of Bradley given the stakes.
Keep Reading