Mike Ciesnolevicz Talks Dan Henderson over Jon Jones, Tim Sylvia and More
March 30, 2017
Brian Bahr/Getty Images
Garrett Derr: You were pretty keen on Jon Jones falling to Rashad Evans. How surprised were you that Jones was able to pick him apart and defeat him so easily? 
Mike Ciesnolevicz: "I think Rashad just needed to pull the trigger more. I think he is capable of beating Jones but he was too passive. He might have bought into all the talk about Jon Jones being invincible.  Rashad has the skill set to win that fight but he played a game instead of making it a fight and he paid for it." 
GD: What happens in the matchup with "Bones" and Dan Henderson? Will Henderson be the first man to defeat him since becoming the 205-pound champion?
MC: "On paper, it seems everything is against Dan Henderson in this matchup. Jones has the youth, the size, the reach, but Hendo has an X-factor in this fight. He doesn't give a crap about the hype or what people think."
"He is going to get right in Jon Jones' face and try to knock his head off and he isn't worried about ending up in a clinch because he wrestled his whole life. Hendo very possibly shocks the world at 42 years old and humbles Jon Jones with a first-round TKO."
GD: You're set to take on Brandon Anderson. How did this fight develop?

MC: "I was supposed to fight this guy eight months ago before I had surgery. He pulled out of the fight last minute. I came to fight and he got cold feet. Ever since that time, he was making comments about how he could knock me out. He makes his name off of me. He was just basically talking to convince himself. "
"An opportunity was presented to me recently to headline a show in North Dakota in a 10,000-seat arena with him as the opponent and I was told he already signed the contract. I agreed and also signed my contract. At first I was skeptical since he pulled out of the fight before."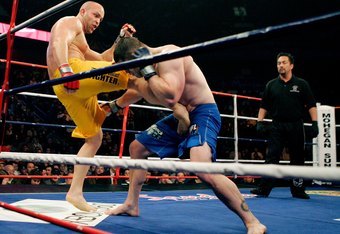 Brian Bahr/Getty Images
"But if he does it again, he is only hurting himself as far as reputation and anyone ever signing this guy to fight in their show again. I'm going to train like the fight is going to happen, but I wouldn't be surprised if they can't find the guy come fight time. Chances are he will be under his bed with the lights off and door locked."

GD: I understand he's been running his mouth for a couple of months now. What do you have to say in return?
MC: "The truth will come out in the cage. If he can beat me and back up his words then good for him.  He signed a contract, I signed a contract, all I expect is for him to honor that and show up and compete. No matter what happens, I can respect him at the end of the day if he does that."
GD: How do you see this bout playing out? TKO, Sub or Decision? What round?
MC: "I want to standup with this guy. He is more of a standup fighter and I want to beat him at his own game. I used to be more of a grappler when I started MMA, but now I'm 50/50 in terms of my skill set. I gravitated a lot towards the standup game the past two years to really balance my game out."
"I'm comfortable fighting this whole fight on our feet. If anyone goes for a takedown in this fight, I guarantee it won't be me. I see him getting frustrated and trying to tie me up and take me down after I hit him a few times."
   
GD: Is this the first step to getting back inside the UFC Octagon? How many fights until we see you back on the premier stage?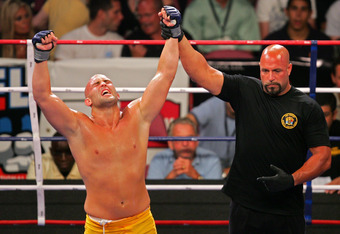 Michael Heiman/Getty Images
MC: "I don't know really. I'm going to finish 2012 strong and if all goes accordingly, that puts me at 5-0 in my post-UFC career. Of course I would jump at the opportunity to compete in the UFC again, if they don't call then I will just keep doing what I love and that is training and competing in mixed martial arts."   
GD: In terms of injury recovery, where are you in your progression?
MC: "Right now it's just a matter of time keeping up on my rehab, keep running, keep working on my skills. I will be 100 percent September 8th."   
GD: You've been friends with Tim Sylvia for a long time now. You trained with him in Iowa and know him inside and out. Do we ever see him back in the UFC? Why or why not?
MC: "Personally I think the guy deserves another shot. He is trying to get his career back on track. He had a few stumbles outside the UFC where he maybe got overconfident. He's a former champion and it would be good to see him back in there."
"I know Tim has a lot of fans rooting for him on Twitter and I would even think the haters would want to see him back in there just for the fact they would hope to see him get beat up. There are a lot of exciting matchups for him in the UFC."
"Love him or hate him I can tell you that I haven't seen many guys work harder in the gym than Tim Sylvia did during his UFC title reign. If he gets that determination and work ethic back then he can compete with anyone."
  

GD: Your college roommate will be taking on Bisping in the upcoming days at UFC 149. Who wins and why?
MC: "I think Bisping is a more technical fighter and is going to try to play a points game. If Boetsch falls into that style of a fight, he'll lose a decision. Sometimes you have to throw technique of the window and make it a fight."
For additional information, follow Garrett Derr on Twitter.